Coconut Shrimp with Spicy Mayo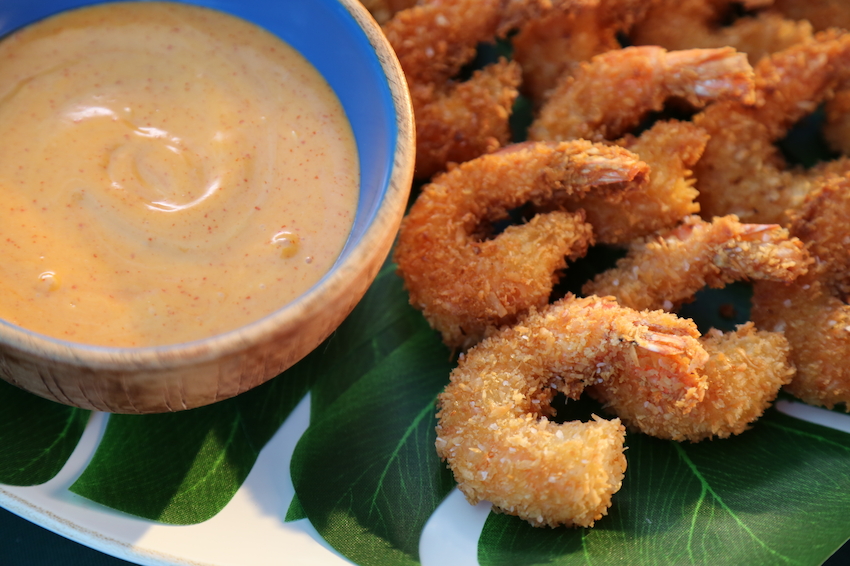 1. Whisk the flour, paprika, garlic powder, onion powder and 1 teaspoon salt in a wide, shallow bowl. Beat the eggs with a splash of water in a second bowl. Combine the panko and coconut in a third bowl. Line a pan in foil and set aside.
2. Toss the shrimp in the flour mixture to coat; then, working one at a time, shake off the excess flour and dip the shrimp in the egg. Let the excess egg drip off, then toss the shrimp in the coconut-panko mixture until thoroughly coated. Put the shrimp on the lined pan and repeat with the remaining shrimp.
3. Heat the coconut oil in a large skillet over medium-high heat until very hot and a panko crumb dropped into it sizzles immediately. Line a plate with a paper towel. Add about half of the shrimp, making sure the skillet is not too crowded, and pan-fry, turning once, until the shrimp are cooked through and golden brown all over, 3 to 4 minutes; transfer to the lined plate and sprinkle with salt. Repeat with the remaining shrimp. Serve with the Spicy Mayo and lemon wedges.
Spicy Mayo
4.Combine the mayonnaise, sriracha and lemon juice in a small bowl.
3/4 cup all-purpose flour
2 teaspoons paprika 
1 teaspoon garlic powder 
1 teaspoon onion powder 
Pinch kosher salt, plus additional for sprinkling 
3 large eggs 
1 cup panko breadcrumbs 
1 cup shredded unsweetened coconut 
3/4 pound large peeled and deveined shrimp, with tails on 
1 1/4 cups coconut oil 
Spicy Mayo, recipe follows
Lemon wedges, for serving
Spicy Mayo
1/2 cup mayonnaise
1 to 2 tablespoons sriracha Juice of 1/2 lemon 
OTHER RECIPES YOU MIGHT LIKE