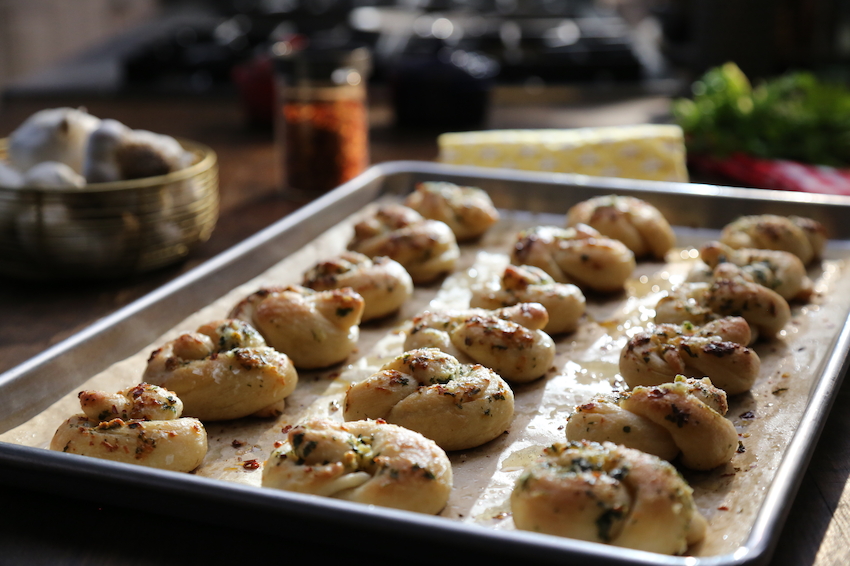 For the dough
1. Combine the flour, yeast, kosher salt and sugar in the bowl of a stand mixer fitted with the paddle attachment and stir to combine. Add the warm water and oil and beat until the dough comes together, about 2 minutes. If the dough is too wet, add more flour, 1 tablespoon at a time, until it is still soft and slightly sticky but you can turn it out. Knead on a lightly floured work surface if the dough is still shaggy. Lightly oil a large bowl. Transfer the dough to the oiled bowl and cover with plastic wrap. Let stand until doubled in size, about 1 hour.
For the garlic butter
2.  Melt the butter in a small saucepan over medium heat. Add the garlic and wait for it to start sizzling, 1 to 2 minutes. Remove from the heat and add the parsley and crushed red pepper flakes. Set aside.
3. Preheat the oven to 400 degrees F. Line a rimmed baking sheet with parchment paper.
4. Lightly dust a work surface with flour. Turn the dough out onto the surface and divide the dough into 3 equal pieces. Divide each of those pieces into 6 pieces. Working 1 piece at a time, roll it out into a 6- to 7-inch rope, then tie the rope into a knot. Place the knot on the prepared baking sheet and repeat with the remaining dough.
5. Brush the knots generously with the garlic butter and sprinkle lightly with the flaky sea salt. Bake until cooked through and golden all over, about 20 minutes.
For the dough:
2 1/2 cups bread flour, plus more for dusting
1 1/2 teaspoons instant dry yeast 
1 teaspoon kosher salt 
1/2 teaspoon sugar 
1 cup warm water 
1 tablespoon olive oil, plus more for the bowl 
Flaky sea salt, for topping 
For the garlic butter:
1 stick (8 tablespoons) unsalted butter
4 large cloves garlic, finely grated or pressed through a garlic press 
1/4 cup finely chopped fresh flat-leaf parsley 
1 pinch crushed red pepper flakes 
1 Hour 50 Minutes (includes resting time)
OTHER RECIPES YOU MIGHT LIKE