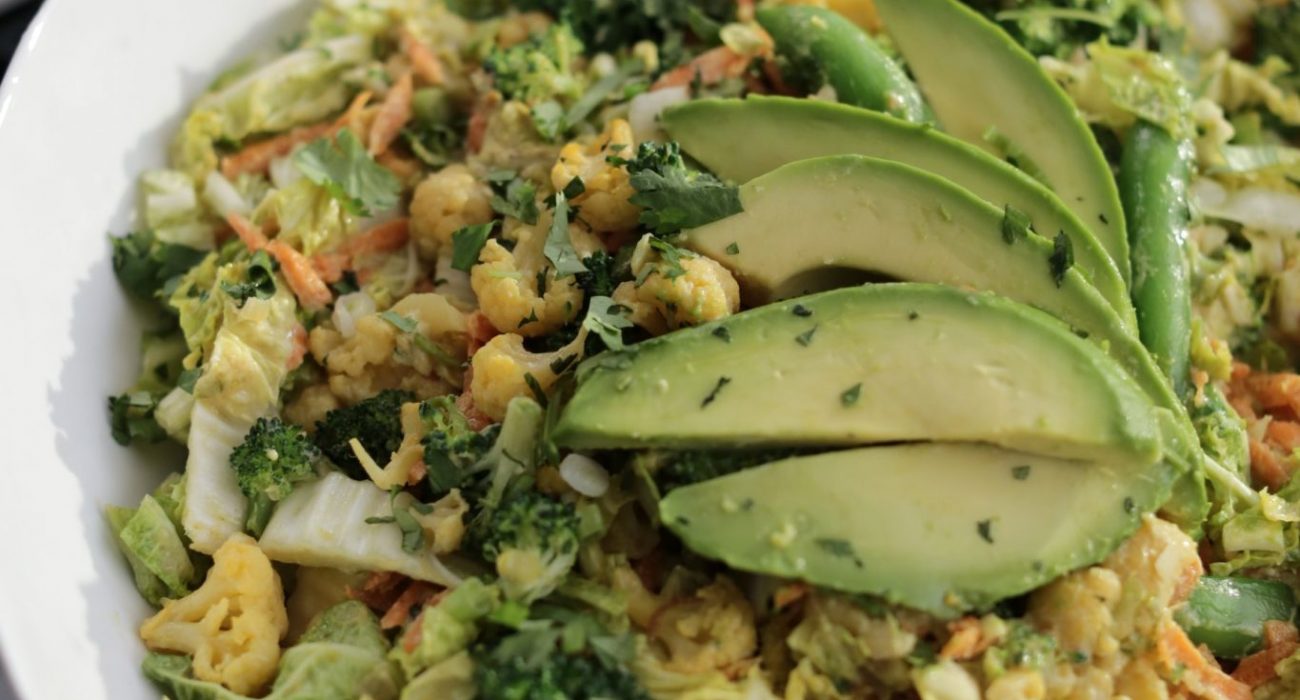 1. Bring a pasta pot filled with salted water to a boil. Set up a large ice bath alongside. Blanch the broccoli and cauliflower in the boiling water until they have softened slightly and the broccoli is bright green, 2 minutes. Remove the vegetables to the ice bath. Add the snap peas to the boiling water and blanch until bright green, 1 minutes. Remove to the ice bath.
2. Drain the blanched vegetables on a large baking sheet lined with paper towels, patting them dry to remove excess water. Cut the snap peas in half crosswise, put them in a large bowl and set aside.
3. Heat the canola oil in a 12-inch sauté pan over medium-high heat. Add the scallions, garlic and ginger and cook until fragrant but not browned, 1 to 2 minutes. Add the coconut milk and 1 tablespoon green curry paste and bring to a simmer, stirring to dissolve the paste. Stir in the broccoli, cauliflower and carrots and simmer for 7 or 8 minutes, to meld the flavors and finish cooking the vegetables.
4. Next, stir in the cabbage and lime juice; cook until the cabbage is wilted, 2 to 3 minutes. Taste the sauce and adjust the seasoning with salt. If you prefer more spice, add another tablespoon of curry paste and cook another 3 minutes, stirring. When you are happy with the flavor, remove the pan from the heat and let cool for 10 minutes.
5. To serve, gently fold in the avocado and garnish with scallion greens. Serve at room temperature.
Kosher salt
2 cups small broccoli florets (1 small crown)
2 cups small yellow cauliflower florets (1/2 head)
2 cups sugar snap peas (6 ounces)
1 tablespoon canola oil
1/4 cup thinly sliced scallions, white and light green parts only, plus dark green part, thinly sliced, for garnish
1 tablespoon minced garlic (2 to 3 cloves)
1 tablespoon finely grated fresh ginger (a 2-inch knob)
One 13.5-ounce can coconut milk
1 to 2 tablespoons green curry paste
1 cup shredded carrots
2 cups finely shredded Napa cabbage
3 tablespoons fresh lime juice (1 1/2 limes)
1 large avocado, cut into 1/2-inch pieces
55 Minutes (including cooling)
THIS RECIPE HAS A VIDEO
COURTESY OF THE FOOD NETWORK
OTHER RECIPES YOU MIGHT LIKE