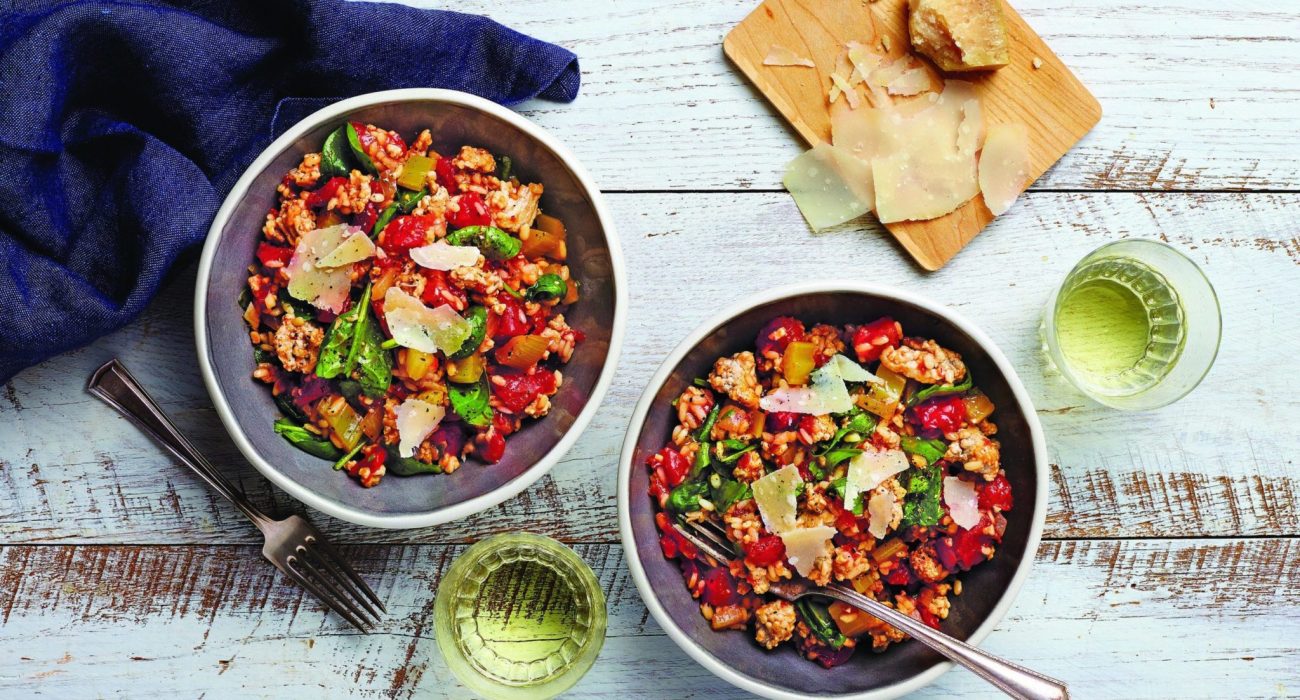 Feel free to substitute pork sausage if you so desire. I think of this as an upscale, one-dish meal I can serve during the week. It's creamy, with al dente rice, as risotto should be, and the combination of spinach, tomatoes, and pork make this a hearty meal. But let me give you some background. My mom made risotto throughout my childhood and I thought it was the most delicious thing to ever rest on my tongue. If there was a meal I regarded as special, this was it. However, there was a catch. When she made her roasted chicken, she saved the neck, gizzards, and liver, and then always made risotto the next day, using those leftover chicken parts to kick up the flavor. I ate around them, pushing them all over my plate with an expression of disgust that never left my face until I put my plate in the sink for washing. I have, of course, eliminated these from my version, using ground pork instead. With crusty bread and a salad, this is a winner that can become, as it's been for me, a favorite family recipe. I'll just add one more note: Thanks, Mom.
1. Heat 1 tablespoon of the oil in a Dutch oven over medium. Add the pork, and cook, stirring to crumble, until browned, about 10 minutes. Transfer the pork to a plate lined with paper towels to drain; set aside. Discard the drippings.
2. Heat the remaining 2 tablespoons oil in the Dutch oven over medium. Add the onion, celery, and remaining 1/2 teaspoon salt and 1/4 teaspoon pepper; cook, stirring occasionally, until the onion and celery are tender, about 10 minutes. Stir in the garlic, and cook 1 minute. Add the rice, and cook, stirring constantly, until the rice is lightly toasted, about 2 minutes. Stir in the wine, and cook until the liquid is nearly absorbed, about 2 minutes.
3. Reduce the heat to medium-low, and add about 2 cups of the warm tomato mixture; cook, stirring occasionally, until the liquid is absorbed, about 4 minutes. Continue adding the tomato mixture, 1 cup at a time, waiting for the liquid to be absorbed after each addition, stirring occasionally, until the mixture is creamy and the rice is just tender, about 25 minutes. Remove from the heat.
4. Add the pork, spinach, and grated Parmesan; stir until the spinach wilts. Garnish with the shaved Parmesan.
Combine the tomatoes, water, 1 teaspoon of the salt, and 1/2 teaspoon of the pepper in a small saucepan. Cook over medium-low until thoroughly heated; keep warm.
1 (28-ounce) can diced tomatoes, undrained
3 cups water
1 1/2 teaspoons kosher salt
3/4 teaspoon black pepper
3 tablespoons olive oil
1 pound ground pork
1 cup chopped yellow onion
1 cup chopped celery
2 teaspoons chopped fresh garlic
1 cup uncooked Arborio rice
1/2 cup dry white wine
1 (5-ounce) package baby spinach
1/2 cup grated Parmesan cheese, plus shaved Parmesan cheese for serving
OTHER RECIPES YOU MIGHT LIKE