Citrus Salad with Cranberry Concord Drizzle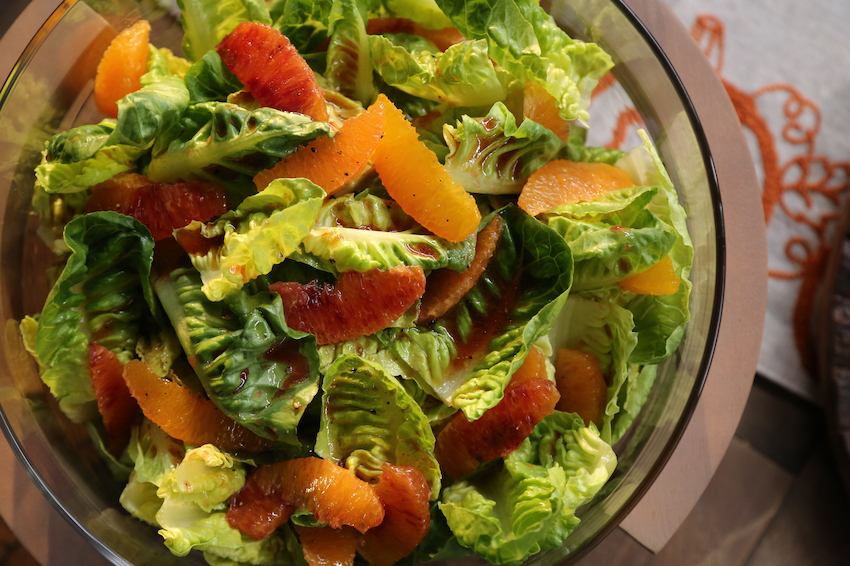 Citrus Salad
1.  Cut off the top and bottom of the oranges, then stand them on the cutting board. Use a sharp knife to remove all of the rind and pith, trying not to cut into the fruit itself. You should be able to see the segments and the pith separating them. Working over a bowl to collect the juice, use the knife to cut the segments away from the membrane; reserve the segments. Squeeze the leftover membrane into the bowl to collect any juice from the remaining fruit still attached. Reserve the juice for the drizzle.
Cranberry Concord Drizzle
2. Whisk 3 tablespoons of the collected orange juice in a separate bowl with the olive oil, Cranberry Concord Syrup, 1/4 teaspoon salt and a few grinds of black pepper (reserve any remaining orange juice for another use).
3. Put the lettuce in a large, wide bowl and put the orange segments on top. Drizzle with the cranberry concord drizzle and serve.
Cranberry Concord Syrup
4. Combine the cranberries, grape jam, grape juice, sugar and orange zest in a medium saucepan over medium-high heat. Bring to a boil, then reduce the heat and simmer, stirring occasionally, until the cranberries are very soft and easily break apart when pushed with a wooden spoon, about 20 minutes. Do not simmer too hard or the sauce may boil over. Let cool, then strain the syrup into a small pitcher.
Citrus Salad
3 oranges, preferably of mixed variety such as Cara Cara, blood and navel
8 cups crisp tender lettuce leaves, such as Bibb or Little Gems 
Cranberry Concord Drizzle
3 tablespoons olive oil
2 tablespoons strained Cranberry Concord Syrup, recipe follows
Kosher salt and freshly ground black pepper
Cranberry Concord Syrup
1 pound frozen cranberries
1 1/4 cups concord grape jam 
3/4 cup concord grape juice 
1/3 cup sugar 
One 3-inch strip orange zest 
1 Hour (includes cooling time)
OTHER RECIPES YOU MIGHT LIKE