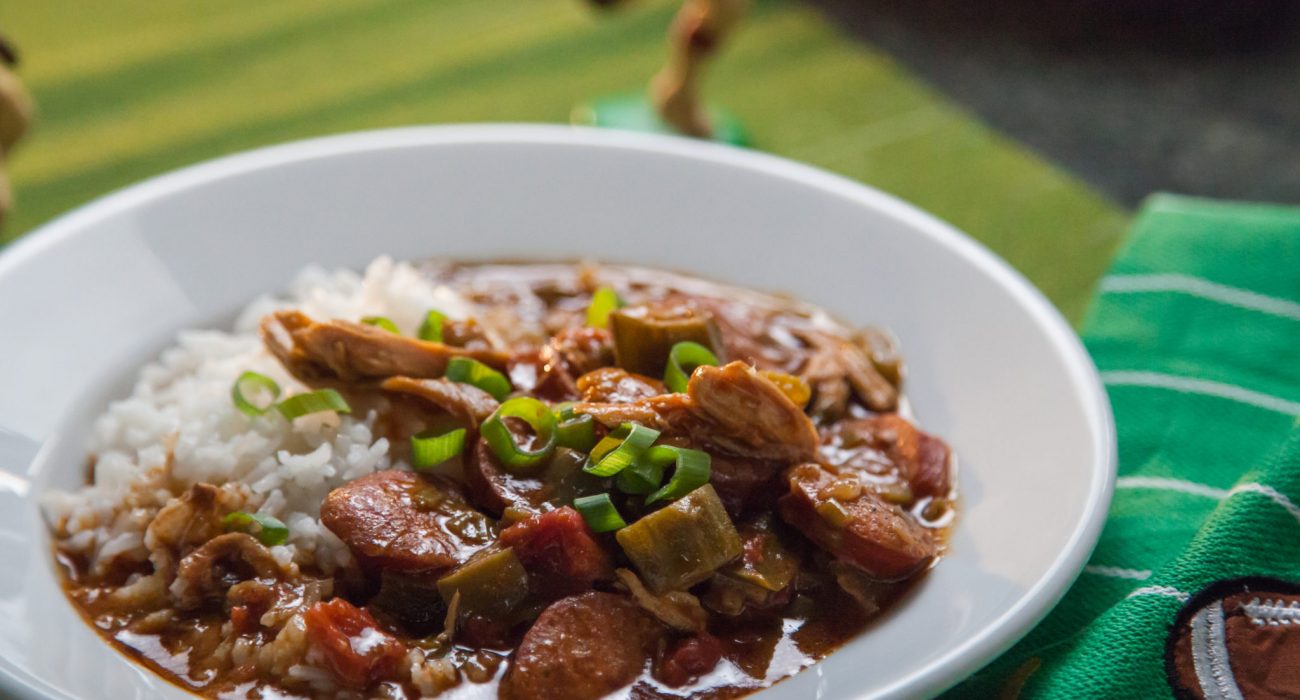 1. Warm ​1 cup oil over medium heat in a large Dutch oven until hot. Add the flour to the pot all at once, whisking until the consistency is uniform. Cook the roux, whisking occasionally, until it is the color of a tarnished penny, about 20 minutes. Do not let it darken any further.
2. Carefully add the celery, bell peppers, onion, chopped scallions and garlic to the pot, working away from you as the hot roux may spatter. Stir with a wooden spoon until the onions begin to soften, about 5 minutes.
3. Add enough stock to just cover the vegetables, about 1 quart, and stir to combine. The roux may separate. Add the tomatoes with their juices, andouille and smoked sausages, cayenne, bay leaves, 1 1/2 tablespoons salt, 1 tablespoon black pepper and the remaining stock, about 1 more quart. Partially cover and bring to a boil, then reduce the heat and simmer 20 minutes.
4. Meanwhile, heat the remaining 2 tablespoons oil in a medium skillet over high heat. Add the okra and cook, stirring, until the gel dries out slightly, about 3 minutes. Add to the Dutch oven.
5. Taste the gumbo for seasoning and adjust as desired. Add the chicken, cook until warmed through and serve, or simmer up to 2 hours more to concentrate the flavors, adding the chicken 20 minutes before serving.
6. Sprinkle with the reserved sliced scallions and serve over rice. Serve with hot sauce and file powder if using.
1 cup plus 2 tablespoons canola oil
1 cup all-purpose flour
6 ribs celery, chopped
2 green bell peppers, chopped
1 large white onion, chopped
1 bunch scallions, 1/2 cup sliced for garnish and the remaining chopped
8 to 10 cloves garlic, chopped
2 quarts store-bought chicken stock
Two 15-ounce cans diced tomatoes
12 ounces andouille sausage, sliced into 1/2-inch pieces
12 ounces smoked sausage, sliced into 1/2-inch pieces
1 scant tablespoon cayenne, or more to taste (this much makes it medium spicy)
3 bay leaves
Kosher salt and freshly ground black pepper
One 10-ounce box frozen sliced okra, thawed
1 rotisserie chicken, meat shredded (about 4 cups)
15 cups cooked white rice, such as Minute Rice, for serving
Hot sauce, such as Crystal, for serving
File powder, for serving, optional
OTHER RECIPES YOU MIGHT LIKE