Ponzu Smashed Cucumber Salad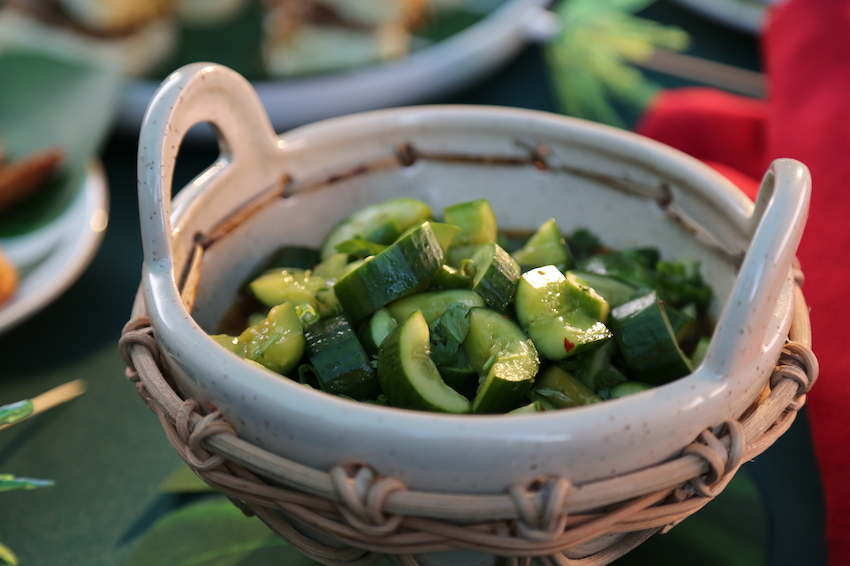 1. Halve the cucumbers lengthwise. Put the cucumbers on a cutting board cut-side down, then use the side of a chef's knife to gently but firmly press down and smash them so that they lightly crack but do not fall apart. Slice the smashed cucumbers into 1-inch pieces.
2. Put the cucumbers in a colander and toss them with 1/4 teaspoon salt. Place a bag of ice on top of them and let them drain for 15 to 30 minutes.
3. Stir the ponzu, lemon juice, coconut aminos, sambal, sesame oil, ginger, scallions and garlic together in a medium bowl. Add the cucumbers and cilantro and toss to combine.
If you can't find baby beets, bigger ones will do if you peel them and cut them into smaller pieces. The beets may be stored in the jar for up to 4 days.
You can easily substitute white wine vinegar if you don't have apple cider vinegar.
1 pound Persian cucumbers
Kosher salt 
3 tablespoons ponzu sauce 
2 teaspoons fresh lemon juice 
1 teaspoon coconut aminos or 1/4 teaspoon sugar 
1 teaspoon sambal oelek or sriracha 
1 teaspoon toasted sesame oil 
1/2 teaspoon finely grated fresh ginger 
2 scallions, finely chopped 
2 garlic cloves, finely grated 
3 tablespoons chopped fresh cilantro 
15 Minutes (includes sit time)
OTHER RECIPES YOU MIGHT LIKE