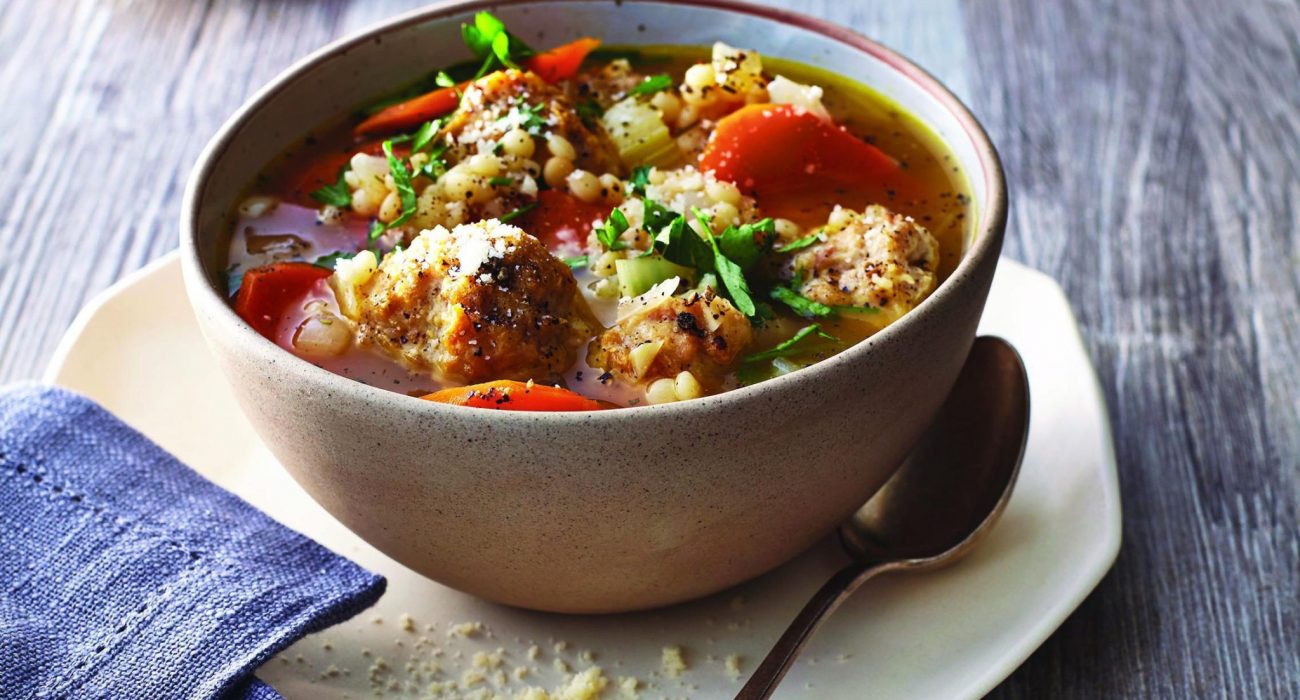 So many of my favorite dishes are connected to memories from years ago, if not decades ago, and this is one of them. My son always loved a good meatball soup, and when Wolfie was a little boy and I didn't feel like cooking, I opened a can of Progresso Chickarina soup. It's regarded by many as the greatest tasting soup ever sold in a can, right up there next to Campbell's classic tomato soup. Years ago the grocery stores in my neighborhood quit carrying the chickarina soup, which led me on a quest to make my own—and all I can say is thank goodness I set out on that journey. The meatballs are the key to my version; they're tiny and sticky and decidedly unlike those you'd make for spaghetti and meatballs or turkey meatball soup. They have a unique consistency, enabling them to cook differently in the chicken broth. They end up as tasty little puffs. And yes, this requires an investment in time, mostly to make the meatballs. But it's worth the wait. This is comfort food at its finest—a perfect call for lunch or dinner on the coldest day of the year. Or take it in a thermos on an outdoor adventure—a wide mouthed thermos, of course.
1. Preheat the broiler with the oven rack 6 to 8 inches from the heat. Line a baking sheet with aluminum foil, and coat with cooking spray.
2. Gently combine the chicken, egg white, salt, pepper, and half of the pecorino romano. Scoop the mixture into meatballs using a 1/2-inch cookie scoop, and place the meatballs on the prepared baking sheet. Broil until the meatballs are lightly browned, about 6 minutes.
3. Heat the oil in a large Dutch oven over medium-high. Add the onion, carrot, and celery; cook, stirring often, until the onion is tender, about 6 minutes. Add the couscous, garlic, and rosemary; cook, stirring often, until the couscous is lightly toasted, about 2 minutes. Stir in the chicken broth, and bring to a boil. Add the meatballs, and cook until the couscous is tender and the meatballs are cooked through, 15 to 20 minutes.
4. Top with the parsley and remaining half of the pecorino romano.
The pearl couscous may be switched for rice or ditalini pasta, but the pearls are true to the original.
Don't have a cookie scoop? These mini meatballs can also be formed by using a piping bag or ziplock bag with a corner snipped off. Simply spoon the sticky chicken mixture into the bag and squeeze out 1⁄2-inch meatballs.
3/4 pound ground chicken
1 large egg white, lightly beaten
1/4 teaspoon kosher salt
1/8 teaspoon black pepper
1/2 cup grated fresh pecorino romano cheese
3 tablespoons olive oil
1 cup chopped yellow onion
1/2 cup sliced carrot
1/4 cup chopped celery
1/2 cup uncooked pearl couscous
1 1/2 teaspoons chopped fresh garlic 
1 teaspoon chopped fresh rosemary 
6 cups chicken broth
1/4 cup chopped fresh parsley
OTHER RECIPES YOU MIGHT LIKE