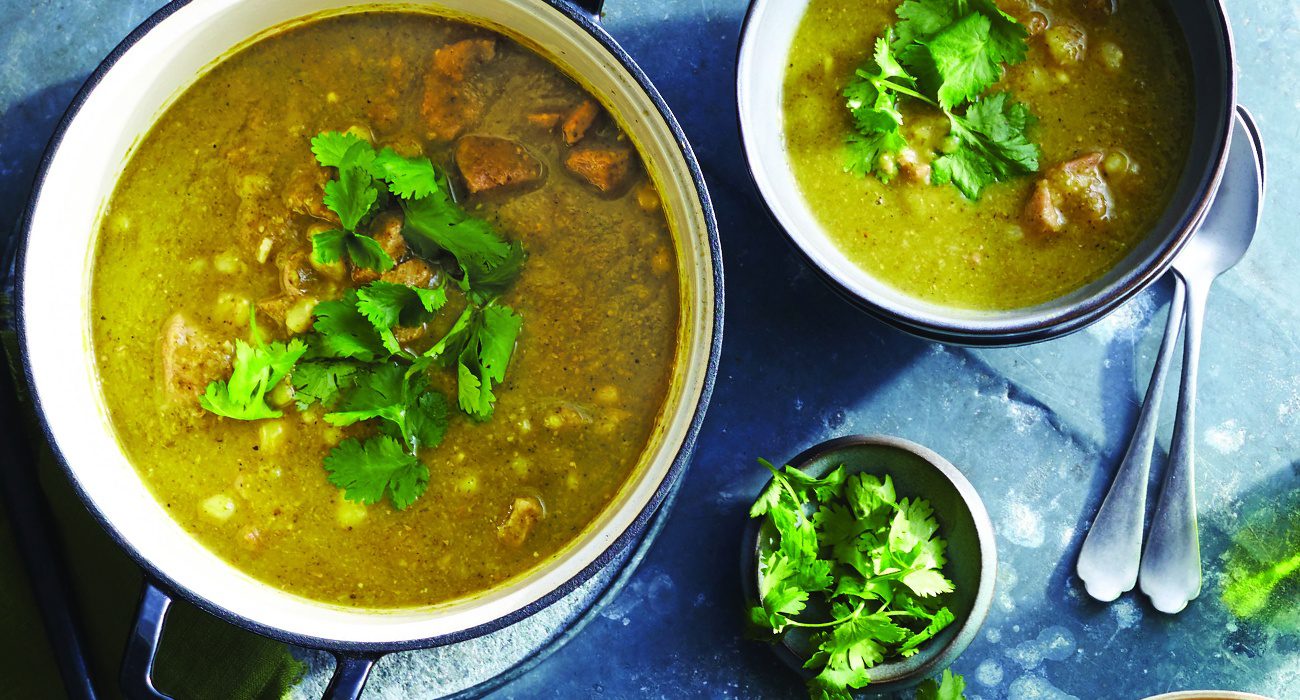 Though posole is a traditional Mexican soup dating back to the Aztecs in the 1500s, I'd never heard of it when Tom and I were offered a bowl in a restaurant several years ago. (To lessen my embarrassment of being culturally ignorant, I will add that Tom had not heard of this soup, either.) Wonderfully aromatic, it had sliced radishes on top and with my initial spoonful, I tasted something that I first thought was chickpeas but then quickly learned was hominy. Hominy is made from kernels of corn, or maize, that have been cooked and dried until they're swollen and chewy. Tom tasted the soup and was also blown away. He wanted the rest for himself, and we actually battled over who got to finish this little bowl of soup. More embarrassment. But it was that good and I was determined to come up with my own recipe. Which meant educating myself—one of the most fun parts of cooking: learning and experimenting. I found hominy in a nearby Mexican market. I varied the spices and chiles, and tried this with both pork and chicken rather than one or the other. I also learned this soup is often regarded as a stew, depending on its thickness. You can add more hominy to give the soup an even heartier body. Even with the meat, this soup, with its hint of lime, zing of jalapeño, and tangy broth, tastes fresh and clean. Tom and I still battle over who gets the last bowl.
1. Preheat the broiler with the oven rack 5 inches from the heat.
2. Separate the onion slices into rings. Toss together with the tomatillos, poblanos, black pepper, 1 tablespoon of the oil, and 1 teaspoon of the salt on a rimmed baking sheet. Broil, turning occasionally, until blistered and charred in spots, about 8 minutes. Set aside to cool completely, about 20 minutes.
3. Meanwhile, stir together the flour, chili powder, and remaining 1 teaspoon salt in a large bowl. Add the pork, and toss to coat.
4. Heat the remaining 3 tablespoons oil in a large Dutch oven over medium- high. Add the pork, and cook, stirring occasionally, until browned on all sides, about 10 minutes. Add 5 cups of the chicken broth and 11/2 cans of the hominy; bring to a boil. Reduce the heat to medium-low, and simmer 15 minutes.
5. Meanwhile, peel and seed the poblanos. Process the poblanos, tomatillos, onion rings, jalapeño, oregano, 3/4 cup of the cilantro, remaining 1 cup chicken broth, and 1/2 can hominy in a blender until smooth.

6 . Add the mixture to the pork mixture in the Dutch oven; cook 15 minutes. Remove from the heat, and stir in the lime juice. Garnish the servings evenly with the avocado, radishes, and remaining 1/4 cup cilantro.
You can substitute skinless, boneless chicken breasts for the pork shoulder.
1/2 medium red onion, cut crosswise into 1-inch-thick slices
1/2 pound tomatillos (about 5 medium tomatillos), husks removed
2 large poblano chiles
1/4 teaspoon black pepper
1/4 cup canola oil
2 teaspoons kosher salt
1/4 cup all-purpose flour
1 tablespoon chili powder
2 pounds boneless pork shoulder (Boston butt), cut into 1/2-inch cubes
6 cups chicken broth
2 (28-ounce) cans white hominy, drained and rinsed
1 jalapeño chile, seeded and minced
1 teaspoon chopped fresh oregano
1 cup chopped fresh cilantro
2 tablespoons fresh lime juice
1 medium ripe avocado, diced
1/4 cup sliced radishes
6 People as a Main Dish, 12 as an Appetizer
OTHER RECIPES YOU MIGHT LIKE