Quick Rotisserie Chicken Gumbo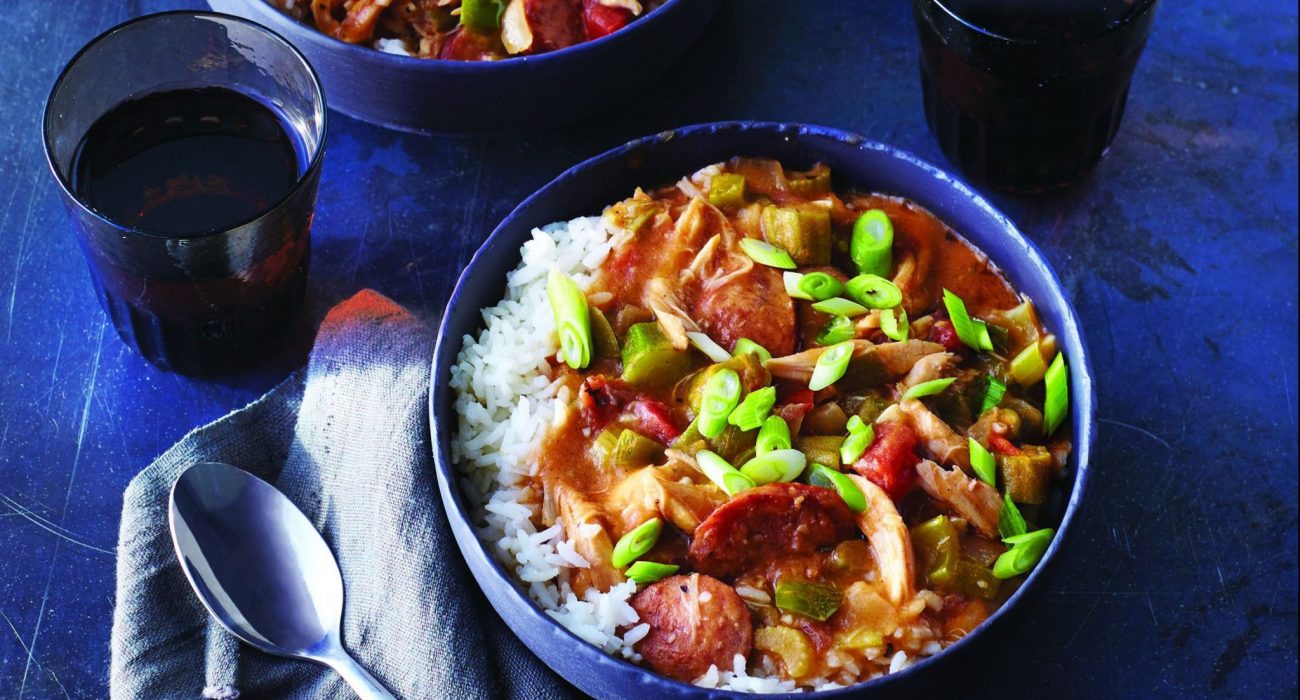 I learned to love gumbo when my family moved to New Orleans, the holy center of the gumbo universe. Then my brother Patrick married a good Southern girl from Louisiana named Stacy, who taught me to make a traditional Creole gumbo, the thick kind with andouille sausage, turkey, okra, bacon drippings, and the works. We make it every year the day after Thanksgiving, and it takes all day. It's an annual family event: football, gumbo, family. But sometimes I want to make gumbo and it's not the day after Thanksgiving, and I don't have the time to spend the whole day making it. As a result, I came up with a version of my own, one that starts with picking up a rotisserie chicken at the grocery store. If I'm not distracted, I have gumbo within an hour and a half. Lightly spiced. Nutty. Meaty. Serve with crusty bread or over rice, and then enjoy with family and friends. This is a good gathering-type food, like for a Sunday football game. It makes everyone feel like a winner.
1. Cook the sausages in a large nonstick skillet over medium until browned, about 8 minutes. Remove the sausages from the skillet, and drain on paper towels.
2. Heat the oil in a large Dutch oven over medium-high; gradually whisk in the flour, and cook, whisking constantly, until the flour is a deep caramel color, 7 to 10 minutes.
3. Reduce the heat to medium. Stir in the onion, bell pepper, celery, garlic, thyme, Creole seasoning, and cayenne pepper; cook, stirring constantly, about 5 minutes. Gradually stir in the broth; add the chicken, tomatoes, okra, Worcestershire sauce, and sausage.
4. Increase the heat to medium-high, and bring the mixture to a boil. Reduce the heat to low, and simmer, stirring occasionally, about 20 minutes. Serve the gumbo over the hot cooked rice topped with the scallions. Serve with the hot sauce, if desired.
I suggest changing out sausage types to suit your taste and mood; take advantage of the variety available, for instance using Conecuh instead of kielbasa. The more often you make gumbo, the better you get at putting your own stamp on it.
You can grill the sausage to get that extra smoky flavor and beautiful grill char.
1/2 pound andouille sausage, cut into 1/4-inch-thick slices
1/2 pound Polska kielbasa sausage, cut into 1/4-inch-thick slices
1/2 cup peanut oil
1/2 cup all-purpose flour
1 cup chopped yellow onion
1 cup chopped green bell pepper
1 cup chopped celery
2 garlic cloves, chopped
1 1/2 teaspoons chopped fresh thyme
1 1/2 teaspoons Creole seasoning
1/4 teaspoon cayenne pepper
5 cups low-sodium chicken broth
4 cups shredded rotisserie deli chicken (from 1 large rotisserie chicken)
1 (14.5-ounce) can diced tomatoes, undrained
1 1/2 cups frozen cut okra
2 teaspoons Worcestershire sauce 
4 cups hot cooked white rice
1/4 cup sliced scallions
Hot sauce (optional)
OTHER RECIPES YOU MIGHT LIKE