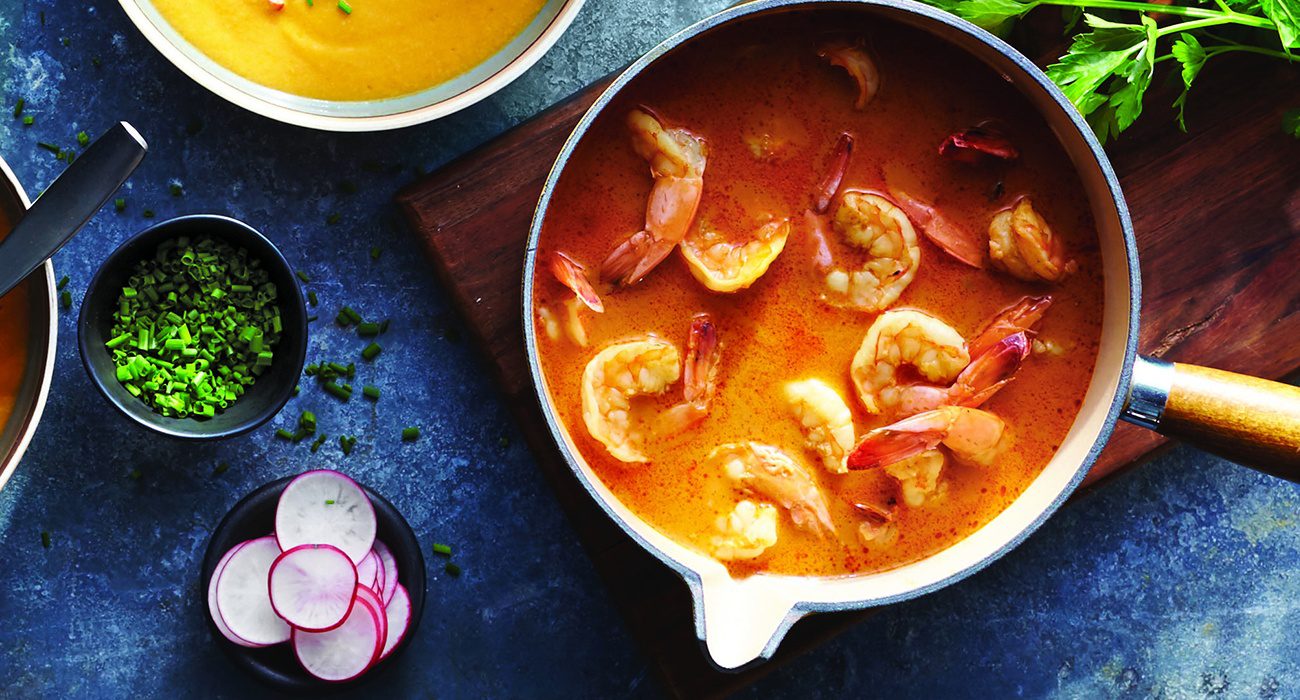 For years, there was a restaurant down the street from my house named Killer Shrimp. The franchise downsized a while ago and my local outpost closed, but the vivid memory I have of eating there, and of the piquant medley of superb flavors hitting my mouth, led by a rush of garlic and butter, is still very much alive. Can you tell? They served an oversized bowl of shrimp in an incredibly delicious and addictive spicy garlic sauce. It was the only thing on the menu, and it was served with either rice or pasta plus fresh French bread. To me, the shrimp was almost an excuse to mop up the sauce with the bread and eventually, I boiled the experience down to that most elemental and immensely satisfying taste experience. Never mind the shrimp, I just wanted to dip the bread in the sauce. Though they still have a restaurant in Marina del Rey, I rarely get to that part of town, and I needed a substitute fix. So I came up with this Spicy Killer Shrimp Soup. The broth is a divine combination of strong and satisfying flavors and a super choice for a summer night when you want to eat outdoors. Balance this with an Asian cucumber salad for that sweet and spicy combination, and you're all set.
1. Whisk together the wine and tomato paste in a medium saucepan until the tomato paste dissolves.
2. Stir in the broth, fennel seeds, salt, cayenne pepper, paprika, bay leaf, and thyme sprig; bring to a boil over medium- high. Reduce the heat to medium-low, and simmer until slightly reduced and very flavorful, about 15 minutes.
3. Pour the broth mixture through a fine wire-mesh strainer into a clean saucepan; discard the solids. Add the coconut milk, lemon zest, and lemon juice to the broth mixture; bring to a simmer over medium.
4. Add the shrimp, and simmer until the shrimp are just cooked through, about 3 minutes. Remove from the heat, and add the butter, stirring until the butter melts.
5. Serve the soup in shallow bowls, and sprinkle with the parsley.
Have a shellfish allergy? No problem. Use chunks of any type of white fish instead.
1 cup dry white wine
1 tablespoon tomato paste
1 quart chicken broth
1 tablespoon fennel seeds
1 teaspoon kosher salt
1 teaspoon cayenne pepper
1/2 teaspoon paprika
1 bay leaf
1 thyme sprig
1 (15-ounce) can unsweetened coconut milk
1 1/2 teaspoons lemon zest, plus
2 tablespoons fresh lemon juice
1 pound peeled and deveined large raw shrimp, tails removed
4 tablespoons unsalted butter, cut into tablespoons
2 tablespoons chopped fresh flat-leaf parsley
OTHER RECIPES YOU MIGHT LIKE