Steamed Clams with Spicy Garlic Bread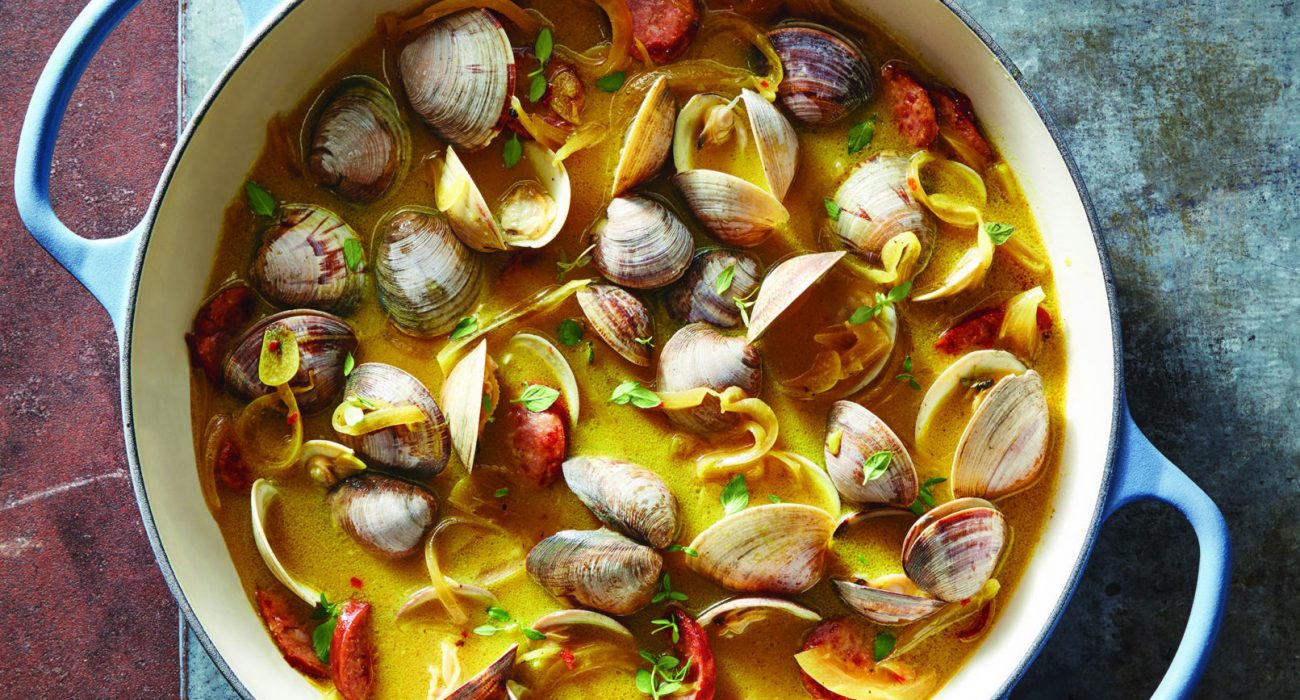 I love clams, and this love affair of mine has been going on since I was a little girl with my nose pressed against the backseat window of my parents' car on family road trips. We lived in Delaware at the time, and somewhere along the Pennsylvania Turnpike there was a restaurant where we always stopped, and every time I ordered the steamers. It wasn't typical fare for a 7- or 8-year-old, but I spent the previous 11 months thinking about those clams and even more I thought about dipping fresh, hard-crusted bread into garlic-and- butter-flavored broth. More recently, this memory has been updated by my friend, acclaimed chef Ludo Lefebvre, who serves mussels at his tiny bistro Petite Trois in Hollywood with a creamier sauce that gets more delicious with each bite. So for this book, I took it as a challenge to develop my own version of steamed clams. I tinkered in the kitchen for a few days, carefully taking notes until I got the flavors exactly as I wanted. Be forewarned: The clams need to be cleaned, the sandy grit and residue from ocean dwelling removed, either by soaking in salty water or rinsing in a bowl. The spicy garlic bread is to taste, and I serve this with either a chilled white wine or a bottle of cold beer.
1. Heat the oil in a large skillet over medium. Add the sausage; cook, stirring often, until golden brown, about 5 minutes. Transfer the sausage to drain on paper towels, reserving the drippings in the skillet. Place the sausage in a large serving bowl.
2. Add the shallot to the skillet; cook, stirring often, until translucent and tender, 3 to 4 minutes. Stir in the garlic and crushed red pepper; cook for 1 minute. Add the wine, stirring and scraping to loosen the browned bits from the bottom of the skillet. Stir in the coconut milk, butter, turmeric, ginger, salt, and black pepper. Add the clams; cover the skillet, and let the mixture steam until the clams open, 6 to 7 minutes.
3. Transfer the clams to the bowl with the sausage. Stir the lime juice into the broth. Pour the broth over the clams and sausage. Remove the leaves from the thyme sprigs; discard the stems. Sprinkle the clam mixture with the lemon thyme leaves. Serve immediately with the Spicy Garlic Bread.
2 tablespoons olive oil
8 ounces smoked sausage, sliced
1 shallot, thinly sliced
2 garlic cloves, chopped
1⁄8 teaspoon crushed red pepper
1 cup dry white wine
1/2 cup coconut milk
1 tablespoon salted butter
1⁄8 teaspoon ground turmeric
1⁄8 teaspoon ground ginger
1 teaspoon kosher salt
1/4 teaspoon black pepper
1 pound clams in shells, scrubbed 1 tablespoon fresh lime juice
3 lemon thyme or thyme sprigs Spicy Garlic Bread (recipe follows)
OTHER RECIPES YOU MIGHT LIKE