Butternut and Goat Cheese Pizza with Arugula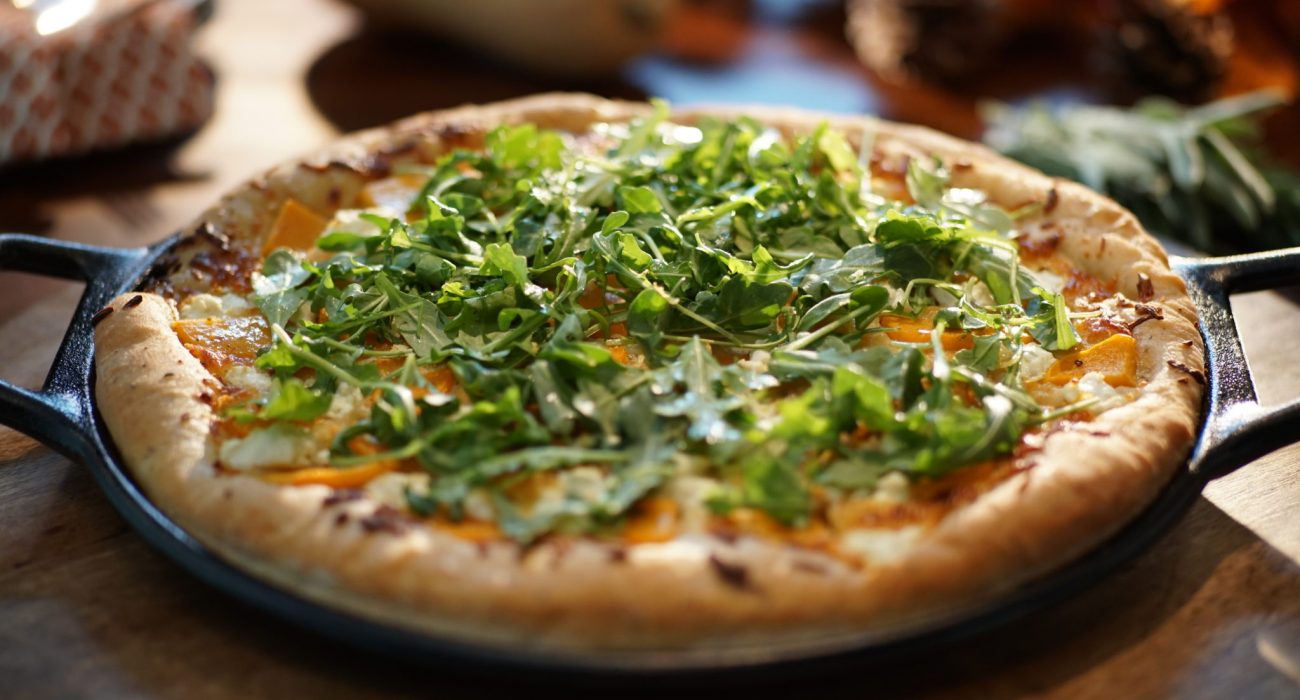 1. Preheat the oven to 400 degrees F. Toss the squash with 1/2 tablespoon of the olive oil, 1/4 teaspoon salt, and pepper to taste. Roast until just tender, about 10 minutes.
2. Place a pizza stone in the oven and increase the oven temperature to 500 degrees F. After the oven comes up to temperature, let the stone preheat for 10 minutes.
3. Combine the remaining 2 tablespoons olive oil, the garlic, rosemary, and red pepper flakes in a small, microwave-safe bowl. Warm in the microwave just to infuse the oil, about 15 seconds.
4. Lay out a large square of parchment paper and lightly dust with cornmeal. Place the dough on top and use your hands to stretch the dough out to a 14-inch circle. Spread the infused oil mixture evenly onto the pizza crust, leaving a 1 inch border around the edge. Arrange the butternut squash evenly on top. Slide the pizza onto a pizza peel or a flat cookie sheet. Using the pizza peel or cookie sheet as an aid, slide the parchment paper with the pizza on it onto the pizza stone in the oven. Bake the pizza until the crust is golden brown, about 12 minutes. Carefully sprinkle the goat cheese evenly on top and bake until just warm, about 2 minutes.
5. Remove the pizza from the oven with the peel. Toss the arugula with the lemon olive oil and a pinch of salt. Top the pizza with the arugula and cut the pizza into slices to serve.
2 cups butternut squash chunks, cut into 1/4-inch thick slices
2 1/2 tablespoons extra-virgin olive oil
Kosher salt and freshly ground black pepper
1 large garlic clove, thinly sliced
1 teaspoon finely chopped fresh rosemary
1/4 teaspoon crushed red pepper flakes
Cornmeal or all-purpose flour for dusting
1 pound pizza dough
8 ounces goat cheese, coarsely crumbled
3 cups baby arugula
2 teaspoons lemon olive oil or extra-virgin olive oil mixed with 1/2 teaspoon finely grated lemon zest
OTHER RECIPES YOU MIGHT LIKE