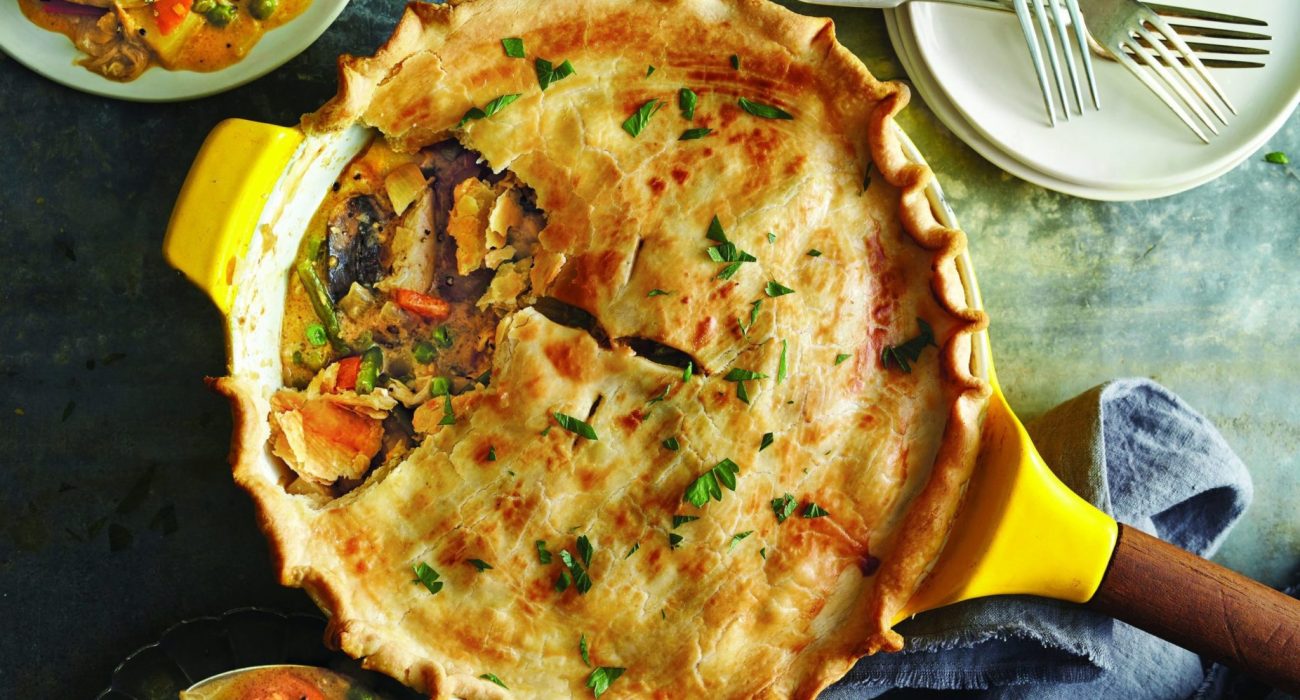 When I was newly living on my own at 18 years old, I stocked my refrigerator with Swanson chicken pot pies. I learned that from my mom, who also made her own chicken pot pie when time allowed, which was always a treat. I would marvel at the way she mixed the ingredients in her large cast-iron skillet and covered it with pie crust, all without looking at a recipe, and then magically the potpie appeared on the table, feeding the entire family. It's been a long time since then, but the memory of those pies, both the frozen and homemade, are still fresh—as is the taste of a fork heaped with chicken, vegetables, gravy, and pie dough. Jump ahead to several years ago. I got a taste for chicken pot pie and wanted to make one on my own. The big revelation was how easy it was, not to mention the satisfaction I got using up the extra carrots, potatoes, onions, and peas in my vegetable drawer. This is basically a delicious chicken stew topped with a nice, crispy crust. Rich, creamy, and delicious, it's comfort food at it's best and a great choice on a cool fall or winter evening.
1. Preheat the oven to 375°F. Melt 2 tablespoons of the butter in a 10-inch cast-iron skillet over medium-high. Add the potato, onion, and carrot; cook, stirring occasionally, 6 minutes. Add the bell pepper, mushrooms, garlic, crushed red pepper, 1/2 teaspoon of salt, and 1/4 teaspoon of the black pepper.
2. Reduce the heat to medium, and cook, stirring often, until the potatoes are almost tender, about 8 minutes.
3. Cook the haricots verts according to the package directions. Cool slightly, and cut into 1-inch pieces. Add the haricots verts, chicken, and peas to the potato mixture. Remove from the heat, and set aside.
4. Remove the pie crust from the refrigerator, and let stand 15 minutes.

5. Meanwhile, melt the remaining 6 tablespoons butter in a large saucepan over medium. Whisk in the flour, and cook, whisking constantly, 1 minute. Gradually whisk in the chicken stock, and cook, whisking constantly, until mixture thickens, about 10 minutes. Whisk in the heavy cream, hot sauce, and the remaining 3/4 teaspoon salt and 1/2 teaspoon black pepper. Pour the cream sauce over the chicken mixture in the skillet, and stir gently to combine.
6. Unroll the pie crust, and fit over the filling, fluting around the edges, if desired. Brush the crust lightly with the beaten egg, and cut 4 small slits for the steam to escape. Bake until the filling is bubbly and the crust is golden brown, about 30 minutes. Let stand about 10 minutes before serving. Garnish with chopped parsley, and serve with the hot sauce, if desired.
You can easily substitute thawed frozen green beans for the French haricots verts in this homey dish.
1/2 cup unsalted butter
1 medium russet potato, peeled and diced
3/4 cup chopped yellow onion
1/2 cup sliced carrot
1 small red bell pepper, chopped
1 1/2 cups sliced cremini mushrooms
2 teaspoons minced fresh garlic
1/4 teaspoon crushed red pepper
1 1/4 teaspoons kosher salt
3/4 teaspoon black pepper
1 (8-ounce) package microwave-in-bag haricots verts
3 cups shredded boneless, skinless rotisserie chicken (from 1 rotisserie chicken)
1/2 cup frozen green peas, thawed
1/2 (14.1-ounce) package refrigerated pie crusts (1 pie crust)
2 1/2 tablespoons all-purpose flour
1 1/2 cups chicken stock
1/2 cup heavy cream
1 tablespoon hot sauce, plus more for serving (optional)
1 large egg, lightly beaten
Chopped fresh flat-leaf parsley
OTHER RECIPES YOU MIGHT LIKE