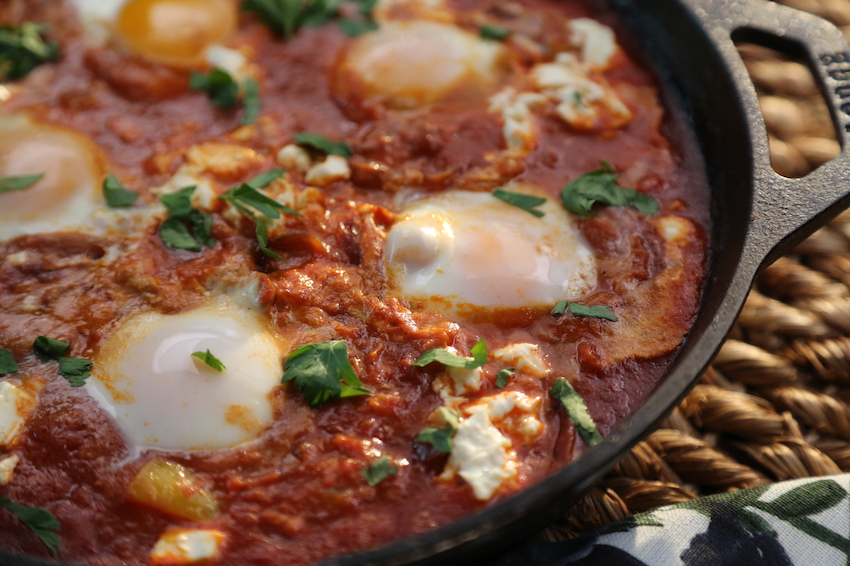 1. Preheat the oven to 375 degrees F.
2. Heat the olive oil in a large ovenproof skillet over medium-high heat. Add the onion, garlic, bell pepper, crushed red pepper and 1/2 teaspoon salt and cook, stirring occasionally, until softened, about 8 minutes. Add the coriander and cumin and cook, stirring, for 1 minute. Add the Sauce and bring to a simmer. Turn the heat to low. Crack an egg into a small bowl, make a divot in the sauce, and add the egg. Repeat with the remaining eggs, spacing them evenly around the skillet. Sprinkle the feta on top, avoiding the yolks so as not to break them.
3. Transfer the skillet to the oven and bake until the egg whites are just set, 10 to 13 minutes. Sprinkle with the parsley and serve immediately.
Classic Marinara Sauce 
Yield 8 Cups
4. Heat the olive oil in a large saucepan over medium heat. Add the garlic and cook, stirring frequently, until it just turns golden, 3 to 4 minutes. Add the tomatoes, Italian seasoning, basil, 1 teaspoon salt and a few grinds of fresh pepper. Bring to a simmer and cook, stirring occasionally, for 7 minutes. Take off the heat and stir in the butter until melted. Add salt and pepper to taste.
2 tablespoons olive oil
1 small red onion, thinly sliced 
1 clove garlic, minced 
1 small yellow bell pepper, thinly sliced 
Pinch crushed red pepper flakes 
Kosher salt 
1/2 teaspoon ground coriander 
1/2 teaspoon ground cumin 
3 cups Classic Marinara Sauce, recipe follows
5 to 6 large eggs 
3/4 cup crumbled feta 
3 tablespoons chopped fresh flat-leaf parsley 
Classic Marinara Sauce
1/3 cup olive oil
6 cloves garlic, minced
Three 26-ounce cartons chopped tomatoes
1 teaspoon Italian seasoning
1 large basil sprig
Kosher salt and freshly ground black pepper
3 tablespoons unsalted butter 
OTHER RECIPES YOU MIGHT LIKE