Spinach and Red Pepper-Stuffed Chicken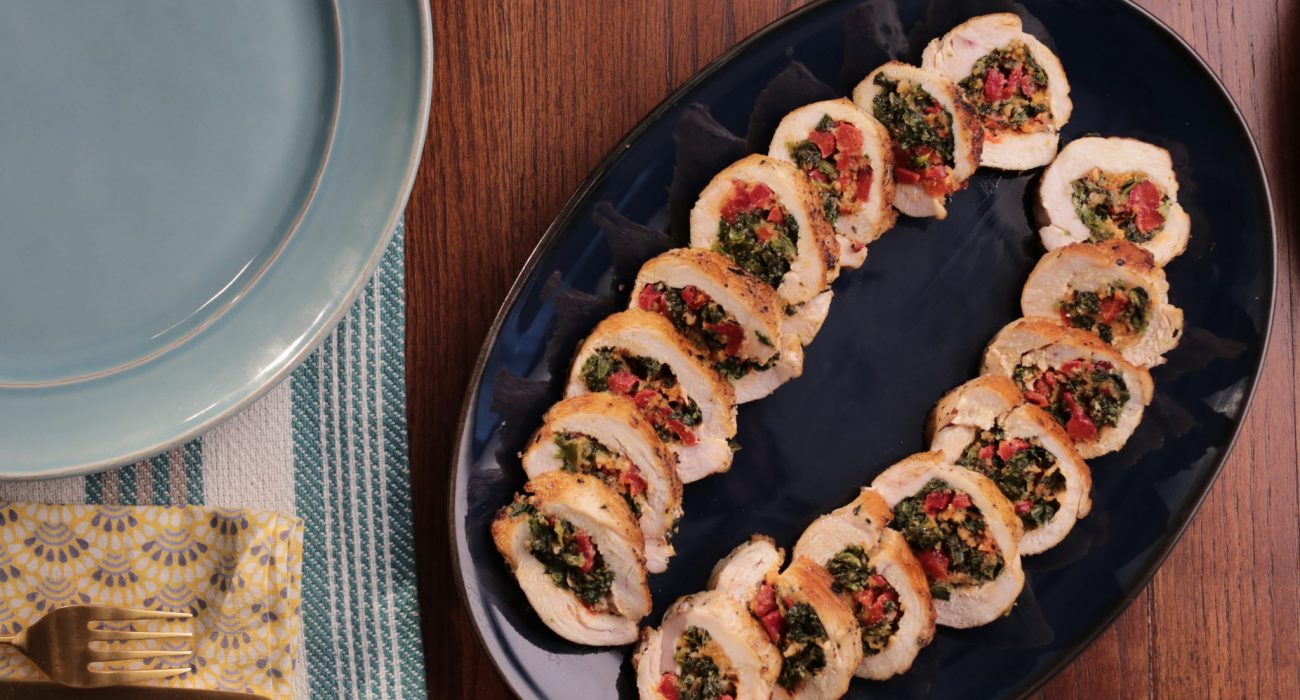 1. Preheat the oven to 425 degrees F.
2. Mix together the spinach, peppers, breadcrumbs, Parmesan, smoked paprika, 1/4 teaspoon salt and a few grinds of pepper in a small bowl. Set aside.
3. Butterfly the chicken: Holding your knife parallel to the cutting board, slice a breast through the middle, stopping about 1/2-inch short of the other side. Open the breast up like a book and flatten it with your palm. Place between two pieces of plastic wrap and pound with a meat mallet to a little less than 1/2-inch thick. Repeat with the remaining breasts.
4. Divide the spinach mixture into four portions and place a portion in the center of each breast. Roll the breasts tightly around the filling and secure with kitchen twine. Sprinkle all over with salt and pepper.
5. Heat the oil in a large, oven-safe skillet over medium-high heat. Add the roll-ups and cook until golden brown on all sides, about 6 minutes. Transfer the skillet to the oven and cook until an instant-read thermometer inserted into the center of the filling registers 160 degrees F, another 6 to 8 minutes.
6. Transfer the roll-ups to a cutting board and cover loosely with foil. Return the skillet to the stovetop over medium heat (be careful, the handle will be very hot). Add the shallots and cook until softened, stirring, about 1 minute. Add the wine and boil until reduced by half, 1 to 2 minutes. Add the chicken broth; boil until reduced by half, about 3 minutes. Off the heat, whisk in the butter and season with salt and pepper.
7. Cut away the twine and slice the chicken into 1-inch rounds. Serve with the pan sauce and sprinkle with parsley.
Special equipment: ​a meat mallet; kitchen twine
10 ounces frozen spinach, thawed and squeezed dry
One 12-ounce jar roasted red peppers, drained, patted dry and chopped
1/2 cup panko breadcrumbs
1/4 cup grated Parmesan
1/4 teaspoon smoked paprika
Kosher salt and freshly ground black pepper
4 small chicken breasts (about 8 ounces each)
2 tablespoon olive oil
1 shallot, grated or chopped
1/4 cup dry white wine
1 cup chicken broth
1 tablespoon unsalted butter, cold
Chopped fresh parsley, for garnish
THIS RECIPE HAS A VIDEO
PROVIDED BY THE FOOD NETWORK
OTHER RECIPES YOU MIGHT LIKE