Herb-Roasted Salmon
with Tomato Avocado Salsa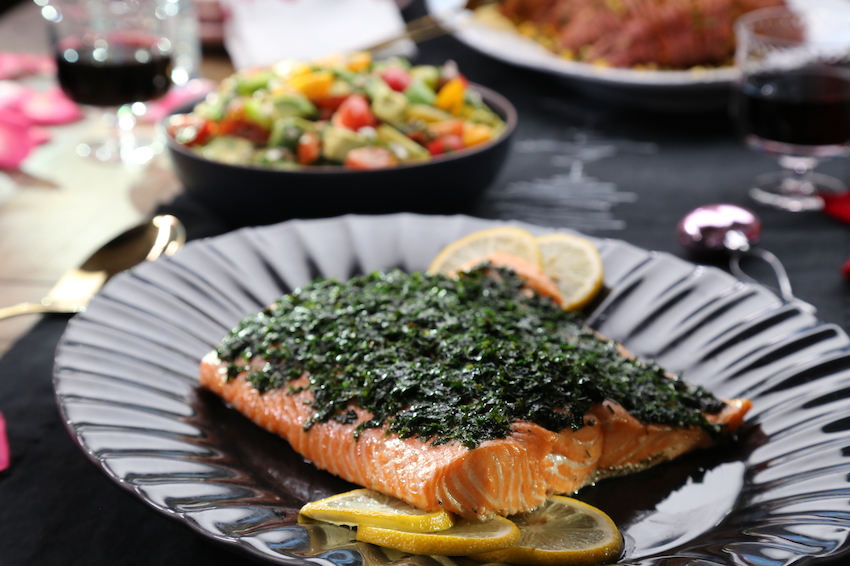 1. Preheat the oven to 350 degrees F. Line a large rimmed baking sheet with parchment paper and brush it lightly with oil.
2. Mix together the dill, parsley, chives and basil in a small bowl. Reserve 2 tablespoons of the mixture for the salsa and set aside.
3. Put the salmon on the prepared baking sheet and sprinkle all over with salt and pepper. Drizzle the top lightly with oil, then top evenly with the herb mix. Bake until just cooked through, 20 to 25 minutes.
4. Meanwhile, halve and peel the avocados and cut them into 1/2-inch pieces. Put the avocados in a large bowl and gently toss with the tomatoes, lemon juice, shallots, 2 tablespoons oil, 1/2 teaspoon salt and the reserved herbs. Transfer to a serving bowl.
5. Serve the salmon with the salsa on the side.
2 tablespoons olive oil, plus more for the baking sheet and salmon
1/3 cup finely chopped fresh dill 
1/3 cup finely chopped fresh flat-leaf parsley 
3 tablespoons finely chopped fresh chives 
3 tablespoons finely chopped fresh basil 
2 1/4 pounds center-cut salmon fillet, skin and bones removed 
Kosher salt and freshly ground black pepper 
2 large avocados 
12 ounces mixed-colored cherry or grape tomatoes, halved or quartered if large 
2 tablespoons fresh lemon juice 
1 small shallot, minced 
OTHER RECIPES YOU MIGHT LIKE