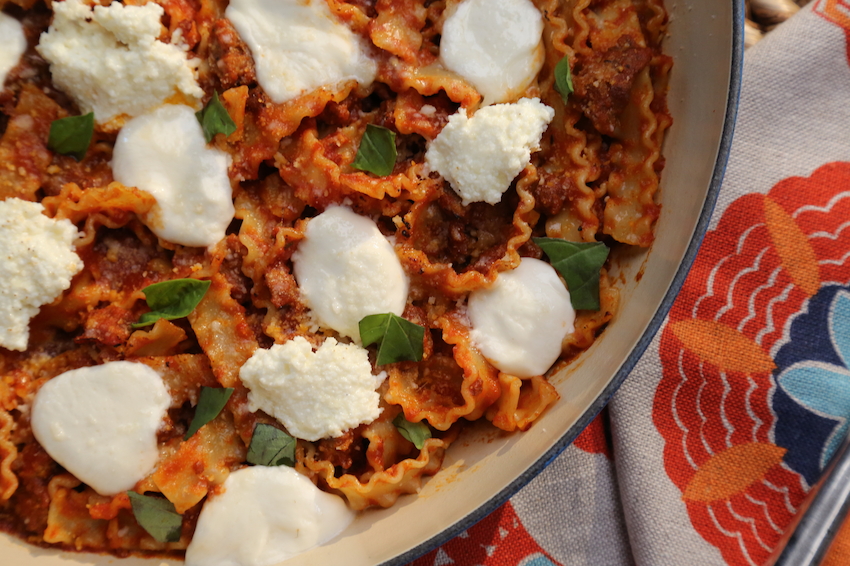 1. Heat the olive oil in a Dutch oven or large, wide pot over medium-high heat. Add the sausage and cook, breaking up clumps with a wooden spoon, until brown, about 6 minutes. Add the Marinara and 3 1/2 cups water and bring to a boil. Add the pasta, then partially cover and cook, stirring occasionally, until the pasta is al dente and the sauce is coating it nicely, about 16 minutes. Stir in the mozzarella and ricotta, then sprinkle with the Parmesan and basil, and serve.
Classic Marinara Sauce
Yield 8 Cups
2. Heat the olive oil in a large saucepan over medium heat. Add the garlic and cook, stirring frequently, until it just turns golden, 3 to 4 minutes. Add the tomatoes, Italian seasoning, basil, 1 teaspoon salt and a few grinds of fresh pepper. Bring to a simmer and cook, stirring occasionally, for 7 minutes. Take off the heat and stir in the butter until melted. Add salt and pepper to taste.
1 tablespoon olive oil
1 pound mild Italian sausage, casings removed 
2 cups Classic Marinara Sauce, recipe follows
12 ounces mafaldine corte or farfalle pasta 
8 ounces mini mozzarella balls 
3/4 cup ricotta 
1/4 cup grated Parmesan 
Torn basil leaves, for topping 
Classic Marinara Sauce
1/3 cup olive oil
6 cloves garlic, minced 
Three 26-ounce cartons chopped tomatoes 
1 teaspoon Italian seasoning 
1 large basil sprig 
Kosher salt and freshly ground black pepper 
3 tablespoons unsalted butter 
OTHER RECIPES YOU MIGHT LIKE