Shrimp Scampi and Pasta with Herb Breadcrumbs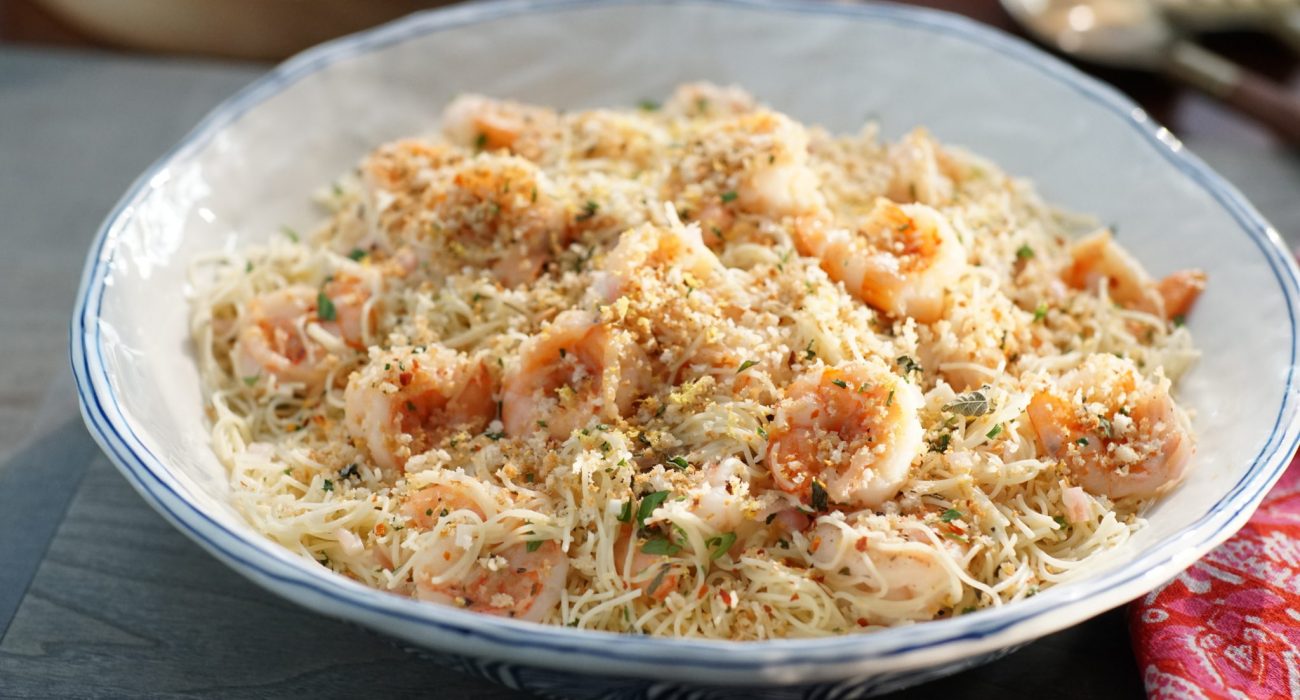 1. Bring a 6- to 8-quart soup pot of generously salted water to a boil.
For the topping: Bring a 6- to 8-quart soup pot of generously salted water to a boil.
2. In a large stainless steel skillet, heat the butter over medium heat until melted and slightly browned but not burned. Add the breadcrumbs. Using a wooden spoon, stir the breadcrumbs to coat with the brown butter, and toast until golden brown, 2 to 3 minutes. Remove from the heat. Stir in the chives, oregano and lemon zest. Season to taste and set aside.
3. For the pasta: Meanwhile, heat the oil in a large saute pan over high heat until shimmering. Season the shrimp all over with salt and pepper. Add the shrimp to the pan in one layer and cook for 1 minute. Turn and cook 1 more minute. Using a slotted spoon, transfer the shrimp to a bowl.
4. Add the garlic and shallot to the pan and cook for 1 minute. Add the wine, lemon juice, pepper flakes and oregano and simmer for 3 minutes. Whisk in the butter piece by piece, thoroughly incorporating each piece before adding the next. Taste and season with additional salt and pepper as needed. Add the shrimp back to the pan and simmer until completely cooked through, about 2 minutes. Stir in the parsley. Remove the skillet from the heat.
5. Add the capellini to the boiling water and cook until just tender, about 4 minutes. Reserve 1 cup of the cooking water and transfer the capellini to a colander to drain. Toss the capellini with the shrimp and parsley, adding some of the pasta water if necessary to keep it moist. Transfer to a large serving bowl or into small bowls as individual servings.
6. Top with herb breadcrumbs.
Topping:
Kosher salt
2 tablespoons unsalted butter
2 cups panko breadcrumbs
2 tablespoons finely chopped chives
2 teaspoons finely chopped oregano
1/2 teaspoon lemon zest

Pasta:
2 tablespoons extra-virgin olive oil
2 pounds large shrimp (16-20 count), peeled and deveined
Kosher salt and freshly ground black pepper
12 cloves garlic, finely chopped
1 shallot, finely chopped
1 cup dry white wine
1/4 cup freshly squeezed lemon juice (from 1 to 1 1/2 lemons)
Pinch red pepper flakes
Pinch dried oregano
4 tablespoons (1/2 stick) unsalted butter, cut up
3/4 cup loosely packed fresh flat-leaf parsley, chopped
12 ounces capellini
THIS RECIPE HAS A VIDEO
PROVIDED BY THE FOOD NETWORK
OTHER RECIPES YOU MIGHT LIKE