Blueberry-Banana-Oat Breakfast Muffins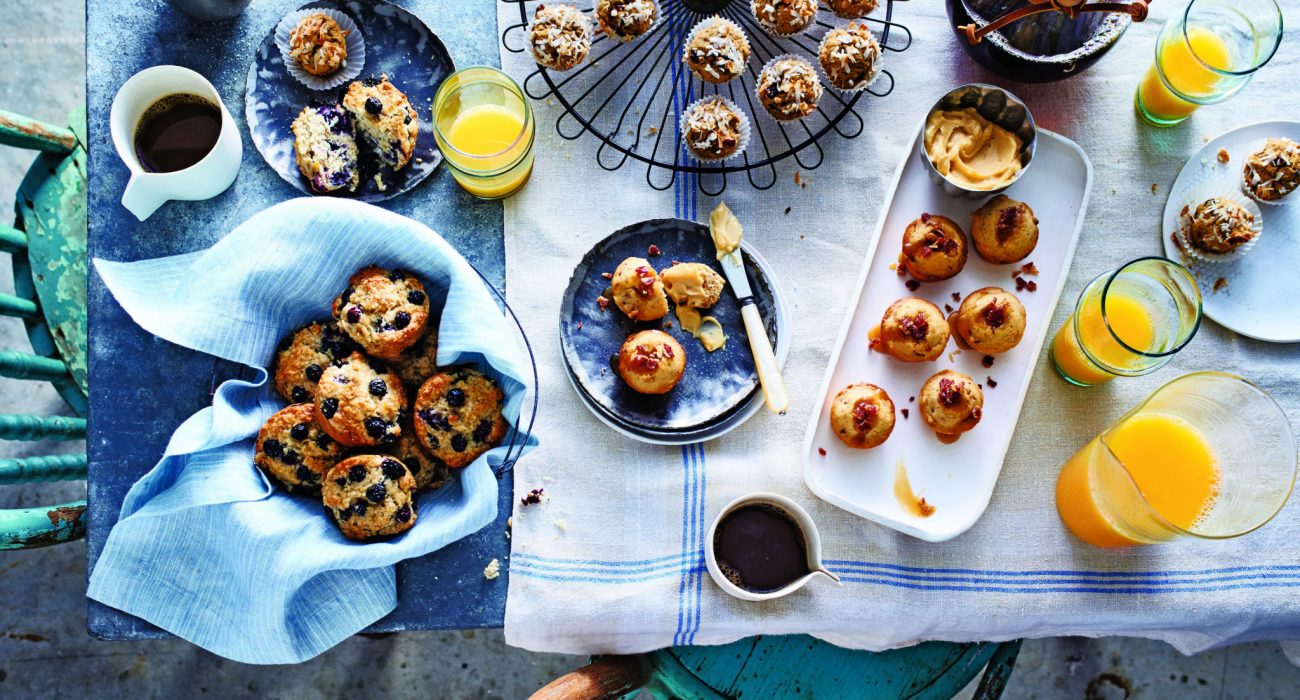 A couple things are going on here. There's the fact that I just plain like muffins. I like the way they smell when they come out of the oven, the way they look on a platter, and of course the way they taste. Then there is my fondness for bananas. This is really a life- long love affair, dating back to when I was a kid and liked bananas on everything from cereal to ice cream sundaes—or by themselves, in their natural state as a quick, nutritious snack. Knowing they are an excellent source of potassium has made them a daily staple in my diet. They're a perfect pick-me-up. And if there is an all-time funniest fruit, it's the banana—and I'm a sucker for a sense of humor. But these muffins are no joke. They're a tasty use for when your bananas start to get overly ripe. They are light, moist, and work wonderfully with blueberries. I like that the combination gives me vitamins and antioxidants first thing in the morning. They also work with any fresh berry.
1. Preheat the oven to 400°F. Generously grease a 12-cup muffin pan. Stir together the flour, oats, sugar, baking powder, salt, and 3/4 cup of the blueberries in a medium bowl. Stir together the bananas, butter, egg, and vanilla in a separate bowl. Add the banana mixture to the flour mixture, gently stirring until just blended.
2. Spoon 1/3 cup batter into each prepared muffin cup; top evenly with the remaining 1/2 cup blueberries.
3. Bake until a wooden pick inserted in the center of the muffin comes out clean, about 18 minutes. Cool in the pan on a wire rack for 5 minutes; remove the muffins from the pan to the wire rack. Serve warm or at room temperature.
11/2 cups all-purpose flour
3⁄4 cup uncooked regular rolled oats
1/2 cup granulated sugar
2 teaspoons baking powder
1/2 teaspoon kosher salt
11/4 cups fresh blueberries
1 cup mashed ripe bananas (about 2 large bananas)
6 tablespoons unsalted butter, melted 1 large egg, beaten
1/2 teaspoon vanilla extract
OTHER RECIPES YOU MIGHT LIKE