Mini Zeppole with Marsala Sauce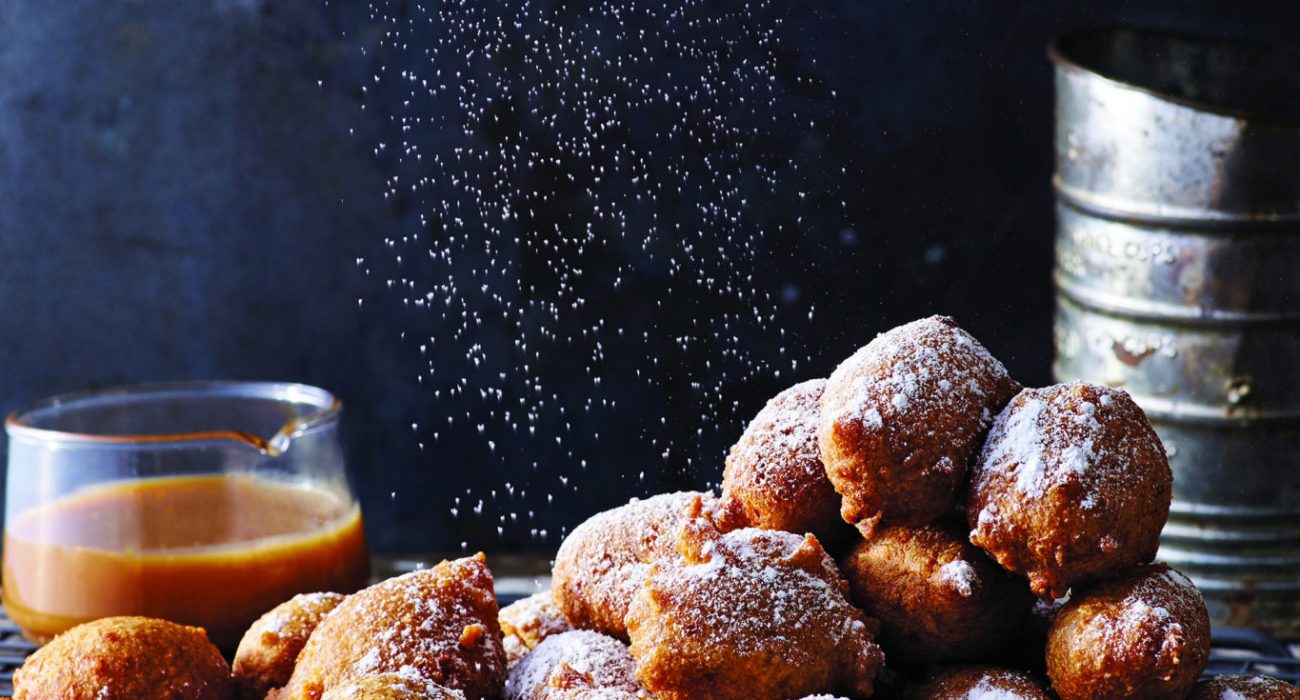 I first had zeppole at one of Mario Batali's restaurants, and I fell in love. What wasn't to love? They were light, sweet, miniature balls of dough lightly fried until the outer skin was ever so gently crisped, sweetened, and drizzled with a yummy berry compote. And what I thought when my brain wasn't dizzy with pleasure was, "Oh, I can have donuts after dinner if they're called zeppole instead?" Yes, zeppole are tiny fried Italian pastries that remind me of donut holes, and for some reason, eating them after dinner doesn't feel as decadent as eating donuts for breakfast. The zeppole I make taste like a moist funnel cake, the ricotta and orange zest being particular favorite flavors of mine here, and the sauce is similar to a sweet marsala.  (It could also be a great topping for ice cream, cake, or bread pudding.) Don't let the fact that these require frying in a pan of hot oil and separate steps for the sauce intimidate you. It all goes quickly and easily and ends up an impressive and tasty way to finish off a meal, what I'll describe as the dessert equivalent of a heartfelt goodbye kiss on the cheek.
1. First make the Zeppole: Pour the oil to a depth of 2 inches into a large, wide pot. Heat over medium-high to 350°F.
2. Meanwhile, whisk together the flour, sugar, baking soda, salt, and cinnamon in a large bowl. Add the ricotta, eggs, orange zest, and vanilla; stir until just combined.
3. Working in batches, carefully drop the batter by tablespoonfuls into the hot oil, and fry until puffed and golden brown, 1 to 2 minutes per batch. Transfer to a paper towel-lined rimmed baking sheet; drain. Repeat the procedure with the remaining batter, returning the oil to 350°F between batches.
4. Meanwhile, make the Marsala Sauce: Bring all the ingredients to a boil in a medium saucepan over medium-high, stirring often. Cook until the sugar dissolves and the sauce is smooth, 1 to 2 minutes.
5. Dust the zeppole generously with the powdered sugar, and serve immediately with the Marsala Sauce on the side.
I have also tossed the zeppole in cinnamon- sugar, but prefer powdered sugar.
Use a fry thermometer as it's important to keep the oil at 350°F—too high and they will burn on the outside and the inside will be raw; too low and the zeppole will be too oily.
Vegetable Oil
1 Cup all-purpose flour
2 tablespoons granulated sugar
1 teaspoon baking soda
1/2 teaspoon kosher salt
1/4 teaspoon ground cinnamon
1 cup ricotta cheese
2 large eggs, lightly beaten
1 teaspoon orange zest
1/2 teaspoon vanilla extract
Powdered sugar
Marsala Sauce
1 cup packed light brown sugar
1/2 cup unsalted butter
1/4 cup sweet Marsala
OTHER RECIPES YOU MIGHT LIKE