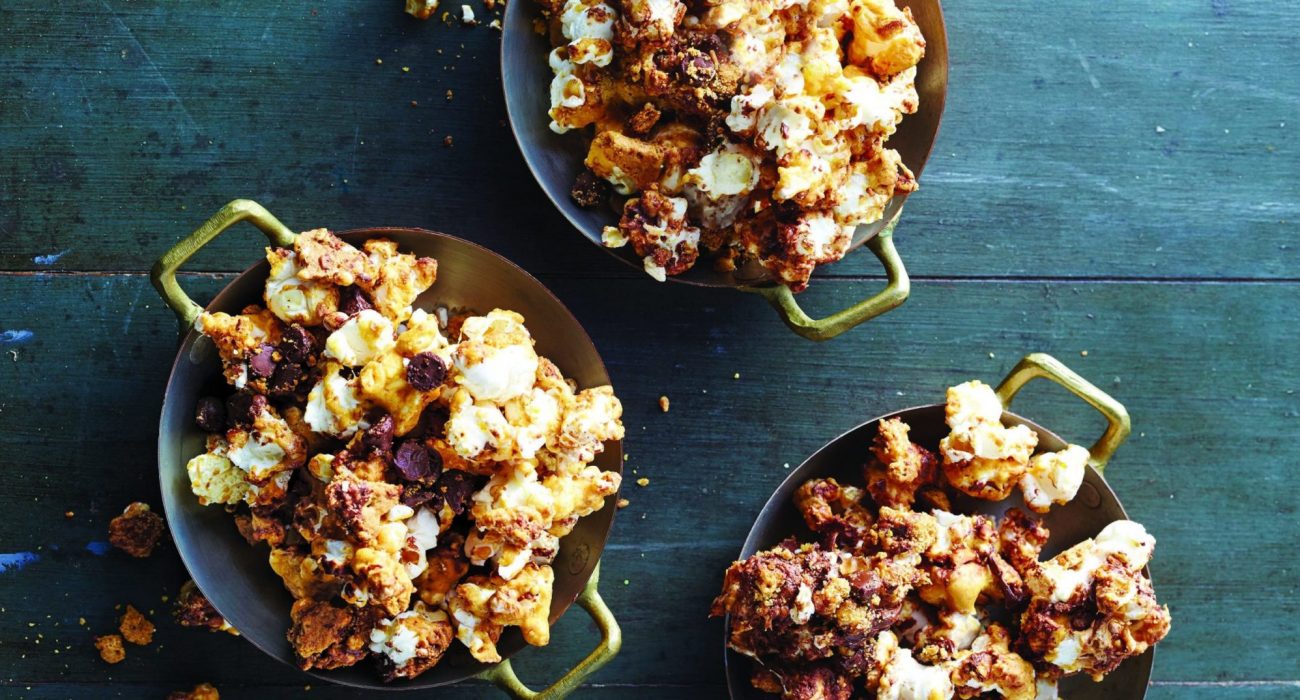 All I can do here is issue a warning: Get ready for an amazing, tasty, and addictive treat—and only eat these if you're with someone who won't mind your licking your fingers. I was actually trying to come up with a peanut butter and jelly popcorn, an idea I have not yet been able to perfect, but that doesn't mean I won't try again one day. . . Anyway, I got so frustrated in my show's crash kitchen for an episode that was supposed to be about dining outside that I finally tossed my experiment out and someone said, "Well, how about s'mores? Let's try to make that into popcorn." A few minutes later, I had tossed all the ingredients in a large bowl and then poured the hot sugar mixture over the popcorn, marshmallows, and chocolate chips. As it cooled, I couldn't hold back any longer. I had to taste, and when I did, the sweet and salty combo on the popcorn blew my mind. It's much better if you let it cool for an hour. Also, mix it well—don't let all the chocolate settle on the bottom. And yes, this does save in an airtight container, but good luck with that.
1. Preheat the oven to 250°F. Line 2 large rimmed baking sheets with parchment paper or silicone baking mats.
2. Toss together the popcorn, marshmallows, graham crackers, and chocolate chips in a large bowl.
3. Combine the granulated sugar, butter, brown sugar, and corn syrup in a medium saucepan. Bring to a boil over medium-high, stirring until the butter melts and the ingredients are completely combined. Continue to boil, without stirring, until a candy thermometer inserted in the mixture registers 245°F (firm ball stage), about 4 minutes.
4. Remove the sugar mixture from the heat, and stir in the salt and baking soda. Gradually pour the sugar mixture over the popcorn mixture, stirring gently with a heatproof spatula until the popcorn is evenly coated. Spread evenly onto the prepared baking sheets.
5. Bake until the sugar mixture is melted and evenly incorporated, about 20 minutes, stirring gently after 10 minutes. Remove from the oven, and place in a cool, dry place until the chocolate is firm, about 1 hour.
You will need a candy thermometer for this recipe.
10 cups popped salted popcorn
1 cup miniature marshmallows
1 cup lightly crushed graham crackers (about 5 rectangles)
3/4 cup semisweet chocolate chips
3/4 cup granulated sugar
1/2 cup unsalted butter
1/4 cup packed light brown sugar
1/4 cup light corn syrup
1 teaspoon kosher salt
1/2 teaspoon baking soda
OTHER RECIPES YOU MIGHT LIKE