Caramel and Cheese Popcorn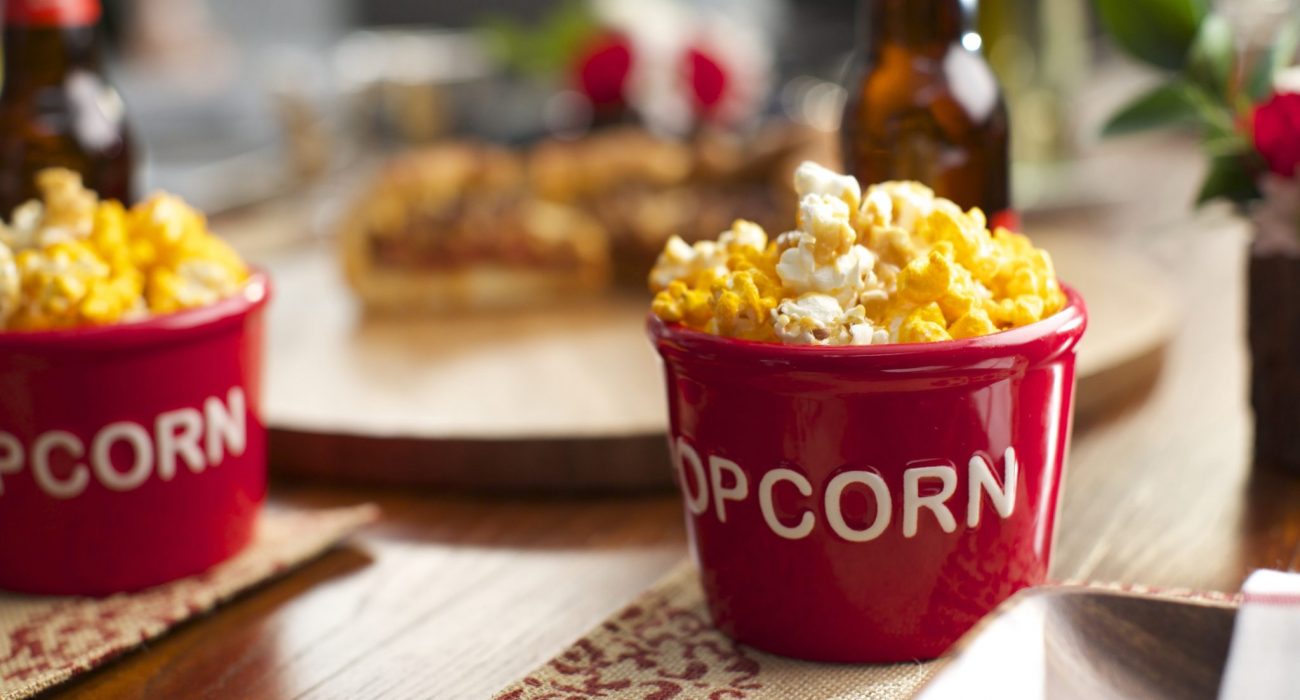 1. For the caramel popcorn:​ Line a 1/2 sheet tray with a silpat or foil lightly greased with cooking spray. Evenly spread the popcorn out on the sheet tray. Combine the butter, sugars, and corn syrup in a medium, heavy bottom sauce pot fitted with a candy thermometer. Bring to a boil over medium heat, making sure to stir often with a heatproof rubber spatula. As the caramel cooks it will bubble up a few inches. Cook the caramel until it reaches 248-250 degrees F (firm ball stage). Immediately turn off the heat and stir in the salt and baking soda. The caramel will bubble up again when you add the baking soda.
2. Spray a new heatproof rubber spatula with cooking spray. Immediately, and very carefully, pour the caramel mixture evenly over the popcorn. Using the greased rubber spatula carefully fold the caramel over the popcorn to coat. Not every popcorn kernel will be completely coated but the caramel will be evenly distributed. Break up any large chunks with the rubber spatula. Allow to cool completely, at least 15 minutes.
3. For the cheese popcorn:​ In a large bowl toss the 6 cups of popcorn with the melted butter until evenly coated.
4. In a separate bowl combine the cheddar cheese powder, mustard powder and ground white pepper. In two batches fold the cheese mixture into the popcorn until it is evenly coated.
5. To serve:​ Combine the two popcorns together, breaking up any remaining large chunks of the caramel popcorn if necessary, and serve immediately.
6. Cool about 3 minutes, and serve with the baguette slices and fresh apple slices.
For the caramel popcorn, make sure to pick a medium saucepot that has at least 5-inch high sides as the caramel mixture will bubble up as it cooks. If your thermometer doesn't quite reach the mixture at first, don't worry, as the caramel boils the bottom of the thermometer will reach the mixture.
For the cheese popcorn:​ Powdered cheddar cheese comes in two versions, classic orange or white cheddar. Using the orange cheddar is classic to Chicago but you can easily substitute white cheddar powder instead. You can find powdered cheddar cheese in most grocery stores or online.
Caramel Popcorn:
6 cups freshly popped, plain salted popcorn
1/2 stick (4 tablespoons) unsalted butter
1/4 cup plus 2 tablespoons granulated sugar
2 tablespoons light brown sugar
2 tablespoons light corn syrup
1/2 teaspoon kosher salt
1/4 teaspoon baking soda
Vegetable oil cooking spray, for coating the spatula
Cheese Popcorn:
6 cups freshly popped, plain popcorn
1/2 stick (4 tablespoons) unsalted butter, melted
1/3 cup orange cheddar cheese powder
1 teaspoon mustard powder
1/4 teaspoon ground white pepper
OTHER RECIPES YOU MIGHT LIKE