Football Pull-Apart Chocolate Cupcakes
with Mocha Frosting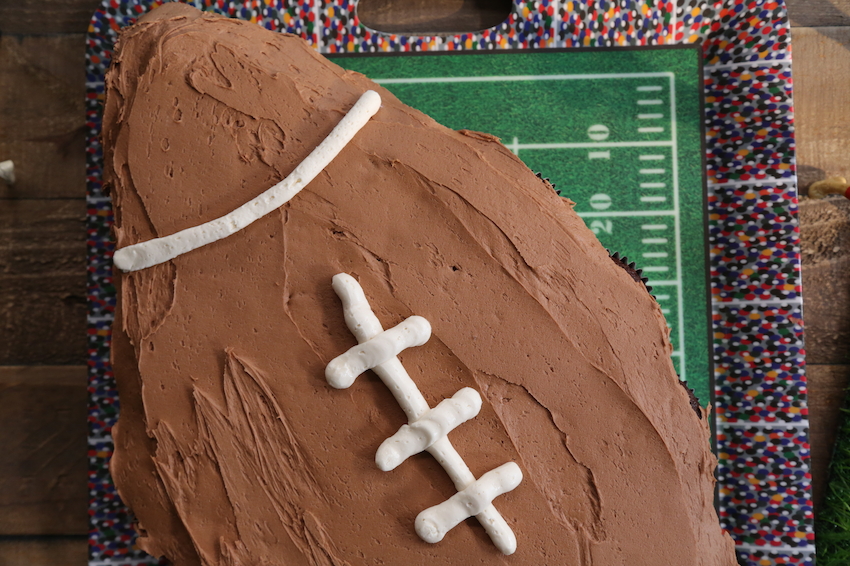 Cupcakes
1. Preheat the oven to 350°F. Grease and flour a 13 x 9-inch baking pan.
2. Whisk together the flour, granulated sugar, cocoa powder, baking powder, baking soda and salt in a large bowl. In another bowl, whisk together the oil, vanilla, eggs and 1 cup water until well blended. Pour the egg mixture into the flour mixture and stir until just incorporated.
3. Divide the batter among the cupcake liners and bake until a wooden toothpick inserted into the center of a cupcake comes out clean, 18 to 20 minutes. Cool the cupcakes in the tins for 5 minutes, then remove and cool completely on a wire rack.
Frosting
4. Dissolve the coffee in 1 tablespoon hot water in a small bowl; set aside.
5. Beat the butter in the bowl of a stand mixer fitted with the paddle attachment until creamy. Gradually add the confectioners' sugar and beat until incorporated. Beat in the vanilla. Add 1/4 cup of the milk and beat to incorporate. Add more milk, a tablespoon at a time, until the frosting is a creamy piping consistency. Remove a rounded cup of the frosting and put it in a piping bag fitted with a plain 1/2-inch tip.
6. Add the cocoa powder and dissolved coffee to the mixing bowl and beat until well mixed. Add a little more milk as necessary to return the frosting to a creamy texture.
7. On a very large platter or a cutting board, arrange the cupcakes into the shape of a football. When you have a shape you like, spoon a very small amount of frosting onto the bottom of each cupcake and put them back onto the platter to help them stick to it slightly. Spoon the mocha frosting over the cupcakes, then use an offset spatula to smooth it over the top, allowing the frosting to cover the small gaps between the cupcakes. Use the white frosting to pipe the football's laces and the white markings on either end of the ball. Scatter the green candies around the platter, if using.
a piping bag fitted with a plain 1/2-inch tip
Cupcakes
2 1/3 cups all-purpose flour
2 cups granulated sugar 
2/3 cup unsweetened cocoa powder 
1 1/2 teaspoons baking powder 
1/2 teaspoon baking soda 
1/2 teaspoon fine salt 
3/4 cup vegetable oil 
2 teaspoons vanilla extract 
2 large eggs, lightly beaten 

Frosting
1 tablespoon instant espresso or coffee powder
3 sticks (1 1/2 cups) unsalted butter, at room temperature 
Two 16-ounce boxes confectioners' sugar
1 teaspoon vanilla extract
1/2 to 3/4 cup milk 
1/3 cup unsweetened cocoa powder 
Green candy-coated chocolate candies, such as M&Ms, for garnishing the platter, optional 
1 Hour, 15 Minutes
(includes cooling time)
OTHER RECIPES YOU MIGHT LIKE