Matcha Thumbprint Cookies
with Chocolate and Walnuts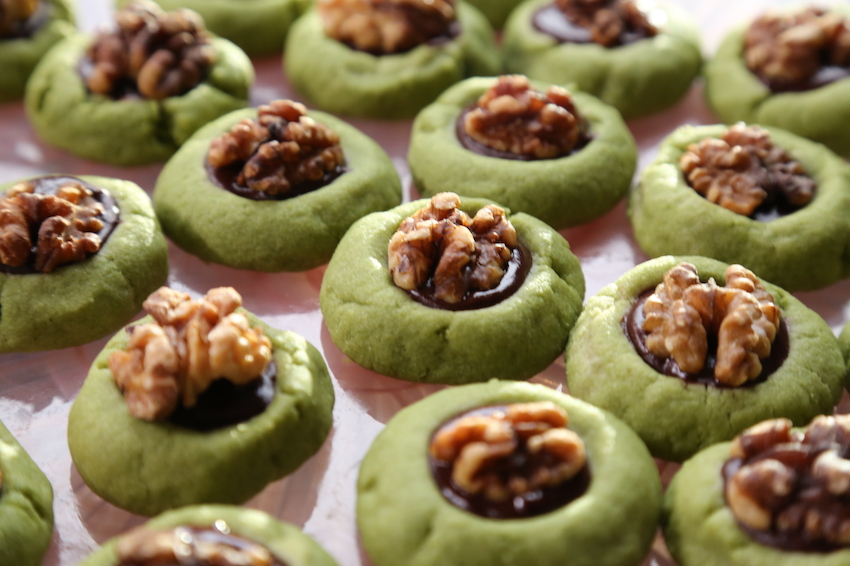 Cookies
1. Preheat the oven to 350 degrees F. Spread the walnuts on a rimmed baking sheet in a single layer and bake until lightly toasted, about 6 minutes. Transfer to a bowl to cool.
2. Increase the oven temperature to 375 degrees F. Line a large baking sheet with parchment paper.
3. Whisk together the flour, cornstarch, matcha and salt in a bowl.
4. Beat the butter, brown sugar and granulated sugar in a large bowl with an electric mixer until light and fluffy. Beat in the vanilla and egg yolk. Add the flour mixture in 3 batches, beating after each until just incorporated. Use a rubber spatula to scrape down the sides and bottom of the bowl and make sure the dough is evenly mixed.
5. Roll the dough into about thirty-two 1-inch balls, making them as smooth and even as you can, and place on the prepared baking sheet. Use the back of a round teaspoon measuring spoon to flatten the cookies and make an indentation in the center of each ball (rearrange the cookies as necessary so that they fit; they don't spread out too much, so about 1/2 inch of space between them is sufficient). If making the indentation causes a large crack, repair the crack with your fingers or re-roll the cookie and try again. Refrigerate the cookies until firm, about 15 minutes.
6. Bake the cookies until the undersides are light golden brown and the tops puffed and set, about 11 minutes. Remove the cookies and use the teaspoon measuring spoon to re-make the indentations that have puffed up during baking. Bake the cookies for 1 minute more, then cool on the baking sheet.
Chocolate Filling
7. Put the chocolate chips in a medium microwave-safe bowl. Put the cream, butter and corn syrup in a small microwave-safe bowl and microwave until steaming hot. Pour the hot cream mixture over the chocolate chips and let stand 5 minutes, then stir the mixture with a rubber spatula until smooth. If the chocolate chips do not completely melt, microwave in 15-second intervals, stirring after each interval, until melted
8. Spoon about 1 teaspoon of chocolate into the well of each cookie, then lightly press a toasted walnut half into each. Let stand until the chocolate sets.
Cookies
About 32 intact walnut halves (have a few extra just in case you make more cookies)
2 cups all-purpose flour 
3 tablespoons cornstarch 
1 tablespoon matcha (green tea powder) 
1/2 teaspoon kosher salt 
1 cup (2 sticks) unsalted butter, at room temperature 
1/3 cup light brown sugar 
1/3 cup granulated sugar 
1 teaspoon vanilla extract 
1 large egg yolk 
Chocolate Filling
1 cup semisweet chocolate chips
3 tablespoons heavy cream 
1 tablespoon unsalted butter, cut into pieces 
1 1/2 teaspoons light corn syrup 
OTHER RECIPES YOU MIGHT LIKE