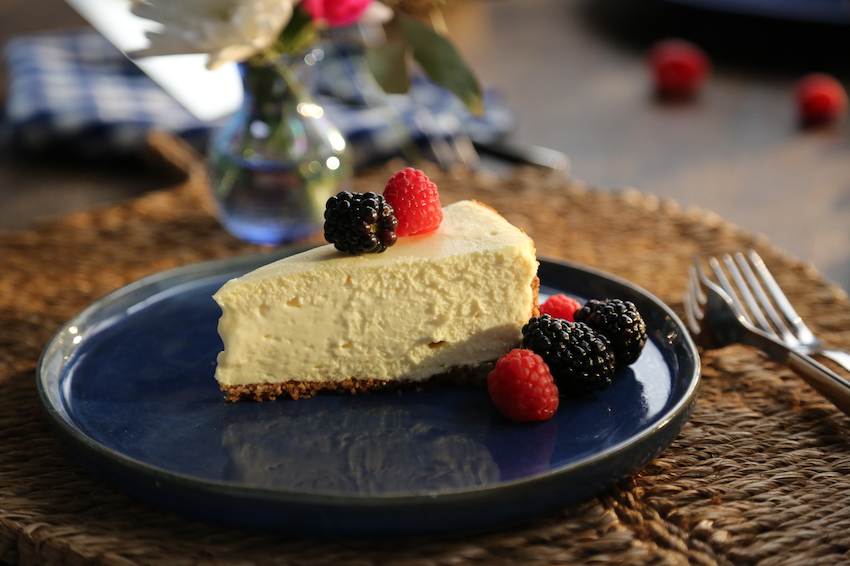 For the crust
1. Position an oven rack in the center of the oven and preheat to 350 degrees F. Generously butter the bottom and sides of a 9-inch springform pan.
2. Combine the almond flour, pecans, sweetener and melted butter in a food processor and pulse until finely ground and combined. Turn the mixture out into the prepared springform pan and press it firmly on the bottom and about 1 1/2 inches up the sides. Bake the crust for 10 minutes, then cool completely on the rack.
For the filling
3. Reduce the oven temperature to 325 degrees F
4. Combine the cream cheese, sweetener, lemon juice and vanilla in the bowl of a stand mixer and beat until lightened and smooth. Add the eggs one at a time, beating to incorporate after each addition.
5. Scrape the mixture into the cooled crust and smooth the top with an offset spatula. Bake until the edges of the cake are set but the center is still jiggly, 45 to 50 minutes. Run a thin knife around the edges of the cake to separate it from the pan, then let the cake cool for 1 hour.
6. Loosely cover the cheesecake and refrigerate until cold, at least 4 hours, before serving
Crust
6 tablespoons unsalted butter, melted and cooled, plus more for the pan
1 1/4 cups almond flour 
1/2 cup pecans 
1/4 cup confectioners' erythritol sweetener, such as Swerve
Filling
Five 8-ounce packages cream cheese, at room temperature
1 3/4 cups confectioners' erythritol sweetener, such as Swerve
1 tablespoon lemon juice 
1 1/2 teaspoons vanilla extract 
3 large eggs 
OTHER RECIPES YOU MIGHT LIKE