Pumpkin Tartlets with Bruleed Marshmallows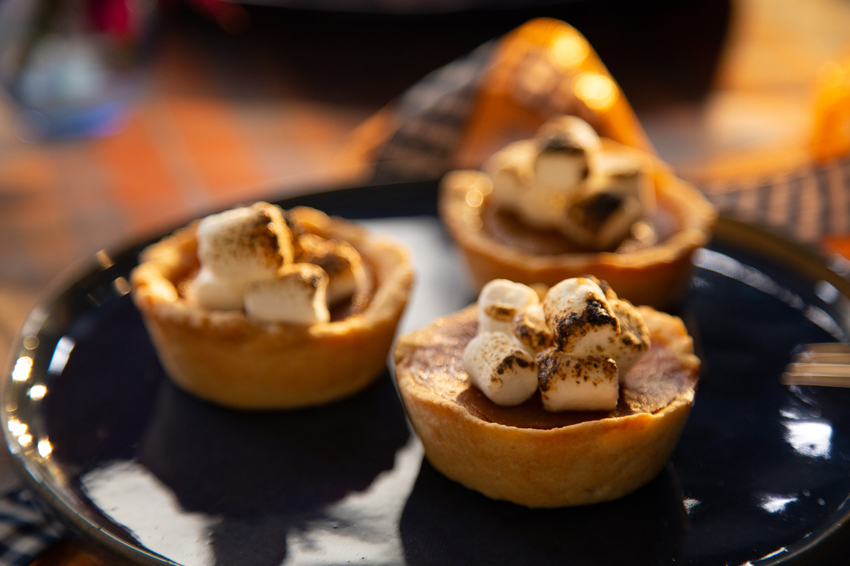 For the crust 
1. Preheat the oven to 375 degrees F.
2. Pulse the flour, granulated sugar and salt in a food processor until mixed. Drizzle in the butter and 1/4 cup water and pulse until all the flour is moistened and the mixture looks crumbly. Turn the dough out onto a surface and knead it with your hands until it just comes together. Divide the mixture evenly into 12 balls. Put 1 dough ball into each cup in a nonstick muffin pan, then press the dough into the bottoms and up the sides of the cups, trying to keep the thickness as even as possible. Refrigerate the muffin pan until the dough is firm, about 30 minutes.
 For the filling
3. Whisk the pumpkin puree, half-and-half, brown sugar, cinnamon, ginger, salt, allspice and egg together in a large bowl until smooth.
4. Fill the dough-lined muffin cups about two-thirds full with the pumpkin puree, then bake until the crust is light golden brown and the custard is set, about 35 minutes. Cool the tartlets in the pan for 15 minutes, then carefully remove each tartlet with an offset spatula. Finish cooling the tartlets completely on a rack.
5. Top each tartlet with 5 or 6 mini marshmallows and lightly toast them with a creme brulee torch. (If you do not have a torch, you can set the tartlets on a baking pan and toast them under the oven broiler.
Crust
2 cups all-purpose flour
2 tablespoons granulated sugar 
1/2 teaspoon kosher salt
1 stick unsalted butter, melted and cooled 
Filling
1 1/4 cups pure pumpkin puree
2/3 cup half-and-half 
1/3 cup plus 1 tablespoon light brown sugar 
1/2 teaspoon ground cinnamon 
1/4 teaspoon ground ginger 
1/4 teaspoon kosher salt 
1/8 teaspoon ground allspice 
1 large egg 
1/2 cup mini marshmallows 
2 Hours, 45 Minutes (includes cooling time)
OTHER RECIPES YOU MIGHT LIKE