Roasted Eggplant Pesto Pasta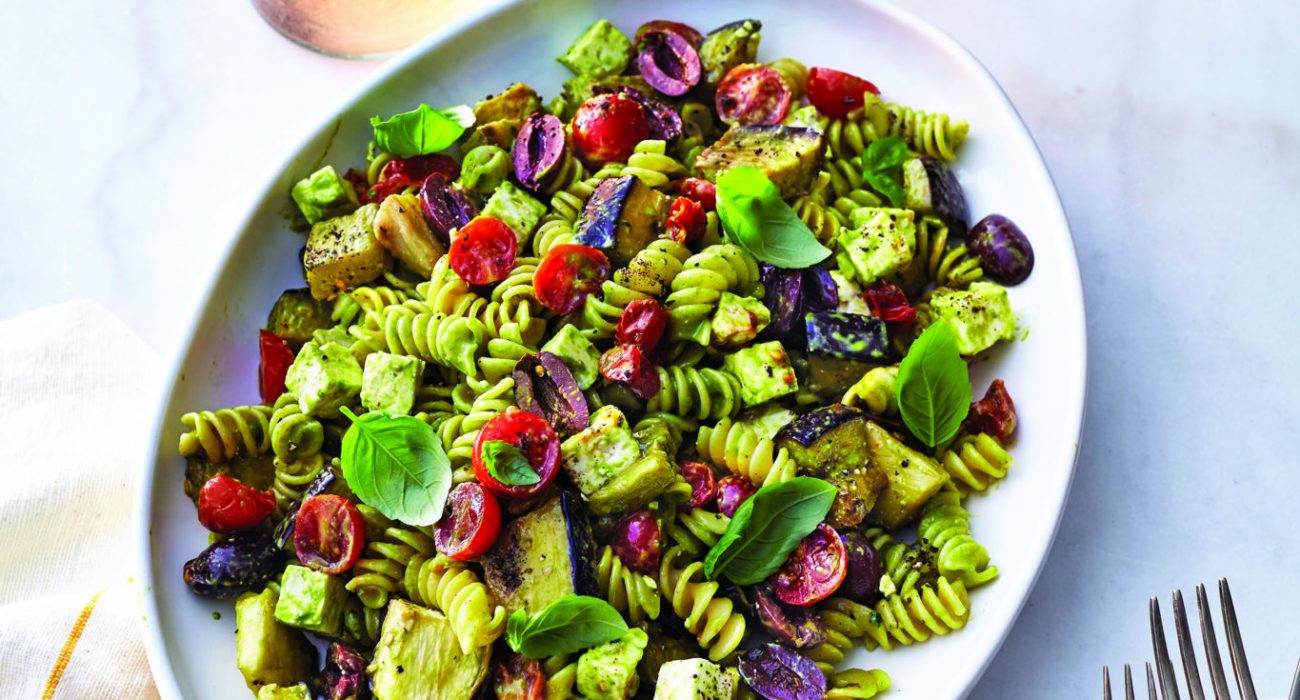 I'm a fan of eggplant, which I was surprised many years ago to learn is actually a fruit, though closer to tomatoes and potatoes than anything I regard as fruity. However, it's near and dear to my heart for its sculptured beauty, regal purple color, and gratifying meatiness—or perhaps chewiness—that I periodically crave. When that craving strikes, it's for this roasted eggplant and pesto pasta. There is a medley of strong flavors here: the tomatoes, the salty and briny olives, and the eggplant itself. The pesto you make by processing the olive oil, almonds, capers, and garlic is causing my mouth to water right now. With the addition of the feta, this has a wonderful garden-fresh taste. It's a great choice for when you want a gratifying but light and healthy dinner. Serve with a salad or fresh sourdough bread and your favorite white or red wine.
1.Preheat the oven to 475°F. Toss the eggplant with the 2 tablespoons olive oil, salt, and pepper; spread on a rimmed baking sheet. Bake until the eggplant is slightly tender, about 20 minutes.
2. Add the tomatoes and olives to the baking sheet, and bake until the tomatoes begin to burst and the eggplant is tender, about 5 minutes.
3. Process the 1/2 cup olive oil, almonds, capers, and garlic in a blender until smooth. Add the basil, oregano, and parsley; process just until smooth. Stir in the lemon juice.
4. Cook the pasta in salted water according to the package directions; drain. Toss the hot cooked pasta with the roasted vegetables, pesto mixture, and feta. Sprinkle with the basil leaves and serve. 
 You don't have to, but I like to sweat eggplant to release extra water: Slice the eggplant and lay slices on a wire rack. Sprinkle with salt and let stand for 30 minutes. Pat dry and go to Step 1.
3 cups (1-inch) cubed unpeeled eggplant (from about 1 pound eggplant)
2 tablespoons olive oil
1 teaspoon kosher salt
1/2 teaspoon black pepper
1 cup halved cherry tomatoes
1/2 cup halved pitted kalamata olives
1/2 cup extra-virgin olive oil
1/4 cup whole blanched almonds
1 tablespoon capers, drained
2 teaspoons chopped fresh garlic
1/2 cup firmly packed fresh basil leaves, plus more for garnish
1/4  cup firmly packed fresh oregano leaves
1/4  cup firmly packed fresh flat-leaf parsley leaves
1/2 tablespoon fresh lemon juice
1 (16-ounce) package rotini pasta 1/2 cup feta cheese, cut into cubes
OTHER RECIPES YOU MIGHT LIKE