Four-Cheese Crab Mac 'n' Cheese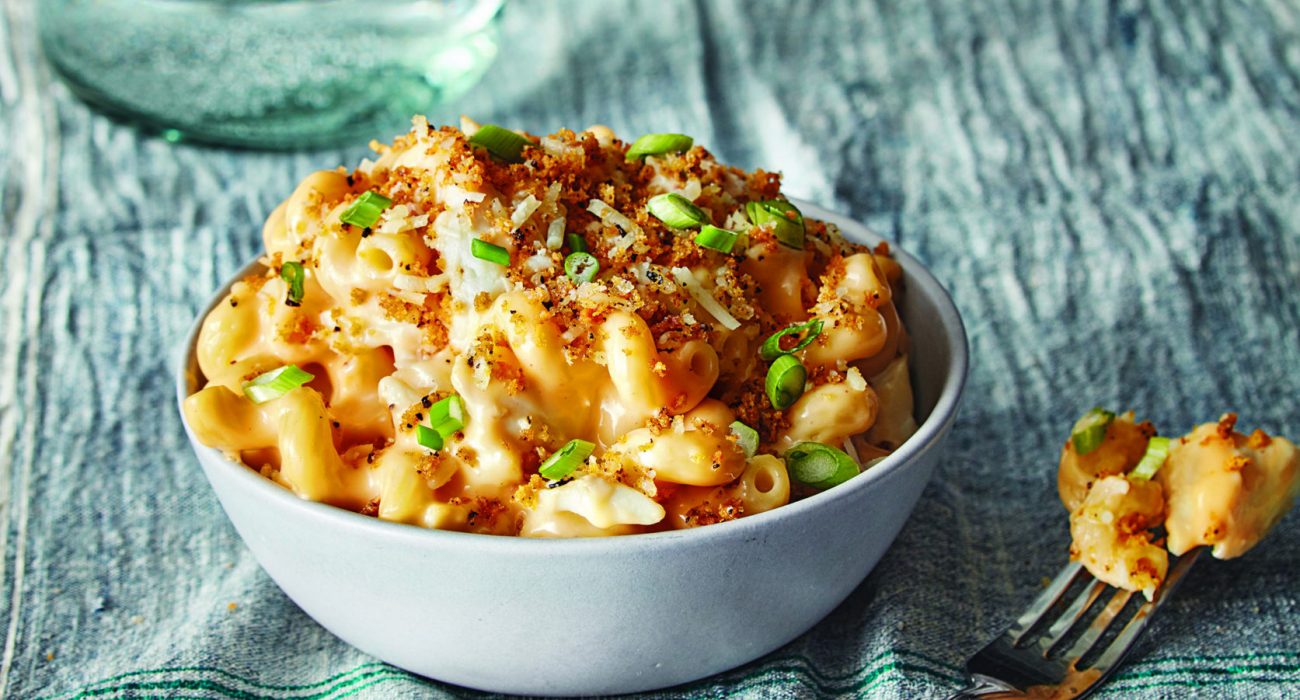 Who doesn't like mac and cheese? I suppose it would be more meaningful to say that everyone likes mac and cheese, especially yours truly and my extended family. For that reason alone, I made it a point to develop a recipe for this staple that I've enjoyed since childhood. But my, how this dish's public image has changed! From a satisfying last-minute filler Mom could make for the kids to a culinary magic trick whereby noodles and cheese are transformed into savory, smile-inducing surprises for even the most discriminating foodies. Offhand, I recall seeing (and tasting) versions highlighting lobster and steak. I've seen a scoop of creamy cheesy goodness atop pulled pork sandwiches. And I've seen mac 'n' cheese fried into addictive little balls served as pass-around hors d'oeurves at fancy parties. I mean, nothing shows the evolution of this dish like people in tuxedos and formals gushing over mac 'n' cheese. My version is for grown-ups and sophisticated kids. The four cheeses make it uber cheesy and teem with flavor, and the crab, which is pretty easy to find in stores, elevates it to main-course level. Depending on who's at the dinner table, I occasionally leave out the crab and have a four-cheese version that even picky eaters devour. Served with a salad, I say, "Perfecto."
1. Preheat the oven to 375°F. Lightly grease a 13- x 9-inch baking dish. Cook the pasta according to the package directions for al dente. Set aside.
2. Melt 1/4 cup of the butter in a Dutch oven over medium. Whisk in the flour, and cook, whisking constantly, until smooth, about 2 minutes. Gradually whisk in the warm milk; increase the heat to medium-high, and cook, whisking constantly, until almost simmering, about 10 minutes. Stir in the hot sauce, salt, and pepper; cook, whisking often, until slightly thickened and bubbly, about 5 minutes. Remove from the heat.
3. dd the Cheddar, Gruyère, fontina, and 1 cup of the Parmesan; stir until the cheeses melt and the mixture is smooth.
4. Pour the cheese sauce over the hot cooked pasta in a large bowl; stir to coat. Gently stir the crabmeat into the pasta mixture. Pour the mixture into the prepared baking dish. Melt the remaining 1/4 cup butter. Stir together the melted butter, panko, and remaining 1/4 cup Parmesan; sprinkle over the pasta mixture. Bake until the top is golden brown and the edges are bubbly, about 25 minutes. 
5. Garnish with the scallions.
I recommend buying blocks of cheese and shredding it yourself; it just melts that much better!
1 (1-pound) package cavatappi pasta 1/2 cup unsalted butter
1/4 cup all-purpose flour
1 quart whole milk, warmed
1 tablespoon hot sauce
1 teaspoon kosher salt
1/2 teaspoon black pepper
2 cups shredded mild Cheddar cheese (about 8 ounces)
1 cup shredded Gruyère cheese
1 cup shredded fontina cheese
11/4 cups shredded Parmesan cheese
1 pound jumbo lump crabmeat, drained and picked to remove any bits of shell
1 cup panko (Japanese-style breadcrumbs)
1⁄3 cup sliced scallions
OTHER RECIPES YOU MIGHT LIKE