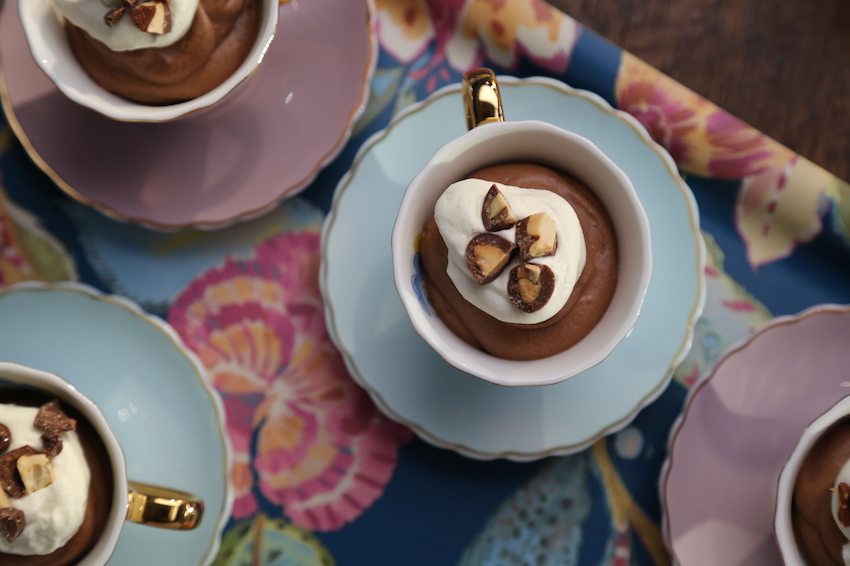 1. Beat the egg yolks and granulated sugar in a medium bowl with an electric mixer on medium-high heat speed until thick and bright yellow.
2. Heat 1 cup cream in a medium saucepan until just at a simmer, then slowly whisk about half of the hot cream into the yolk-sugar mixture to temper it. Slowly add the remaining hot cream, then transfer the mixture back to the saucepan and cook, stirring, until thickened, about 5 minutes (do not boil).
3. Add the semisweet chocolate to a bowl and slowly pour the egg-sugar-cream mixture over it. Stir until the chocolate is smooth and melted, then add the vanilla and salt. Cover with plastic wrap and refrigerate until cold, about 2 hours.
4. Beat the the confectioners' sugar with the remaining 1 1/2 cups cream in a bowl with an electric mixer on medium-high speed until it just holds stiff peaks. Reserve 1/2 cup for garnish. Gently but thoroughly fold the remaining whipped cream into the chocolate mixture. Spoon the mousse into a piping bag, then pipe the mousse into 6 teacups. Dollop the reserved whipped cream on top and refrigerate until set, about 1 hour. Sprinkle with chopped chocolate covered almonds and serve.
4 large egg yolks
3 tablespoons granulated sugar 
2 1/2 cups heavy cream
6 ounces good quality semisweet chocolate, chopped 
1 teaspoon vanilla extract 
Pinch kosher salt 
2 tablespoons confectioners' sugar 
8 chocolate covered almonds, roughly chopped 
3 Hours, 40 Minutes (includes chilling time)
OTHER RECIPES YOU MIGHT LIKE