Mom's Carrot Cake with Cream Cheese Frosting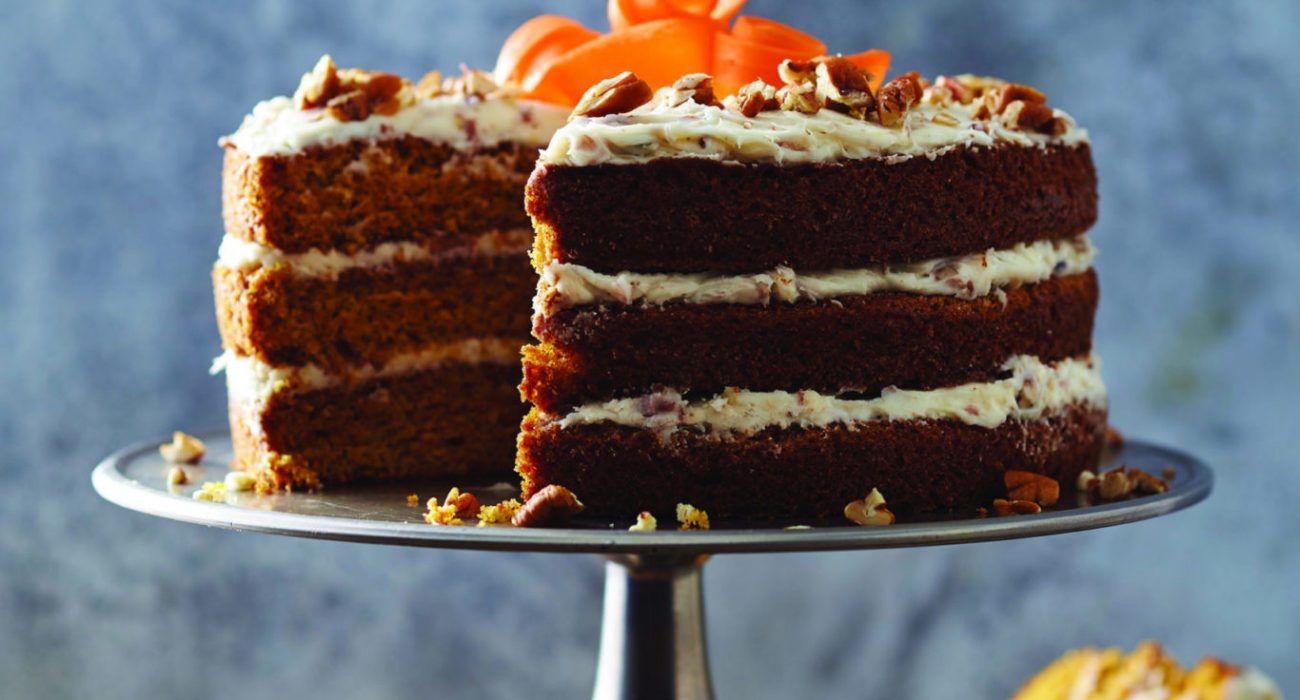 Like many people my age, I remember carrot cake popping up on menus and on our family's dinner table in the 1970s. Because of the carrots, I suppose, and the fruit used to sweeten and moisten the cake, it enjoyed the luster of healthiness, and that was and still is fine with me. I'll take a healthy cake any day. I'll tell you what else carrot cake had that others didn't—cream cheese frosting. Don't even look for health benefits here. From my very first bite, though, this cake became an exciting opportunity to enjoy this rich, creamy frosting— and the thicker it was spread on top the better it was. I often save a bite or two of just frosting for the end. This cake is moist and delicious, and leaving the sides uniced is a twist on the traditional, yet it's the way I remember my mom serving it when I was kid. I serve this year-round and for the right person, someone like me, it can be a special birthday treat, too. It's also great with a cup of coffee.
Carrot Cake
1. Preheat the oven to 350°F. Line the bottoms of 3 greased and floured 9-inch round cake pans with parchment paper. Stir together the carrots, 2 cups flour, sugar, baking soda, baking powder, cinnamon, and salt; set aside.
2. Beat the eggs in a large bowl with an electric mixer at medium speed until smooth and thick, about 2 minutes. Add the oil and vanilla to the eggs; beat until combined. Gradually add the flour mixture to the egg mixture, beating well. Divide the batter evenly among the pans.
3. Bake until a wooden pick inserted in the center comes out clean, about 30 minutes. Cool in the pans for 15 minutes; remove from the pans, and cool completely on wire racks, about 30 minutes.
Cream Cheese Frosting 
4. Beat the powdered sugar, cream cheese, and butter with an electric mixer at medium speed until well blended; stir in the pecans. Spread the frosting between the layers and on the top of the cake. Top with the chopped pecans and the carrot ribbons, if desired.
To make carrot ribbons, peel the carrots. Holding the carrot by the thicker end, slide the vegetable peeler away from you for thin ribbons. Continue to shave from the same place to get wide ribbons.
Carrot Cake
3 cups grated carrots (from 4 medium carrots)
2 cups all-purpose flour, plus more for pan
2 cups granulated sugar
2 teaspoons baking soda
1 teaspoon baking powder
1 teaspoon ground cinnamon
1⁄2 teaspoon table salt
4 large eggs
1 cup vegetable oil
1 teaspoon vanilla extract
Cream Cheese Frosting
1 (16-ounce) package powdered sugar
1 (8-ounce) package cream cheese, softened
1⁄2 cup unsalted butter, softened
1 cup pecans, chopped, plus more for cake
Carrot ribbons (optional)
OTHER RECIPES YOU MIGHT LIKE