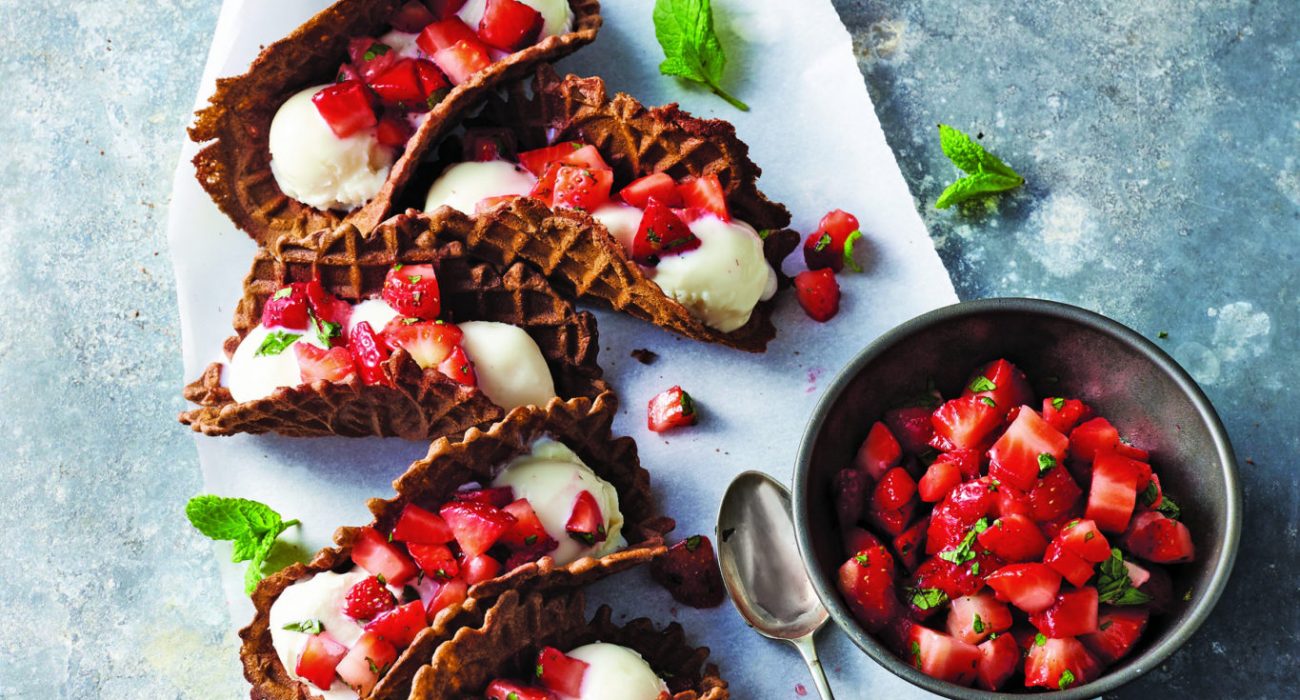 I know Neapolitan tacos sounds like an odd blend of cultures, but it will make perfect sense after this explanation. I have a thing about efficiency and value, and so I like when I can use seemingly specialized kitchen tools for more than their intended purpose, and such was the case with my pizzelle maker. I used it to make cookies. Check. Then one day I used it to make the cones for my ginger mousse, and in the midst of that production—and this will give you a good sense of the way my brain works—I thought, "Wait a minute! If I only folded the cone halfway, this would make a really good taco." I was right. The end result here are crispy, chocolaty, crunchy cookie shells that make the perfect host for creamy vanilla ice cream and minty macerated strawberries. As long as we're mixing cultures, I suggest serving these after grilling chicken and corn on the cob or hamburgers on a warm summer night. What's really neat is these look beautiful and are equally irresistible. No one can eat just one.
1. Make the Pizzelles: Preheat a pizzelle maker according to the manufacturer's instructions. Whisk together the flour, sugar, cocoa, baking powder, and salt in a medium bowl. Whisk together the melted butter, milk, and egg in a small bowl; add to the flour mixture, and whisk until blended and smooth.
2. Coat the pizzelle maker with cooking spray. Spoon 1 tablespoon of the batter in the hot pizzelle maker; cook until set and slightly darker in color, 45 to 50 seconds. Use a small offset spatula to remove the pizzelles, and immediately drape the pizzelles over the handle of a wooden spoon (about 3/4 inch to 1 inch in diameter) to form a taco shape; let stand until completely cool, about 3 minutes. Transfer to a wire rack, and repeat with the remaining batter.
3. Make the Filling: Combine the strawberries, sugar, and mint in a medium bowl; let stand about 10 minutes, stirring occasionally to dissolve the sugar.
4. Spoon 3 small scoops of the vanilla ice cream (about 2 tablespoons per scoop) into each pizzelle taco; top each with about 11/2 tablespoons of the strawberry mixture.
The pizzelle shells can be made ahead and stored in an airtight container in the fridge for up to a week.
You'll need a pizzelle maker for this recipe—but fear not! I provide another recipe or two for which you can use this specialty iron.
Pizzelles
2/3 cup all-purpose flour
6 tablespoons granulated sugar
2 tablespoons Dutch-process cocoa
2 teaspoon kosher salt
1/4 cup unsalted butter, melted
1/4 cup whole milk
1 large egg

Filling
21/2 cups chopped fresh strawberries (about 14 ounces)
2 tablespoons granulated sugar
1 1/2 tablespoons chopped fresh mint
7 1/2 cups vanilla ice cream
OTHER RECIPES YOU MIGHT LIKE