Vanilla and Coffee Cream Puffs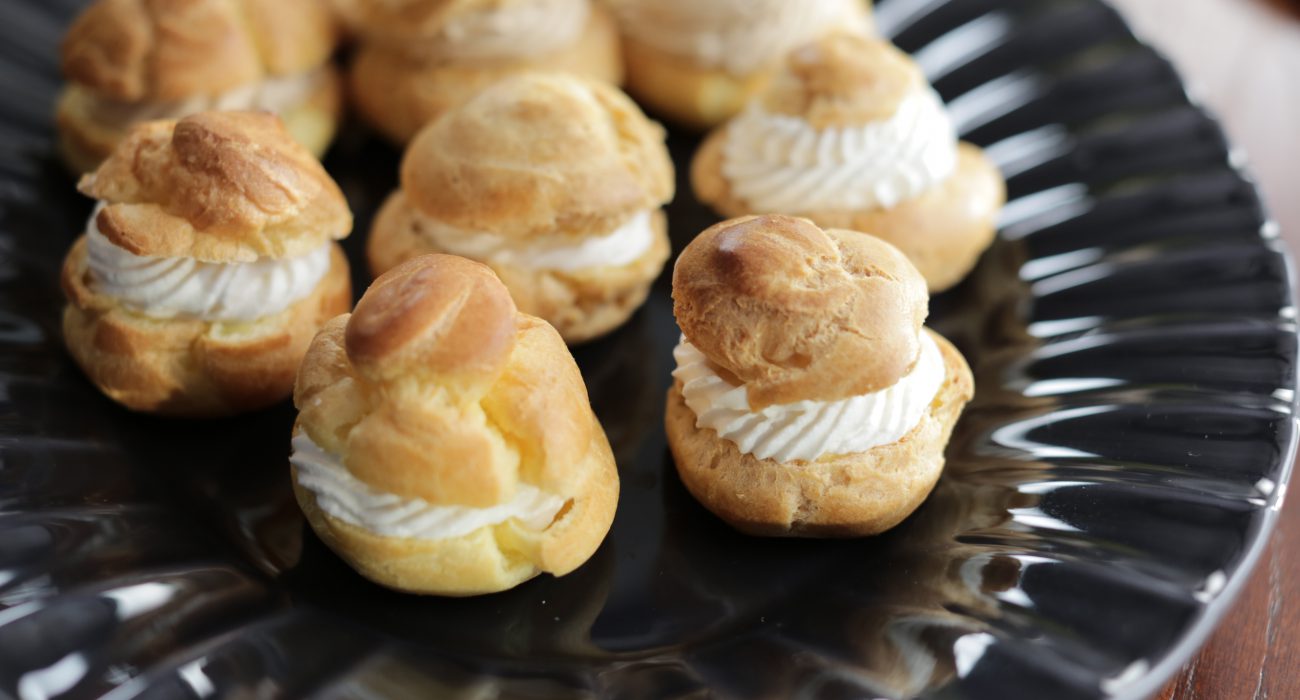 Dough
1. Preheat the oven to 400 degrees F. Line two baking sheets with parchment paper.
2. Combine the butter, granulated sugar, salt and water in a medium saucepan. Bring to a boil and remove from the heat. Add the flour, then return to the heat, mixing vigorously with a wooden spoon until all the flour is incorporated and the mixture forms a ball.
3. Transfer the dough to the bowl of a stand mixer fitted with the paddle attachment and mix on the lowest speed until the dough cools and the steam dissipates, about 4 minutes. Add 4 eggs, one at a time, letting each egg become fully incorporated before adding the next. The dough should be shiny, stretchy and slowly fall from a spoon in thick ribbons. If necessary, beat the remaining egg in a small bowl and add a tablespoon at a time until the dough looks correct.
4. Use a serrated knife to carefully cut the tops off the puffs; reserve the tops.
Cream
5. Microwave 2 tablespoons of the cream in a small bowl until warm. Add the espresso powder and stir until dissolved; place in the refrigerator to chill.
6. Put the remaining cream in a large bowl, along with the vanilla and 4 tablespoons of the confectioners' sugar. Beat with an electric mixer until the cream just holds stiff peaks.
7. Transfer half of the whipped cream to a piping bag fitted with a 1/2-inch plain or star tip. Pipe half of the puffs full of whipped cream; replace their tops.
8. Add the chilled coffee cream and the remaining 2 tablespoons confectioners' sugar to the remaining whipped cream in the bowl; beat until the cream returns to stiff peaks. Transfer to the piping bag (no need to clean in between) and fill the remaining puffs; replace the tops.
9. Dust the cream puffs with confectioners' sugar and serve immediately.
A piping bag with a 1/2-inch plain tip
Dough
5 tablespoons unsalted butter, cut into cubes
2 teaspoons granulated sugar
1/8 teaspoon fine salt
1 cup water
3/4 cup all-purpose flour
4 to 5 large eggs
Cream
2 3/4 cups heavy cream
1 tablespoon instant espresso powder
2 teaspoons vanilla extract
6 tablespoons confectioners' sugar, plus more for dusting
1 Hour, 20 Minutes (including cooling time)
OTHER RECIPES YOU MIGHT LIKE