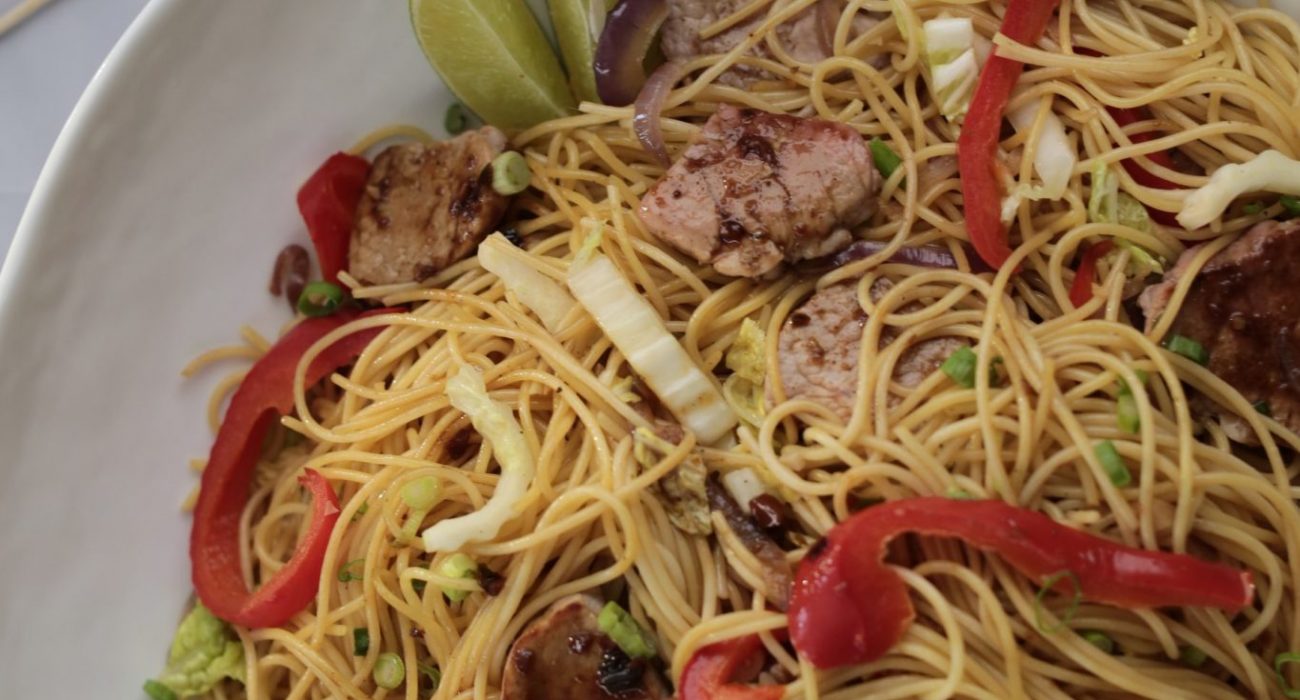 Ketjap Sambal
1. Heat the canola oil in a small saucepot over medium heat. Stir in the garlic, ginger and jalapeno and sauté until fragrant but not yet browned, 2 to 3 minutes. Add the brown sugar, tamari, five-spice powder and 1/4 cup water. Bring the mixture to a simmer and cook until the sauce reduces and coats the back of a spoon, about 10 minutes. Remove from the heat and set aside.
Bami Goreng 
2. Heat the canola oil in a 12-inch sauté pan over high heat. Add the red onion, garlic and ginger and cook until softened. Add the red pepper. Sprinkle the pork tenderloin with salt and add it to the pan; cook until browned on both sides, 3 to 4 minutes total. Add the cabbage, stir in the sambal oelek, and then deglaze the pan with 1/4 cup water. Cook 2 for 3 minutes, until the water is evaporated. Finally, add in the cooked spaghetti and half of the ketjap sambal.
3. Transfer the bami goreng to a large bowl and drizzle with the remaining ketjap. Add a squeeze of lime and garnish with cilantro. Serve with extra lime wedges on the side.
Ketjap Sambal
1 tablespoon canola oil
2 teaspoons minced garlic (1 to 2 cloves)
2 teaspoons grated fresh ginger (a 1-inch knob)
2 teaspoons minced seeded jalapeno
1/4 cup packed light brown sugar
1/4 cup tamari
1/2 teaspoon five-spice powder
Bami Goreng
1 tablespoon canola oil
1 cup thinly sliced red onion (1/2 onion)
2 teaspoons minced garlic (1 to 2 cloves)
2 teaspoons grated fresh ginger (a 1-inch knob)
1 cup thinly sliced red bell pepper (1 bell pepper)
8 ounces pork tenderloin, sliced into 1/4-inch rounds and halved crosswise
Kosher salt
2 cups thinly sliced Napa cabbage
1 tablespoon sambal oelek
8 ounces thin spaghetti, cooked
Lime wedges, for juicing and serving
Roughly chopped cilantro leaves, for garnish
OTHER RECIPES YOU MIGHT LIKE