Chipotle Spiced Grilled Turkey Breast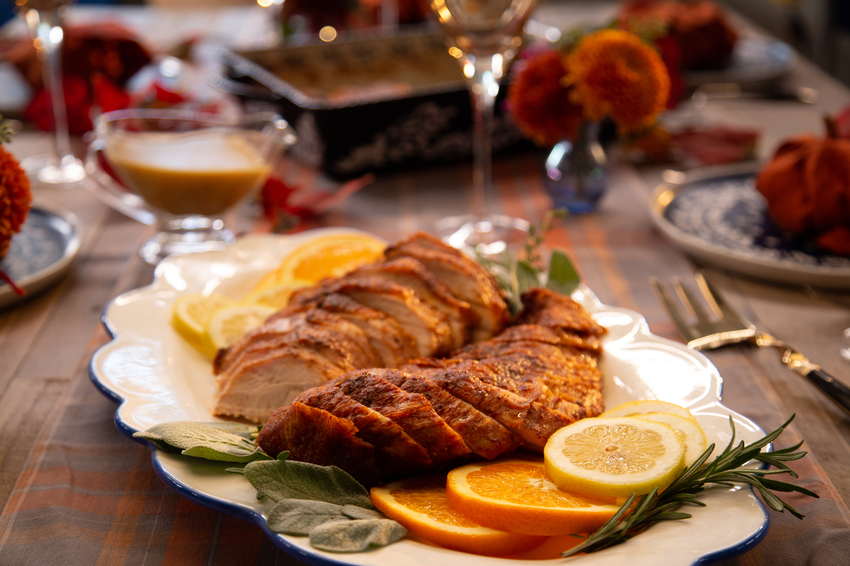 1. Preheat a grill for indirect cooking at about 350 degrees F.
2. Mix the paprika, chipotle powder, celery salt, coriander, cumin and 1 tablespoon salt together in a small bowl. Rub the mixture all over the turkey breast, getting some under the skin as well.
3. Grill the turkey over indirect heat, rotating once halfway through, until an instant-read thermometer inserted in the middle (do not touch bone) registers 165 degrees, about 1 hour 15 minutes to 1 hour 45 minutes. Transfer the turkey to a cutting board and let rest for 10 minutes.
4. Carefully slice each half of the turkey breast off the bone, then slice the meat crosswise. Transfer to a serving platter and garnish with the herbs and sliced citrus.
2 teaspoons paprika
1 1/4 teaspoons chipotle chile powder 
1 teaspoon celery salt 
1 teaspoon ground coriander 
1 teaspoon ground cumin 
Kosher salt 
One 5- to 6-pound bone-in, whole turkey breast 
Fresh herbs and sliced citrus, for garnish 
2 Hours, 15 Minutes (includes resting time)
OTHER RECIPES YOU MIGHT LIKE