Grilled French Toast with Apple-Berry Compote and Apple-Mascarpone Cream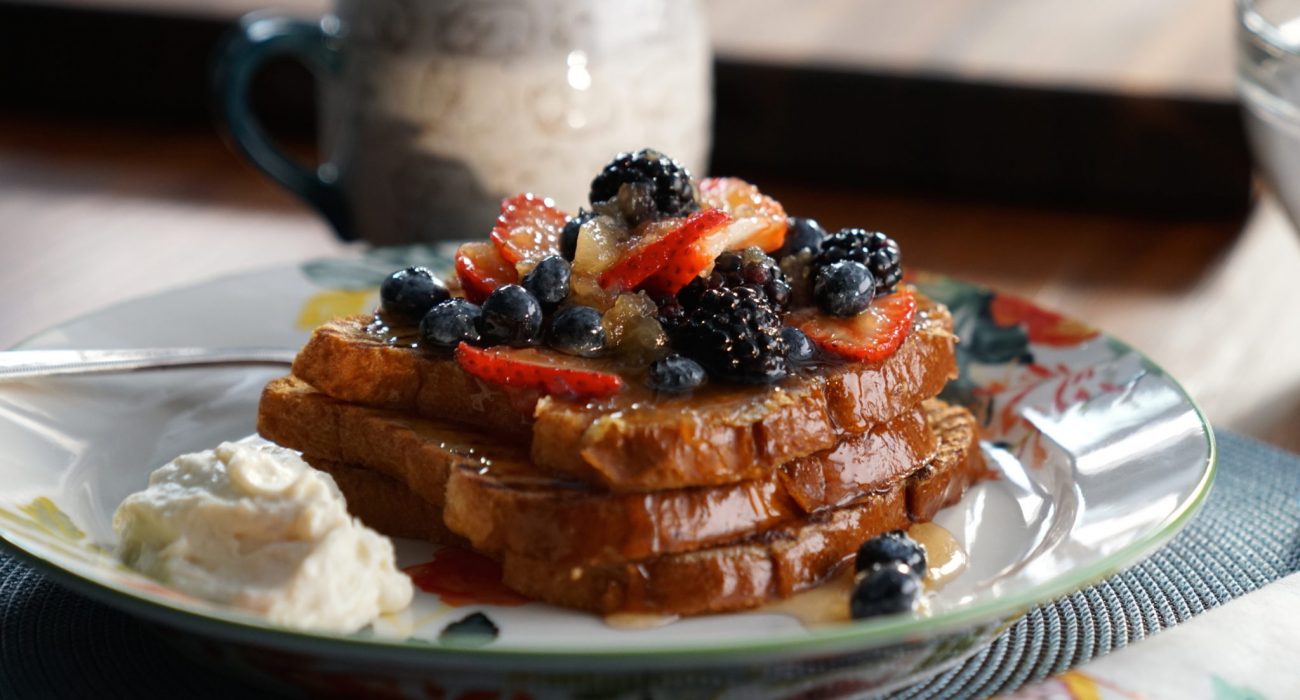 Apple-Mascarpone Cream
1. combine the apples, sugar, cinnamon and 1⁄2 cup water in a small saucepan. Bring to a simmer, cover and cook over low heat, stirring occasionally, until the apples are completely tender, about 12 minutes. Uncover and cook, stirring, until reduced to the consistency of applesauce, about 2 minutes. Transfer to a bowl and cool completely. Once cool, combine 1⁄2 cup of applesauce with the mascarpone and mix to blend. Refrigerate until ready to serve.
Apple-Berry Compote
2. combine the apple cider and sugar in a medium saucepan. Bring to a boil, then reduce to a simmer and cook until syrupy, about 10 minutes. Cool until warm. Add the berries to the syrup and keep warm until ready to serve.

French Toast
3. preheat a grill pan to medium low. In a medium bowl, combine the eggs, sugar, vanilla and cinnamon. Then whisk in the milk. Brush the hot grill pan with butter to coat. Dip brioche slices into the egg mixture, then flip and dip the reverse side. Remove from the egg mixture, letting any excess fall back into the bowl. Immediately add bread to grill pan. Cook until crisp and grill marks appear, 1 to 2 minutes. Flip and cook until cooked through, 3 minutes more. Remove to a plate and keep warm.
4. To serve, add 3 slices of French toast to each plate. Top with apple-berry compote and dollop some apple-mascarpone cream on the side.
Apple-Mascarpone Cream
2 large Granny smith apples, peeled and thinly sliced
2 tablespoons sugar
1⁄4 teaspoon ground cinnamon
8 ounces mascarpone
Apple-Berry Compote
4 cups apple cider
1⁄3 cup sugar
1 cup sliced strawberries 
1⁄2 cup blackberries
1⁄2 cup blueberries
French Toast
2 eggs
2 tablespoons sugar
1 teaspoon vanilla
1⁄4 teaspoon ground cinnamon
1⁄3 cup milk
6 slices brioche or challah bread
4 tablespoons butter, melted
OTHER RECIPES YOU MIGHT LIKE