Hasselback Sweet Potatoes
with Pistachio Crumble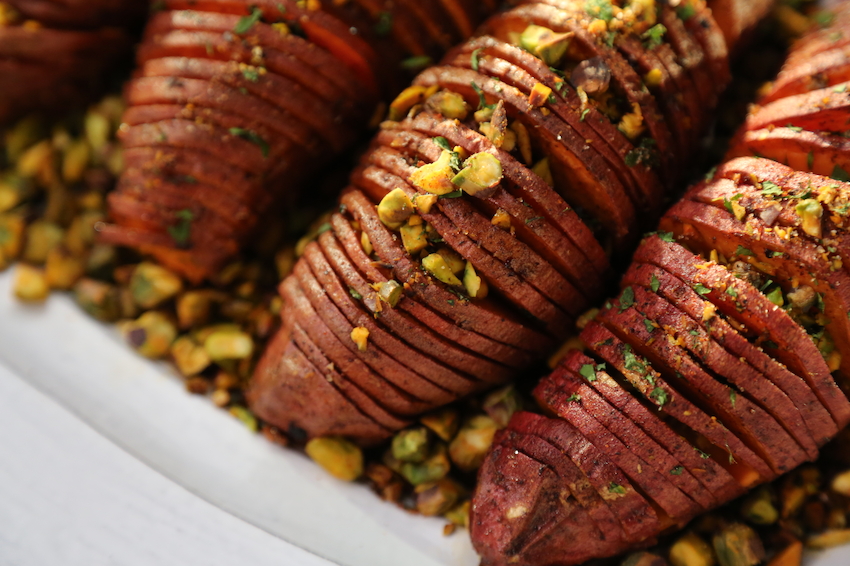 Sweet Potatoes
1. Preheat the oven to 425 degrees F. Line a rimmed baking sheet with foil.
2. Combine the butter, oil, paprika and 1/2 teaspoon salt in a small bowl.
3. Use a sharp knife to cut 1/8-inch-thick slices crosswise through each potato, slicing about two-thirds of the way through so that the potatoes remain intact.
4. Put the potatoes on the prepared baking sheet and brush with about half of the paprika butter, trying to get some of the butter between the slices. Bake until about halfway cooked and slightly pliable, about 30 minutes. Use a fork to gently apply pressure to the tops of the potatoes to fan the slices slightly. Brush in-between the slices with the remaining butter, then bake until cooked through and slightly crispy on top, about 35 minutes more.
Pistachio Crumble
5.  Heat the oil in a medium skillet over medium-high heat. Add the pistachios, paprika, chili powder, garlic powder, onion powder, 1/4 teaspoon salt and the sugar, if using. Cook, stirring often, until aromatic and lightly toasted, 3 to 4 minutes. Stir in the parsley.
6. Serve the sweet potatoes sprinkled with the pistachio crumble.
Sweet Potatoes
2 tablespoons unsalted butter, melted
2 tablespoons olive oil 
3/4 teaspoon smoked paprika 
Kosher salt 
6 small to medium sweet potatoes 
Pistachio Crumble
1 tablespoon olive oil
2/3 cup chopped shelled unsalted pistachios 
1/2 teaspoon smoked paprika 
1/4 teaspoon chili powder 
1/4 teaspoon garlic powder 
1/4 teaspoon onion powder 
Kosher salt 
1/4 teaspoon sugar, optional 
2 tablespoons chopped fresh flat-leaf parsley 
OTHER RECIPES YOU MIGHT LIKE