Bucatini with Wilted Spinach and Lemon Mascarpone Sauce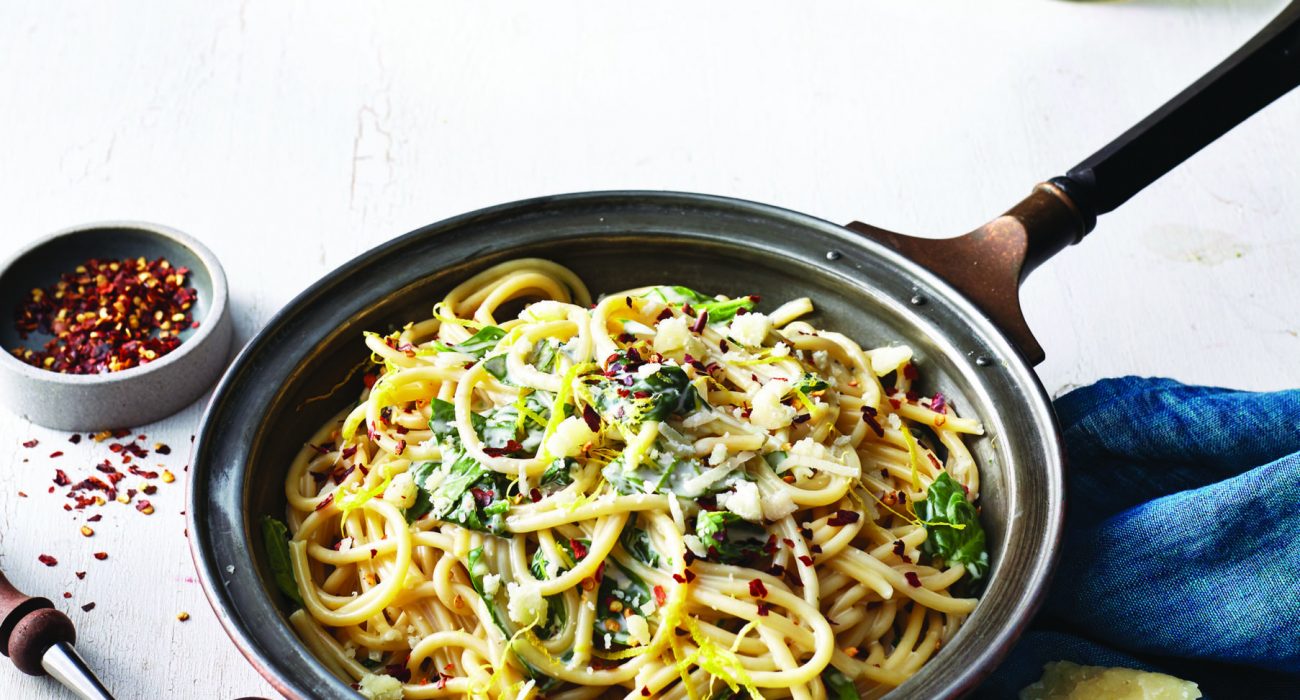 I'm sure you saw the lemon mascarpone sauce in the title and thought Valerie has gone too far this time. But trust me on this one. When it comes to inventing new dinner dishes, Tom and I are most creative, fearless, and successful with pasta, and this dish provides ample evidence. The goal was to come up with something slightly different and out of the mainstream, without veering too far, and to keep it relatively simple, something anyone could make on short notice. So we looked around. We had baby spinach and tomatoes in our garden. We had lemons and limes on our trees. I love mascarpone and had recently made a lime mascarpone and arugula pasta. Ergo, we had a wonderful meal with almost everything but the pasta and mascarpone coming from our yard. Note the crushed red pepper that adds that little bit of heat that seems to wake up each bite for me, and sprinkling fresh pecorino romano cheese on top? Well that last step provides a subtle flourish of salty flavor that ties everything back to my roots. This dish is similar to the way our ancestors ate, a fresh farm-to-table, keep-it-simple-and-delicious- will-result approach.
1. Cook the pasta according to the package directions. Drain the pasta, reserving 1 cup of the cooking water. Return the pasta to the saucepan; add the spinach and 1/4 cup of the reserved cooking water, tossing gently to wilt the spinach.
2. Combine the mascarpone, lemon zest, lemon juice, salt, crushed red pepper, and black pepper in a medium bowl. Add 1/2 cup of the reserved cooking water; whisk until smooth and creamy. Add the mascarpone sauce to the pasta mixture, and toss well. Thin with the remaining pasta water, if necessary. Top with the pecorino romano, and serve warm.
Feel free to throw in strips of leftover chicken for a heartier meal.
12 ounces uncooked bucatini pasta
3 cups roughly chopped baby spinach
1/2 cup mascarpone cheese
1/2 teaspoon lemon zest, plus 1 teaspoon fresh lemon juice
(from 1 lemon)
1/2 teaspoon kosher salt
1/2 teaspoon crushed red pepper
1/2 teaspoon black pepper
1 cup shaved fresh pecorino romano cheese
OTHER RECIPES YOU MIGHT LIKE