Grilled Eggplant Parmesan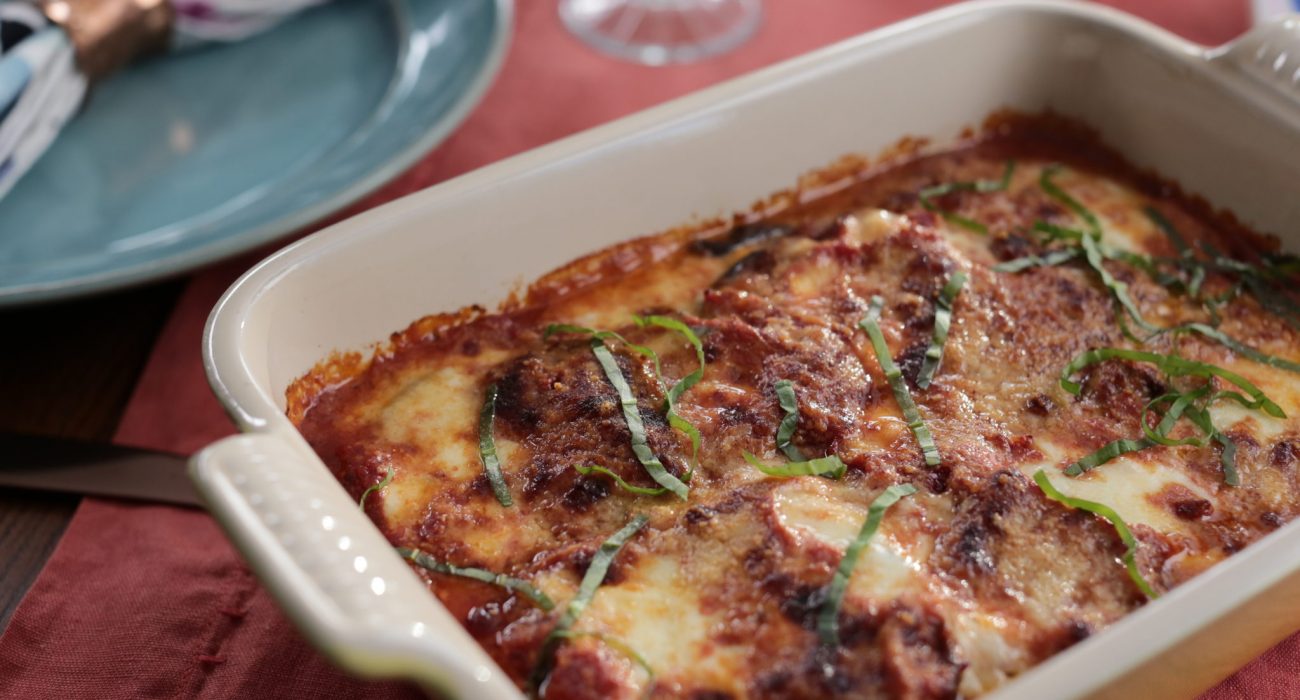 1. Preheat the oven to 425 degrees F.
2. Heat 1 tablespoon of the oil in a large skillet over medium heat. Add the garlic and red pepper flakes and cook, stirring, until fragrant, about 2 minutes. Add the crushed tomatoes, olives, 1/4 cup water and the basil sprig and simmer, stirring occasionally, until slightly thickened, about 10 minutes. Season with salt and discard the basil sprig. Remove from the heat, add the butter and stir to incorporate.
3. Meanwhile, heat a grill or grill pan over medium high. Brush both sides of the eggplant slices with the remaining 1/3 cup olive oil and sprinkle lightly with salt and pepper. Grill, turning once, until well-marked and tender, about 4 minutes per side.
4. Spread about a third of the sauce onto the bottom of a small rectangular (8-by-10-inch) baking dish. Top with half of the eggplant and half of the mozzarella, evenly spaced in the dish. Repeat with another third of the sauce and the remaining eggplant and mozzarella. Drizzle with the last of the sauce and sprinkle with the Parmesan.
5. Bake until the sauce is thickened and bubbling and the cheese is golden in spots, about 30 minutes.
6. Sprinkle with the sliced basil and serve warm.
1/3 cup plus 1 tablespoon extra-virgin olive oil
1 clove garlic, finely chopped
1/4 teaspoon red pepper flakes
One 15-ounce can crushed tomatoes
2 tablespoons pitted Kalamata olives, chopped
1 sprig basil, plus 1/4 cup thinly sliced leaves, for garnish
2 tablespoons unsalted butter
Kosher salt and freshly ground black pepper
1 large eggplant, cut into 1/4-inch rounds
12 ounces fresh mozzarella, sliced 1/4-inch thick
1/4 cup grated Parmesan
OTHER RECIPES YOU MIGHT LIKE