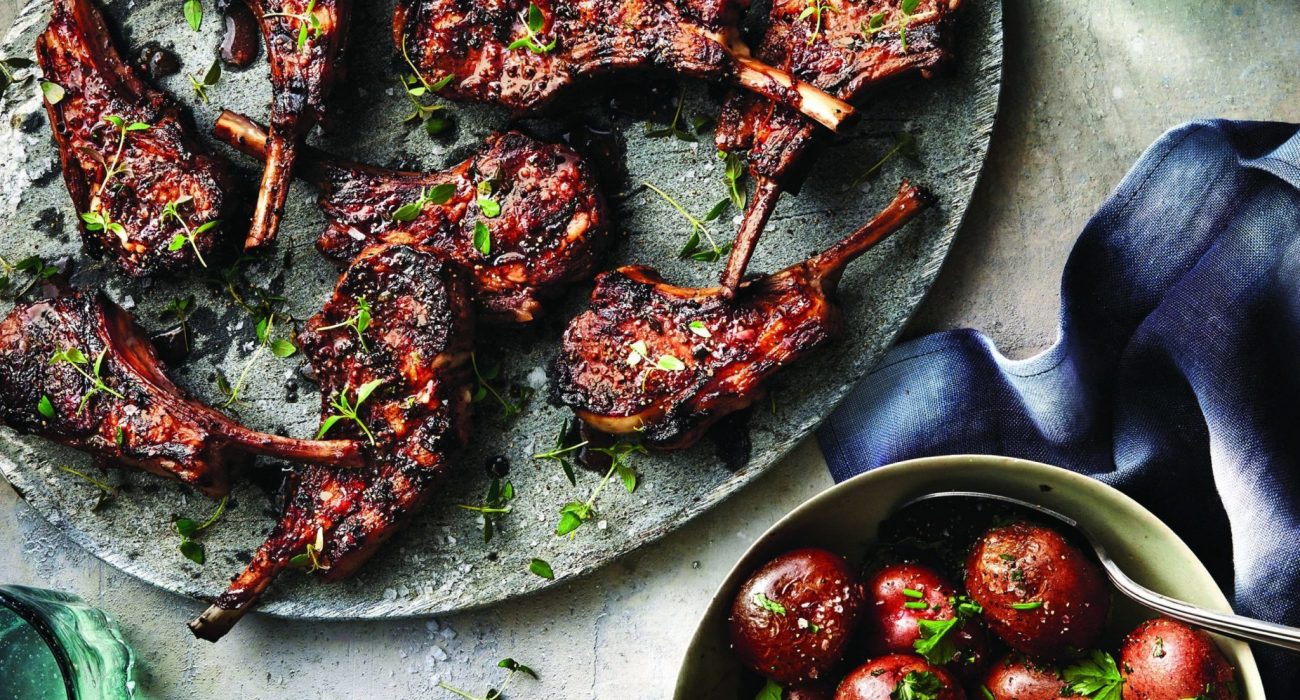 When my son, Wolfie, was little and we first moved out on our own, I wanted to make him special dinners every night, which, in a Monday through Friday reality, translated to lamb chops and asparagus or lamb chops and broccoli, or lamb chops and cauliflower and . . . you get the picture. The first few times he loved them, and I thought, great, I have a go-to meal. But I probably went to that meal a little too often. Eventually, he came in, did his homework or played his game, and said, "Mom, what are we having for dinner—and please don't say lamb chops." Admittedly, I get stuck on a favorite and have it night after night, but in this case, I didn't have the repertoire or confidence to branch out much. Eventually, I stretched out the time between servings until he asked for them again, and today we consider this a family classic. The marinade takes minutes to make. Then the chops sit in this bath of vinegar and seasonings for a few hours, until you're ready to throw them on the grill. These are clean and straightforward, with added support from roasted potatoes and an arugula salad. My advice is to use the highest quality chop you can find, since this dish is all about the flavor of the meat. Oh, if you have an unfinished bottle of red wine sitting around for a few days, leave it with your vinegars and use it in the marinade. You will enjoy, I have no doubt.
1. Whisk together the wine, oil, vinegar, mustard, thyme, garlic, 1 teaspoon of the salt, and 1/4 teaspoon of the pepper.
2. Place the lamb chops in a shallow baking dish or ziplock bag; pour the marinade over the lamb chops. Cover, or seal, and chill 2 to 4 hours, turning the lamb chops once.
3. Preheat the grill to medium-high (about 450°F).
4. Remove the lamb chops from the marinade; discard the marinade. Sprinkle the lamb chops evenly with the remaining 1 teaspoon salt and 1/4 teaspoon pepper.
5. Place the lamb chops on the oiled grates; grill, uncovered, until seared on each side or to the desired degree of doneness, 3 to 4 minutes per side. Garnish with chopped thyme and serve immediately.​
3/4 cup dry red wine
3 tablespoons olive oil
2 tablespoons balsamic vinegar
1 tablespoon coarse ground mustard
2 teaspoons chopped fresh thyme, plus more for garnish
1 teaspoon chopped fresh garlic
2 teaspoons kosher salt
1/2 teaspoon black pepper
8 (3/4-inch-thick) lamb rib chops, trimmed
OTHER RECIPES YOU MIGHT LIKE