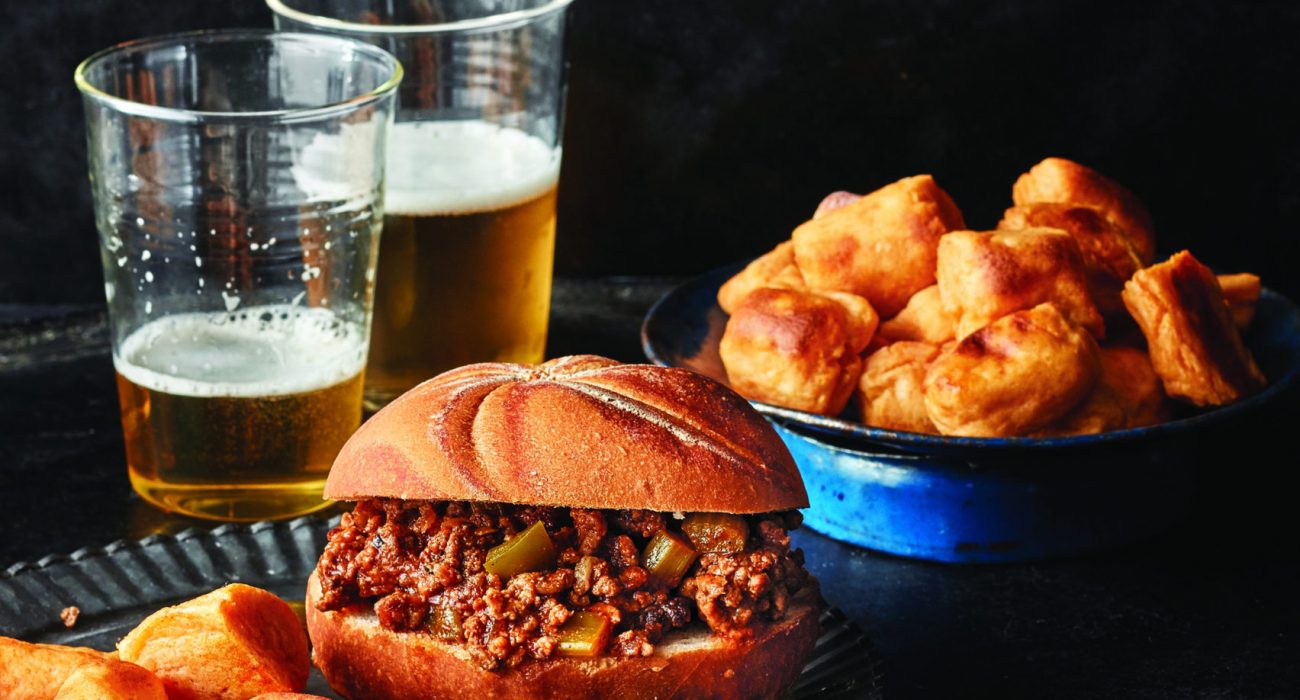 Sloppy Joes are one of the things my mom made when she was just too tired to cook that night. She threw in the store-bought Manwich and gave herself the time off. She also knew that we loved them, and I mean, we loved them. When we heard Sloppy Joes were on the menu, my brothers and I literally cheered. "Yay! Sloppy Joes!" I told this story to a producer on my show before making these on camera and wondered why us kids got so excited for these when my mom's amazing lasagna, spaghetti and meatballs, and risotto failed to elicit such excitement. My producer said, "It's because these taste great and hit that special happy spot in all of us." Anyway, this is still the time-saving shortcut my mom enjoyed. Just throw the ingredients
in the slow cooker in the morning and you have Sloppy Joes by dinnertime. For a party or a treat, you can also prepare these as sliders. Served with fries, Tater Tots, potato salad, or chips, this will delight all the kids, as well as the kid still lurking inside all of us slow- to-grow-up adults.
1. Heat the oil in a large Dutch oven over medium-high. Add the beef, and cook, stirring to crumble, until browned, about 8 minutes. Stir in the bell pepper, celery, onion, and garlic; cook, stirring occasionally, until the onion is translucent, about 6 minutes. Drain well.
2. Transfer the beef mixture to a 5-quart slow cooker. Stir in the tomato sauce, soda, ketchup, mustard, cumin, Worcestershire sauce, salt, oregano, black pepper, and 2 tablespoons of the vinegar. Cover and cook on HIGH until slightly thickened, about 4 hours, or on LOW about 8 hours. Stir in the remaining 1 tablespoon vinegar. Serve the beef mixture on the hamburger buns.
I know, you're wondering about that can of soda. It provides a subtle undercurrent of sweet and sour and fun-zone burst of flavor.
1 tablespoon canola oil
2 1/2 pounds ground sirloin
3/4 cup chopped celery
1 small yellow onion, chopped
1 tablespoon chopped garlic
1 cup tomato sauce
1/2 cup lemon-lime soda
1/2 cup ketchup
2 tablespoons yellow mustard
1 tablespoon ground cumin
1 tablespoon Worcestershire sauce
1 teaspoon kosher salt
1 teaspoon dried oregano
1/2 teaspoon black pepper
3 tablespoons apple cider vinegar
8 hamburger buns
OTHER RECIPES YOU MIGHT LIKE