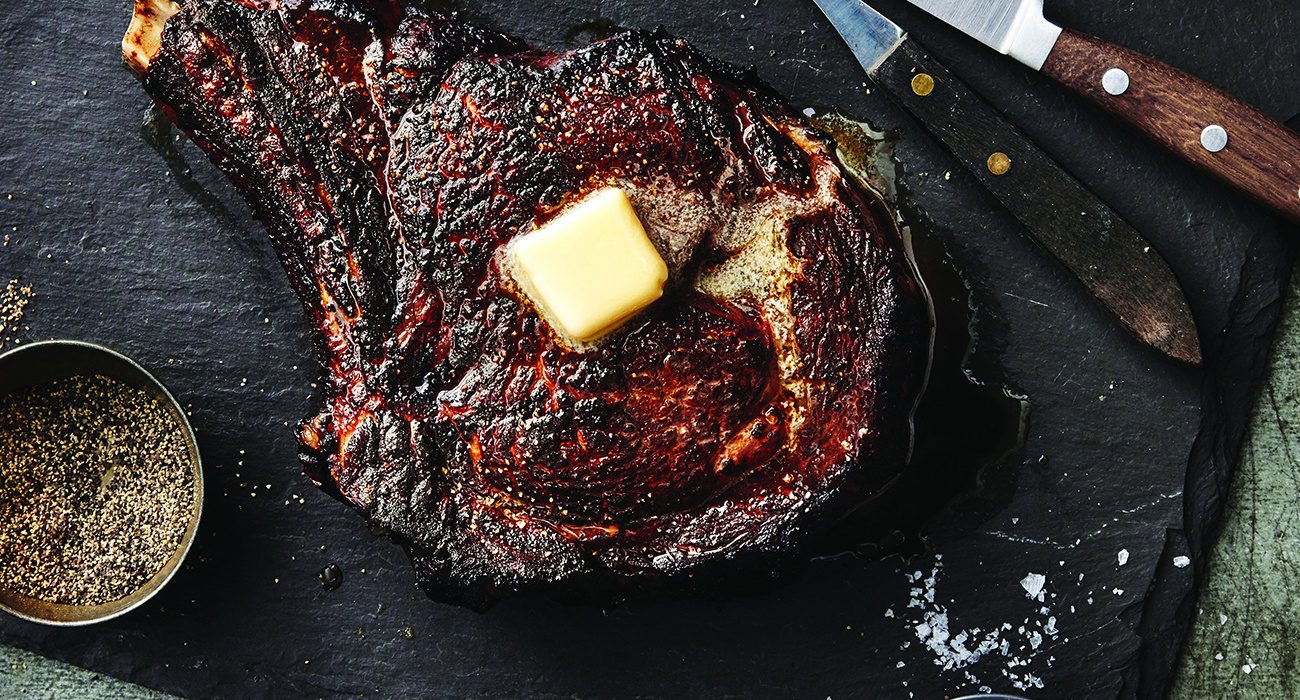 My husband came up with this recipe, and if I hadn't already married him, it would've been love at first bite. The idea was born one night when we were thinking about a new way to season our steak. Tom had an aha moment when he looked in the cabinet where we keep our seasonings and found a jar of instant espresso, which is always there for when I make brownies. He mixed it with some ancho chili powder, and salt and pepper, then smashed the rub into both sides of the steak and let it sit for about 30 minutes, until all that espresso, all that chili, and all that salt and pepper turns from rub to liquid. Then you get your cast-iron skillet super hot—Tom puts it in the oven at 450°F to get it to the place where he feels it's ready—add vegetable oil and drop the steak in, cooking on high until a firm crust forms on both sides. We typically split one big ribeye. When we tried this the first time, we had no idea how it would turn out. But I'm happy to report it was beyond successful. Great crust, perfectly medium-rare interior, and deep, delicious flavor. This is probably the best steak I have eaten in my entire life.
1. Preheat the oven to 450°F. Rub both sides of the steak with 1/2 tablespoon of the oil, and sprinkle with the salt and pepper. Stir together the espresso granules and the ancho chili powder. Rub both sides of the steak with the espresso mixture, pressing to adhere. Let stand at room temperature about 30 minutes.
2. Place a large cast-iron skillet in the preheated oven until hot, about 10 minutes.
3. Remove the hot skillet from the oven; add the remaining 1 tablespoon oil, and place over high on the stovetop. Add the steak to the skillet, and cook, undisturbed, until a crust has formed, 2 1/2 to 3 minutes. Flip the steak and cook, undisturbed, for 2 1/2 to 3 minutes. Using tongs, hold the steak upright to brown the edges, and cook, turning occasionally, until the edges are browned, about 6 minutes.
4. Return the skillet to the preheated oven, and bake until a meat thermometer inserted in the thickest portion registers 145°F, 6 to 8 minutes for medium-rare, or to the desired degree of doneness. Remove the steak from the skillet; top with the butter, and let rest about 10 minutes before slicing.
1 (1 1/2- to 2-pounds) bone-in rib-eye steak (about 1 1/2 inches thick)
1 1/2 tablespoons canola oil
1 1/2 teaspoons flakey sea salt
1 teaspoon black pepper
1/3 cup instant espresso granules
2 teaspoons ancho chili powder
1 tablespoon salted butter
OTHER RECIPES YOU MIGHT LIKE