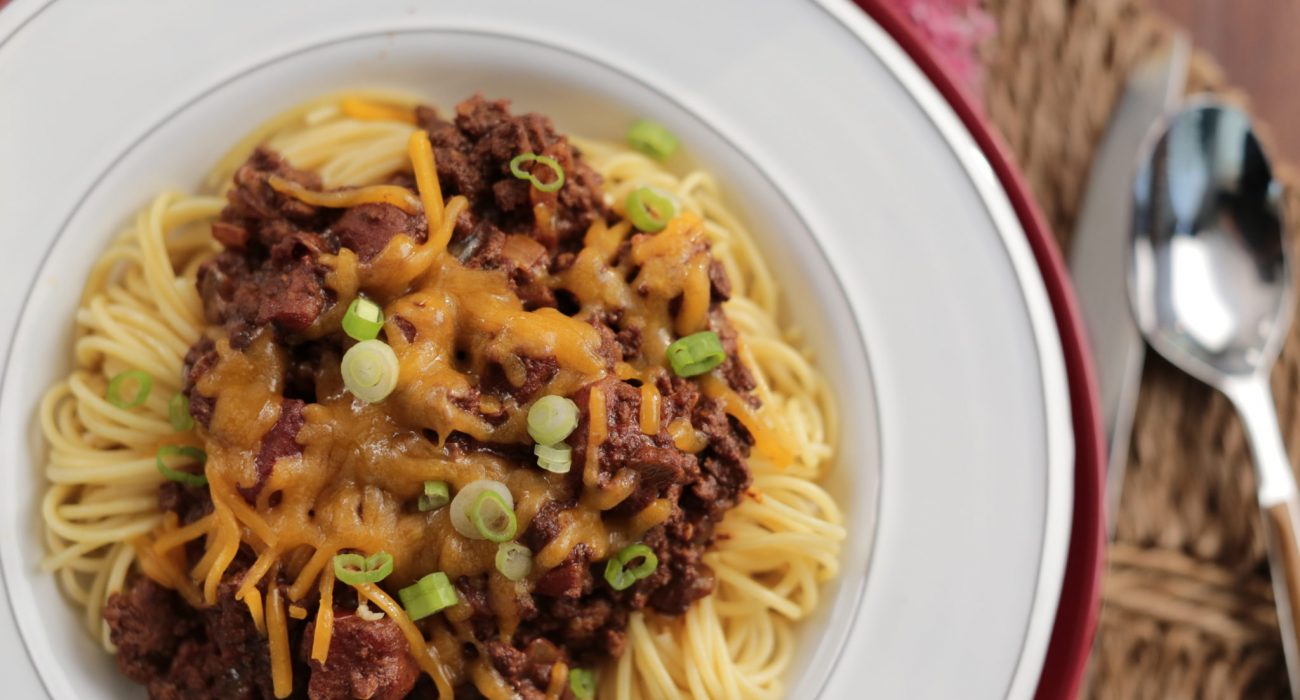 1. Heat the oil in a Dutch oven or heavy pot over medium-high heat. Add the onions and garlic and cook, stirring occasionally, until softened, about 6 minutes. Add the ground turkey, 1 teaspoon salt and 1/4 teaspoon pepper, and cook, breaking up any clumps with a wooden spoon, until brown, about 5 minutes. Add the tomato paste, chili powder, paprika, allspice, cinnamon, coriander, cumin and cloves; cook, stirring constantly, for 1 minute. Add the tomatoes and 1 1/2 cups water, and bring to a simmer. Simmer, uncovered, until slightly reduced, about 10 minutes.
2. Add the vinegar, Worcestershire and chocolate, and continue to simmer until the flavors have melded and the chili has thickened a little more, about 10 minutes. Season with salt and pepper. While the chili simmers, bring a large pot of salted water to a boil. Cook the spaghetti according to the package directions.
3. Serve the spaghetti topped with chili, Cheddar, and green onions if using.
2 tablespoons vegetable oil
1 yellow onion, finely chopped
2 cloves garlic, minced
1 pound ground turkey (80 percent lean)
Kosher salt and freshly ground black pepper
2 tablespoons tomato paste
1 tablespoon chili powder
1 tablespoon paprika
1 teaspoon ground allspice
1 teaspoon ground cinnamon
1 teaspoon ground coriander
1 teaspoon ground cumin
1/4 teaspoon ground cloves
One 15-ounce can diced tomatoes
1 tablespoon cider vinegar
2 teaspoons Worcestershire sauce
1 ounce unsweetened chocolate, finely chopped
12 ounces spaghetti
8 ounces shredded Cheddar
Thinly sliced green onions, for topping, optional
THIS RECIPE HAS A VIDEO
PROVIDED BY THE FOOD NETWORK
OTHER RECIPES YOU MIGHT LIKE