Ricotta Pancakes with Lemon Syrup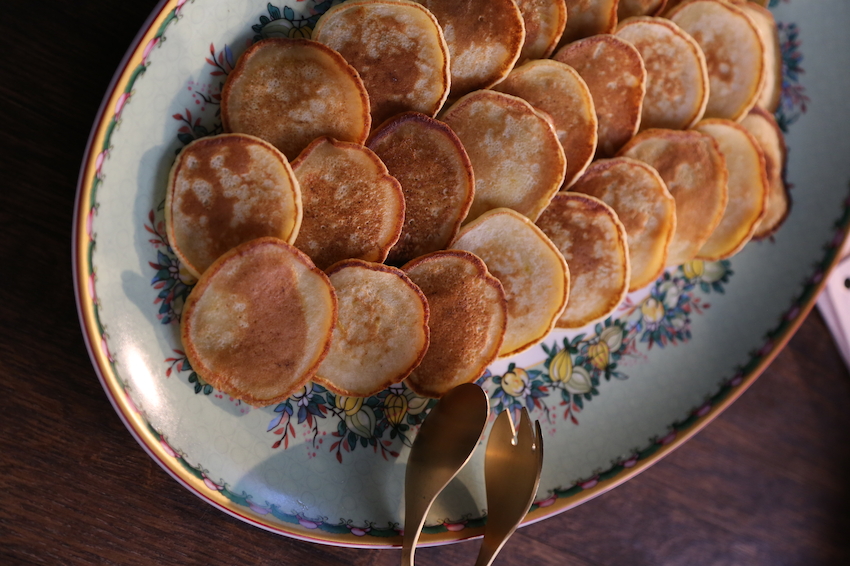 Ricotta Pancakes
1. Whisk together the flour, sugar, and baking powder in a large bowl. Whisk in the milk, egg, and zest until incorporated. Using a rubber spatula, gently fold in the ricotta.
2. Preheat a large, well-seasoned cast-iron or nonstick skillet over medium-high heat and add enough butter just to coat. When a drop of water thrown into the skillet bounces across the surface vigorously, add heaping tablespoon-sized dollops of batter, allowing enough room between each for them to spread slightly. Cook until the bubbles begin to pop and hollow out on the surface of the pancakes, adjusting the heat as necessary, about 2 minutes. Flip and cook for about 1 minute more.
3. Serve with Lemon Syrup.
Lemon Syrup: Yield one cup
4. In a small saucepan, add the sugar, water, lemon zest, lemon juice, and salt.
5. Bring to a boil and then simmer for 10 minutes. Let cool and strain.
Ricotta Pancakes
1 cup all-purpose flour
2 tablespoons sugar 
1 teaspoon baking powder 
3/4 cup whole milk 
1 large egg, lightly beaten 
Zest of 3 lemons, grated, plus more for garnish 
1/2 cup (4 ounces) ricotta
Unsalted butter for the skillet 
Lemon Syrup
1 cup sugar
1/3 cup water 
Zest of 1 lemon 
2 lemons, juiced 
Pinch of kosher salt 
30 silver dollar-sized pancakes
1 Hour, 15 Minutes (includes cooling time)
OTHER RECIPES YOU MIGHT LIKE