Roasted Asparagus and Mushrooms with Chili Lemon Salt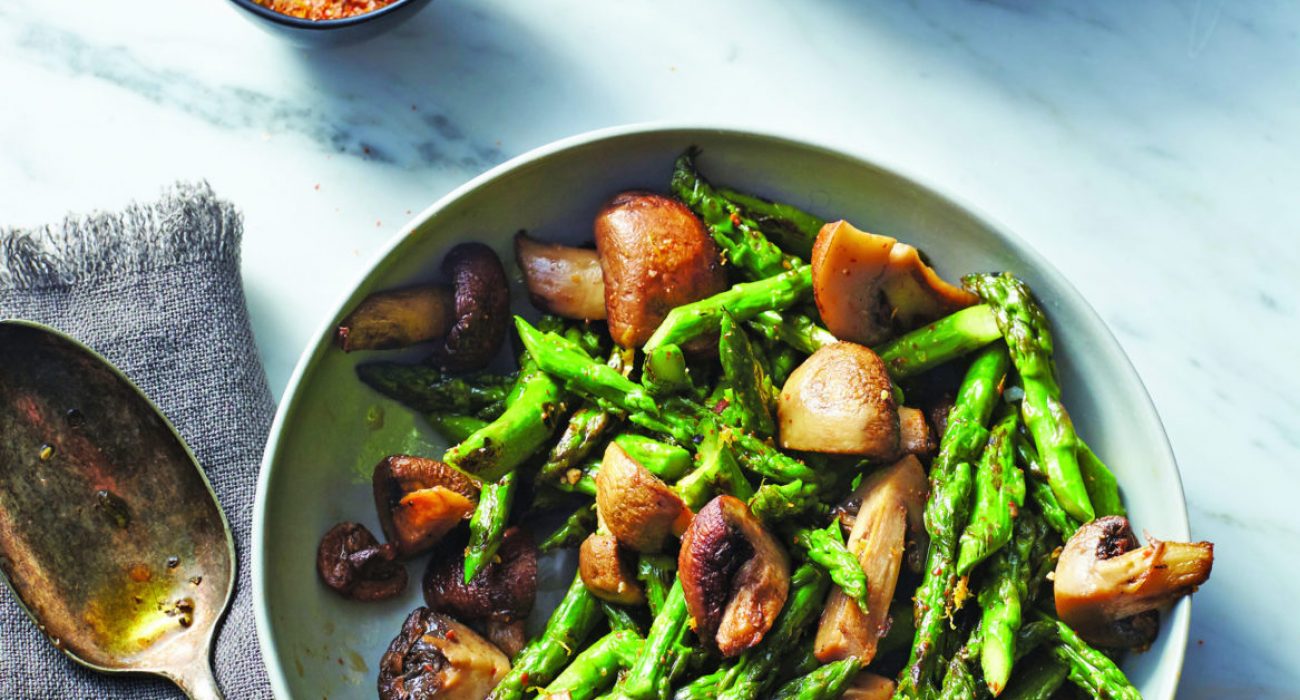 Three components are at play here—and I emphasize the word play. Asparagus is always on my dinner menu during its season. Mushrooms are a well-established partner for the tall, thin asparagus spears. Their woodsy flavors become more pronounced and enmeshed as they're simmered together, like two dancers forgetting their physical differences and getting lost in the music as they glide across the roasting pan. Finally, the chile-lemon salt provides the special twist that brings out the utmost of these flavors, along with adding its own lemon-spicy bite. That came about one day when I was playing with salts, trying to come up with new flavors. This recipe is me having fun in the kitchen. I infuse salts with flavors I love and see where I end up. In this case, I love lemon and I love chile, and I knew this worked as soon as I put them together. It was even better with the asparagus and mushrooms. It's wonderful served alongside chicken or pork or even as a topping over egg noodles or pappardelle.
1. Preheat the oven to 425 degrees F.
2. Toss the mushrooms and asparagus w​ith the oil on a baking sheet and roast, stirring once, until tender and brown in spots, about 15 minutes. Meanwhile, grind the chilis in a spice grinder until coarsely ground into flakes. Mix the chilis with the salt and lemon zest in a small bowl.
3. Transfer the asparagus and mushrooms to a serving bowl and sprinkle with 1/2 teaspoon of the chili-lemon salt.
1 pound cremini (baby bella) mushrooms, halved or quartered if large
1 bunch asparagus, trimmed and cut into 1-inch lengths
3 tablespoons extra-virgin olive oil
2 dried arbol chilis, stemmed
1 tablespoon kosher salt
1 teaspoon finely grated lemon zest
4 People, plus additional chili-lemon salt
OTHER RECIPES YOU MIGHT LIKE