Roasted Shrimp and Peppers with Chimichurri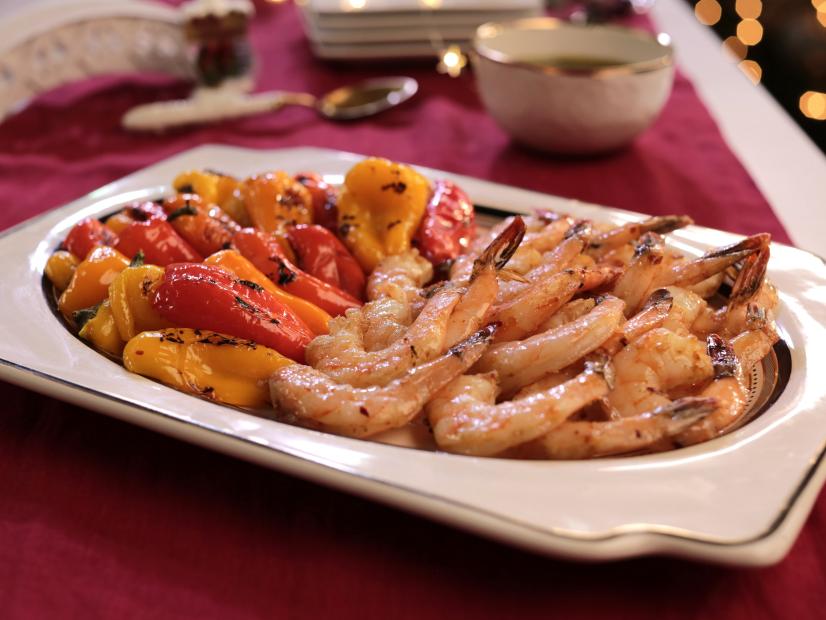 Chimichurri
1. Stir together the parsley, oil, vinegar, oregano, red pepper flakes, shallots, garlic and 1/2 teaspoon salt in a bowl. Transfer to a serving bowl and set aside.
Shrimp and Peppers
2. Preheat the broiler on high. Toss the shrimp with the coriander, red pepper flakes, 1/2 teaspoon salt and 1 tablespoon of the oil. Toss the peppers with the remaining tablespoon oil and 1/4 teaspoon salt.
3. Arrange the shrimp in a single layer on half of a large rimmed baking sheet. Arrange the peppers on the other half. Broil, flipping the shrimp and giving the peppers a stir once, until the shrimp are just cooked through and the peppers are tender and charred in spots, 6 to 7 minutes for the shrimp (remove them to a serving plate when done) and 8 to 10 minutes for the peppers.
4. Add the peppers to the serving plate and serve with the chimichurri.
Chimichurri
1 1/2 cups loosely packed fresh flat-leaf parsley leaves (from 1 large bunch), finely chopped
1/4 cup olive oil
3 tablespoons red wine vinegar
1 tablespoon fresh oregano leaves, finely chopped
1/4 teaspoon crushed red pepper flakes
1 small shallot, finely chopped
1 small clove garlic, minced
Kosher salt
Shrimp and Peppers
1 1/4 pounds peeled and deveined jumbo shrimp, with the tail and final segment attached
1/2 teaspoon ground coriander
1/4 teaspoon crushed red pepper flakes
Kosher salt
2 tablespoons olive oil
8 ounces mixed color baby bell peppers
THIS RECIPE HAS A VIDEO
PROVIDED BY THE FOOD NETWORK
OTHER RECIPES YOU MIGHT LIKE