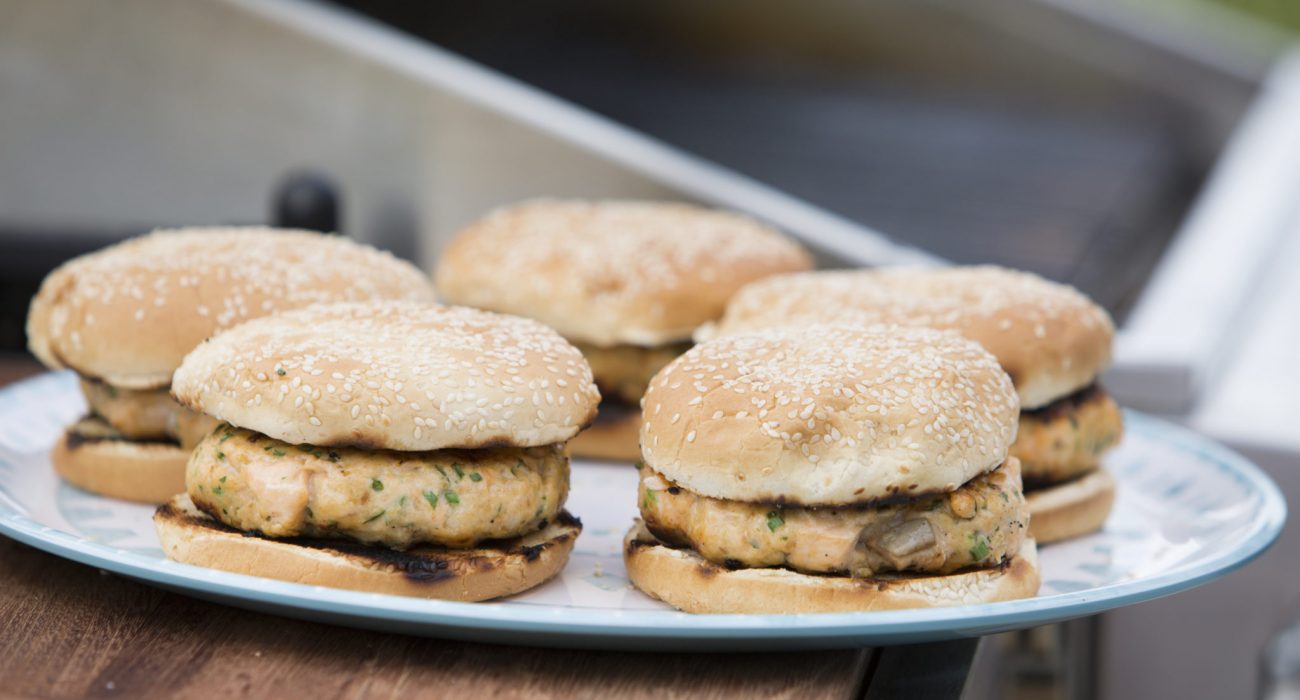 1. Preheat a grill to medium-high.
2. Tear one of the hamburger buns into small pieces and pulse in a food processor until finely ground. Cut the salmon fillet in half. Cut one half into large chunks and the other half into small dice. Add the large chunks to the food processor with the bread crumbs and add the mayonnaise, Dijon, jalapeno, lemon zest, garlic, 1/2 teaspoon salt and a few grinds of black pepper. Pulse until the salmon is ground to a paste. Transfer the mixture to a medium bowl and stir in the diced salmon; fold in the chives and parsley.
3. Form the salmon mixture into four 3/4-inch-thick patties.
4. Lightly oil the grill grates. Grill the patties, turning once, until well-marked on both sides and just cooked through, 4 to 5 minutes per side.
5. Meanwhile, split and lightly toast the 4 remaining buns.
6. Assemble burgers with the lettuce, tomato, red onion, pickles, mustard and mayonnaise.
5 hamburger buns
1 1⁄4 pounds skinless salmon filet (preferably wild-caught)
2 tablespoons mayonnaise
2 teaspoons Dijon mustard
2 teaspoons finely chopped jalapeno
1 teaspoon finely grated lemon zest
1 small clove garlic, finely grated
Kosher salt and freshly ground black pepper
1 tablespoon chopped fresh chive
1 tablespoon chopped fresh parsley
Vegetable oil, for the grill grates
Serving
Green leaf lettuce
Sliced tomato
Sliced red onion
Pickles
Mustard
Mayonnaise
OTHER RECIPES YOU MIGHT LIKE