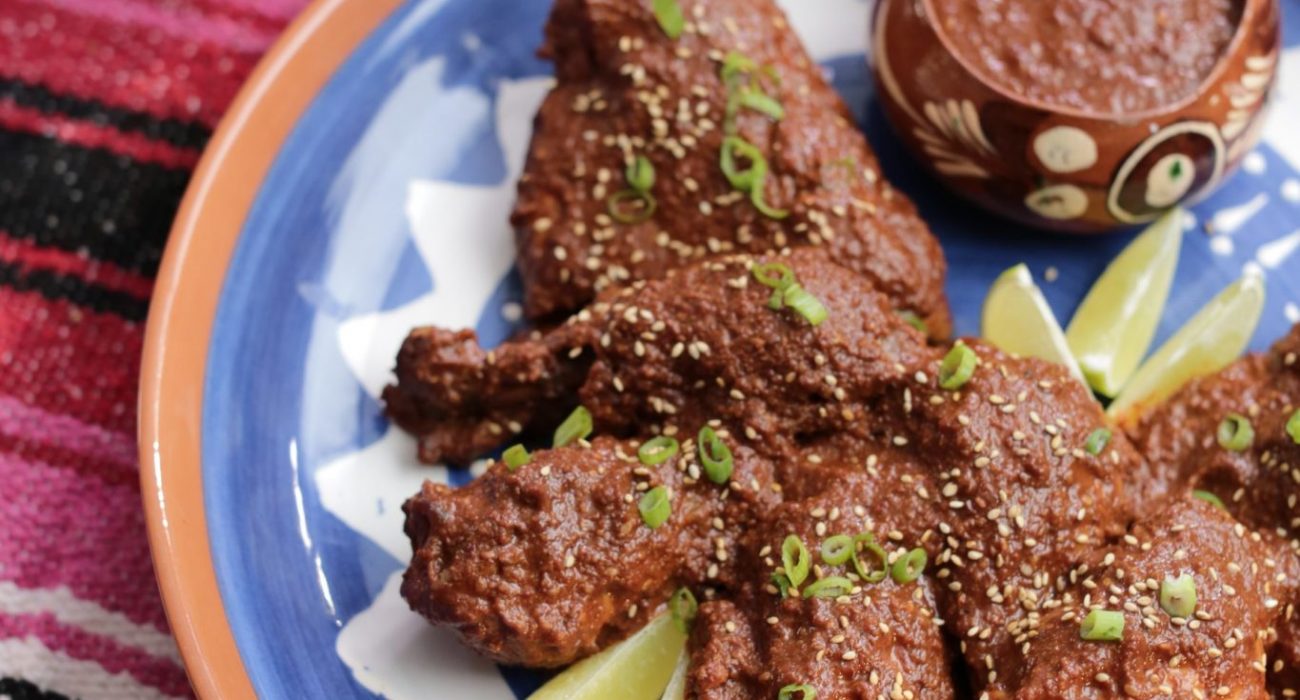 Chicken Mole
1. Place the ancho and pasilla chiles, slivered almonds and pepitas in a large skillet over medium-high heat. Toast until the pepitas begin to pop and the almonds are deep golden brown, 4 to 5 minutes. Remove the chiles to a small bowl and cover with boiling water; set another small bowl on top of the chiles to keep them submerged. Let soak for 30 minutes. Set the almonds and pepitas aside.
2. Meanwhile, place the Mexican chocolate in a small microwave-safe bowl and microwave on high power for 1 minute. Stir together the melted chocolate; unlike conventional chocolate, it will have a grainy, paste-like consistency.
3. Add the melted chocolate to a food processor with the toasted almonds and pepitas and the onions, garlic, sesame seeds, tomatoes, raisins, vinegar, chipotle puree and pepper, cinnamon, coriander, cumin, cloves and 1 teaspoon kosher salt. Drain the ancho and pasilla chiles and add them to the food processor. Process to a smooth sauce.
4. Place the chicken breasts and legs in a 6.5-quart slow cooker and sprinkle liberally with salt. Pour the mole sauce over the chicken, spreading it to cover completely. Place the lid on the slow cooker and cook on high power for 4 hours.
Radish Salad 
5. About 10 minutes before serving, toss the radishes, radish leaves, cilantro and lime juice together. Season with salt to taste.
6. To serve: Place the tortillas over a medium flame (or on a grill or grill pan) and heat until charred in spots but still soft enough to fold.
7. Carefully remove the chicken from the slow cooker to a platter. Spoon some mole sauce over the top; serve extra sauce in a bowl on the side. To the platter, add the radish salad, charred tortillas, and lime wedges. Garnish the chicken with the toasted sesame seeds.
Chicken Mole
1 ancho chile
1 pasilla chile
1/4 cup slivered almonds
2 tablespoons raw pepitas
3 ounces Mexican chocolate, roughly chopped (about 1/2 cup)
1/2 cup chopped yellow onion (about 1/2 small onion)
2 teaspoons minced garlic (1 to 2 cloves)
1 tablespoon toasted sesame seeds
One 14.5-ounce can stewed tomatoes
1/4 cup golden raisins
1/4 cup apple cider vinegar
2 teaspoons pureed canned chipotles in adobo, plus 1 chipotle pepper, finely chopped
1/2 teaspoon ground cinnamon
1/2 teaspoon ground coriander
1/4 teaspoon ground cumin
1/8 teaspoon ground cloves
Kosher salt
1 1/2 pounds bone-in, skinless chicken breasts
1 1/4 pounds bone-in, skinless whole chicken legs
Radish Salad
1/4 cup thinly sliced radishes (about 4 radishes), plus the leaves from 1 bunch
1/4 cup fresh cilantro leaves
2 tablespoons fresh lime juice (1 to 2 limes)
10 white corn tortillas
2 limes, cut into wedges
1 tablespoon toasted sesame seeds
5 Hours, 10 Minutes (including soaking time)
THIS RECIPE HAS A VIDEO
COURTESY OF THE FOOD NETWORK
OTHER RECIPES YOU MIGHT LIKE