So-Cal Sweet Potato and Potato Gratin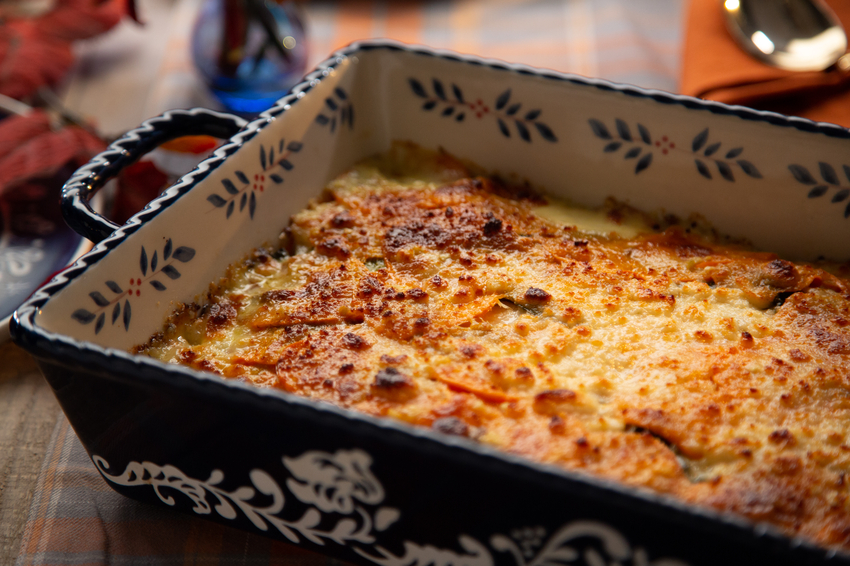 1. If you have a gas burner, roast the poblano peppers over the open flame, turning occasionally with tongs, until the peppers are well charred all over, about 4 minutes. If you do not have a gas burner, halve the peppers lengthwise, place them in a baking pan and broil them in a preheated broiler, skin-side up, until well charred. Place the charred peppers in a bowl and cover with plastic wrap for 10 minutes. Peel, stem and deseed the peppers, then cut into strips.
2. Preheat the oven to 400 degrees F. Butter a 9-by-13-inch baking dish.
3. Stir together the cream, salt, lime zest, cumin and garlic in a bowl.
4. Peel the sweet potatoes and russet potatoes and thinly slice them with a mandoline (about 1/4-inch thick).
5. Arrange half of the russet potatoes in the buttered baking dish. Top with half of the sliced poblanos, then half of the sweet potatoes. Top with half of the cream mixture and 1/3 cup Cotija. Repeat with the remaining ingredients (potatoes, poblanos, sweet potatoes, cream and the remaining 2/3 cups Cotija) and press down firmly to submerge the potatoes as much as possible.
6. Cover the baking dish tightly with foil and bake for 35 minutes. Uncover and continue to bake until the potatoes are tender, the liquid has absorbed, and the top is browned in spots, 25 to 30 minutes more.
7. Let stand 10 minutes before serving.
3 poblano peppers
Unsalted butter, for the baking dish 
2 cups heavy cream 
1 1/2 teaspoons kosher salt 
1 teaspoon finely grated lime zest 
1/2 teaspoon ground cumin 
1 garlic clove, finely grated 
3 sweet potatoes 
2 russet potatoes 
1 cup crumbled Cotija
1 hr 55 min (includes cooling time)
OTHER RECIPES YOU MIGHT LIKE