Sourdough and Hazelnut Stuffing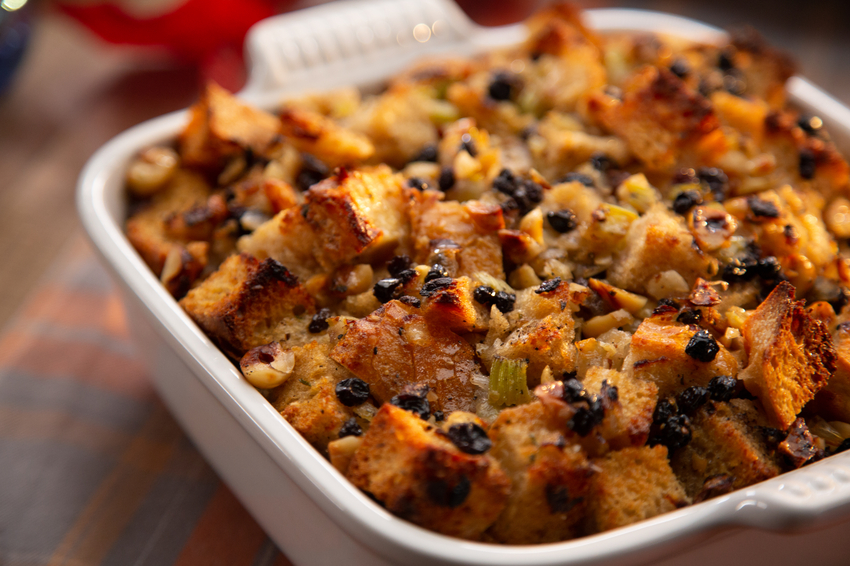 1. Preheat the oven to 325 degrees F. Butter a 2- to 3-quart glass or ceramic baking dish.
2. Arrange the sourdough cubes in a large rimmed baking pan in a single layer. Bake until slightly dried out, about 30 minutes. Transfer to a large bowl.
3. Increase the oven temperature to 400 degrees F.
4. Melt 1 tablespoon butter in a medium skillet over medium-high heat. Add the hazelnuts and a large pinch of salt and cook, stirring often, until nutty smelling and toasted, about 4 minutes. Spoon the nuts onto a clean dish towel and gently but firmly rub the hazelnuts to remove some of the brown skins (it's okay if some of the skins remain). Roughly chop the nuts.
5. Add the remaining 5 tablespoons butter to the skillet and melt over medium heat. Add the celery, garlic, onion, rosemary and 1/2 teaspoon salt and cook, stirring occasionally, until softened, about 10 minutes. Add the currants and cook, stirring, just until plump, about 1 minute. Remove from the heat and cool slightly.
6. Add the hazelnuts and vegetables to the bowl with the bread and mix to combine. Whisk the chicken broth together with the egg, 1/2 teaspoon salt and a few grinds of pepper in a bowl. Add it to the stuffing mixture and stir until well mixed.
7. Spoon the stuffing into the prepared baking dish and bake until hot and golden brown on top, 35 to 45 minutes. Garnish with the rosemary sprig and serve.
6 tablespoons unsalted butter, plus more for the baking dish
10 cups cubed sourdough bread 
1 cup hazelnuts 
Kosher salt and freshly ground black pepper
2 celery stalks, chopped
2 garlic cloves, minced 
1 large onion, chopped 
2 teaspoons chopped fresh rosemary, plus a sprig for garnish 
2/3 cup dried currants 
2 cups chicken broth 
1 large egg, beaten 
2 Hours, 10 minutes (includes cooling time)
OTHER RECIPES YOU MIGHT LIKE